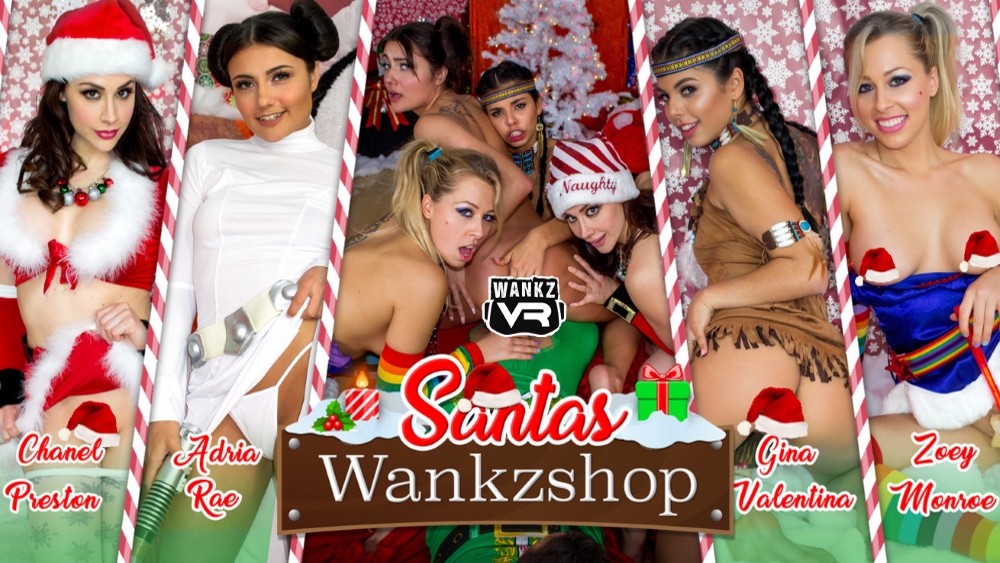 My pick for Best VR Porn Video December 2016 is "Santa's Wankzshop" starring Zoey Monroe, Chanel Preston, Gina Valentina and Adria Rae. This B/G/G/G/G, POV scene was released by WankzVR on December 24th and received 4.5 stars on my VR Porn Reviews December 2016 post.
The set in "Santa's Wankzshop" is a large and colorfully decorated room representing the quality control area at Santa's North Pole factory. The camera positioning is decent, the scale is spot on and the vibrant colors look especially nice on the outfit worn by the doll named "Rainbow." The clarity of the video is not bad, but it still has the typical WankzVR blur and that is the main reason I didn't award this video a full 5 stars. There is also a handful of cuts in filming, but that is to be expected with a video of this length.
"Santa's Wankzshop" clocked in at a whopping 1 hour and 49 minutes and began with the elves seeking my approval for some lovely life-sized dolls. Mrs. Claus then stops by to show her appreciation for all my hard work, but a rather anxious Santa interrupts to offer me a couple of naughty dolls to play with. The 2 dolls, Adria Rae and Gina Valentina, are already getting hot and heavy with each other when Santa stops back to drop off another lovely doll played by Zoey Monroe. It isn't long before Mrs. Claus, Chanel Preston, returns to the scene and joins in the fun.
The beautiful ladies spend several minutes exploring each other with tongues and fingers before turning their attention to my special Xmas package. After a round of glorious blowjobs, they each take turns pleasuring me in the missionary and cowgirls positions until Mrs. Claus finally finishes me off with her hand.
The best part of "Santa's Wankzshop" has to be the fantastic performances turned in by the girls. They are all incredibly attractive and look great from every angle. Each girl stayed engaged with me and/or with each other throughout the entire 90+ minutes of action. And a very nice quadruple facial cumshot was a sweet icing on the cake for my Best VR Porn Video December 2016 selection "Santa's Wankzshop."
Synopsis from WankzVR:
'Twas the night before Christmas in the magical north pole, you're an elf working in quality control. During your inspection, you smile with glee to find a few of Santa's sex dolls are faulty! You take them in the back room and unzip your pants…enjoy this Christmas Special from your friends at Wankz!