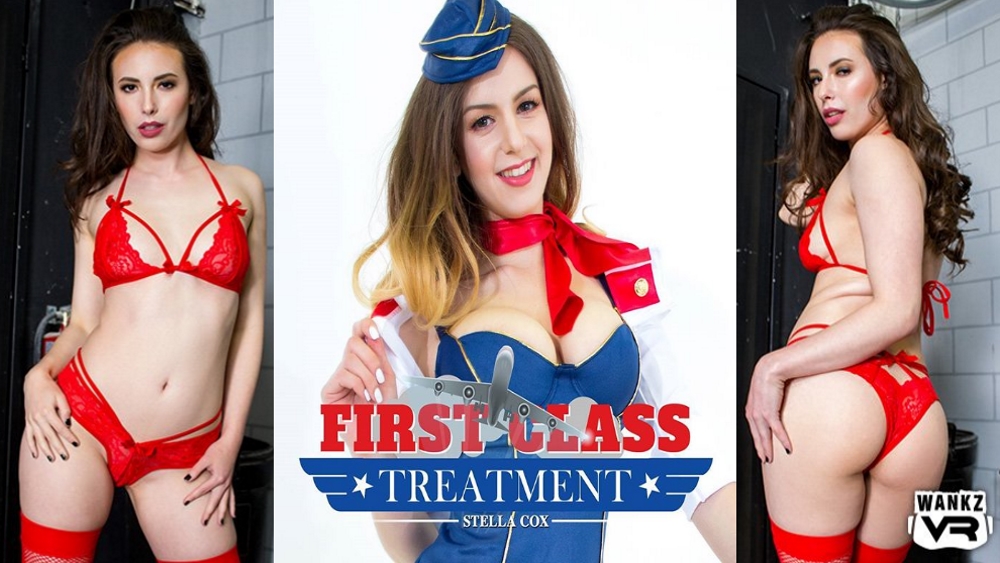 My pick for Best VR Porn Video March 2017 is First Class Treatment starring Casey Calvert and Stella Cox. This B/G/G scene was released by WankzVR on March 21st and received 4.5 stars on my VR Porn Reviews March 2017 post. This is the third WankzVR title in the past 9 months to be selected as my best video of the month.
There are 2 different sets in First Class with the first being a cozy bedroom and the second one looking like a cold back corner of an industrial warehouse. Both sets are well done as they play perfectly into the theme of the video. The scale is great and the clarity of the video is quite good thanks to the improvements WankzVR made recently to their image quality.
First Class clocks in at a whopping 72+ minutes the first 27 of those being a B/G scene with Stella. She shows up in a sexy little flight attendant uniform and quickly confesses that she has been wanting to get with you for a long time. She says that she traveled all this way to see you after hearing that you broke up with her friend Casey.
Stella proceeds to go down on you and then turns around to let you take her from behind. After a few minutes of hot doggy action, she lies on her back and spreads her legs wide for you. Stella's huge boobs bounce to the beat as you pound away at her in missionary. The camera is then positioned to simulate a face to face missionary look as the both you reach your climax together.
This bedroom scene with Stella would have made for a decent VR porn video all by itself, but the action was just getting started in First Class. An unexpected plot twist occurs when the lovely Stella returns from cleaning herself up and sits beside you on the bed. Before you know it, there is a chloroform soaked rag being shoved in your face.
You wake up in handcuffs and find your ex-girlfriend Casey straddling you. She explains the details of her scheme to get back at you for not missing her enough after your break up. Her friend Stella played her part perfectly and now they have you right where they want you. And, judging by their behavior, what they really want is your cock in their asses.
The girls take turns loosening up their backsides with a toy before jumping on and riding you cowgirl style. They show a little compassion when they decide to remove your cuffs and let you have some control during backdoor doggy. After getting her fill of you, Stella slides underneath Casey and gives you some extra oral pleasure as you shag her friend. Her face is in perfect position as you pull out for a cum shot that both girls really enjoy.
Stella and Casey did a great job engaging with the camera and with each other during the entire video. They played their parts very well and performed amazingly. Kudos to WankzVR for coming up with a fun twist and for keeping it such a secret. I would love to see more scenes with an unpredictable plot like my Best VR Porn Video March 2017 selection First Class Treatment.
Synopsis from WankzVR:
British Babe, Stella Cox arrives in your room looking like a sexy air hostess from the 60's with her cutesy flight attendant uniform on. Stella just so happened to land in your city and out of all the guys out there, she just so happened to flirt with you and only you. Everything just seems too good to be true. But is it?