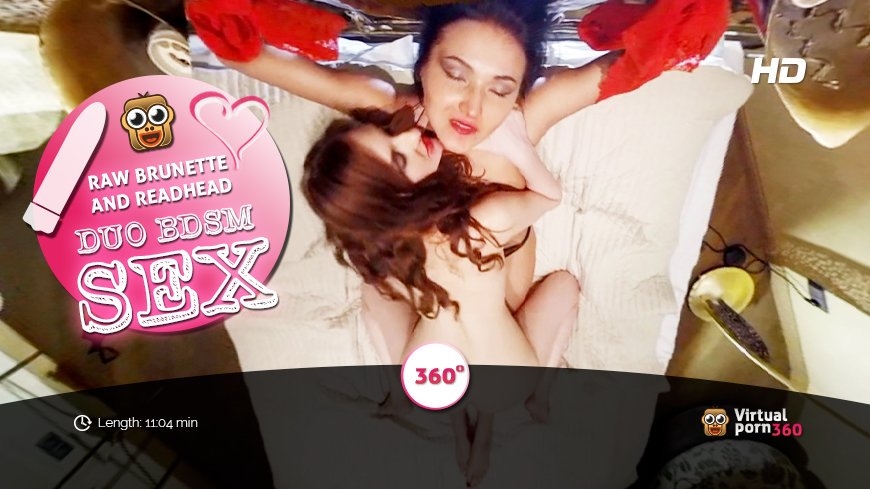 Virtual Porn 360 was launched in mid-2015 and is known for their 360º VR porn videos. They are yet another VR porn site based in the beautiful country of Spain and presently have over 64 titles available for download. Unfortunately, only 1 of their videos is in 3D format at the time of this review. I will keep the review short and sweet with the intent to expand it once Virtual Porn 360 releases more 3D videos.
I viewed the VR Porn 360 video on my Samsung S6 phone with a Gear VR headset and the Samsung VR app. Like most VR porn sites, the videos on Virtual Porn 360 are rated as 60fps and feature binaural sound. The field of view is where Virtual Porn 360 stands out from others as they offer a full 360º FOV. The scores shown below are based on a comparison with videos from other VR porn sites.
1. Quality of VR (2.0 stars) – The Virtual Porn 360 scale, colors and clarity were all fine. I had playback issues with several of the 2D videos and the single 3D video had an obvious stitching problem. It is hard to award a proper score here with just 1 3D title available.
2. Quality of Porn (2.0 stars) – The Virtual Porn 360 models are mostly attractive European ladies and the lone 3D video featured 3 very sexy young women. There was a noticeable lack of vocalization from the ladies and I was not overly impressed with their performances in the Virtual Porn 360 2D videos. The set designs were simple, as were the storylines and dialogue.

3. Quantity of VR Porn (0.5 stars) – Currently at around 64 titles with only 1 3D video, Virtual Porn 360 gets the lowest possible score here. I am only considering videos in 3D format when scoring for quantity.
4. Variety of VR Porn (0.5 stars) – As with quantity, I am only considering 3D videos for variety and therefore must award the lowest score here as well.
5. Website, Service, Extras (3.0 stars) – The Virtual Porn 360 website design is decent and the download speeds are good. The videos can be played and manipulated from within the Virtual Porn 360 website. One major issue is that the video release dates are not shown and the titles do not appear to be listed in any type of chronological order.
The VR help section does a good job explaining how to setup and use various devices and apps for viewing the videos. Membership pricing is less than average at US $9.99 for 1 month and credit card payments are processed through Epoch.