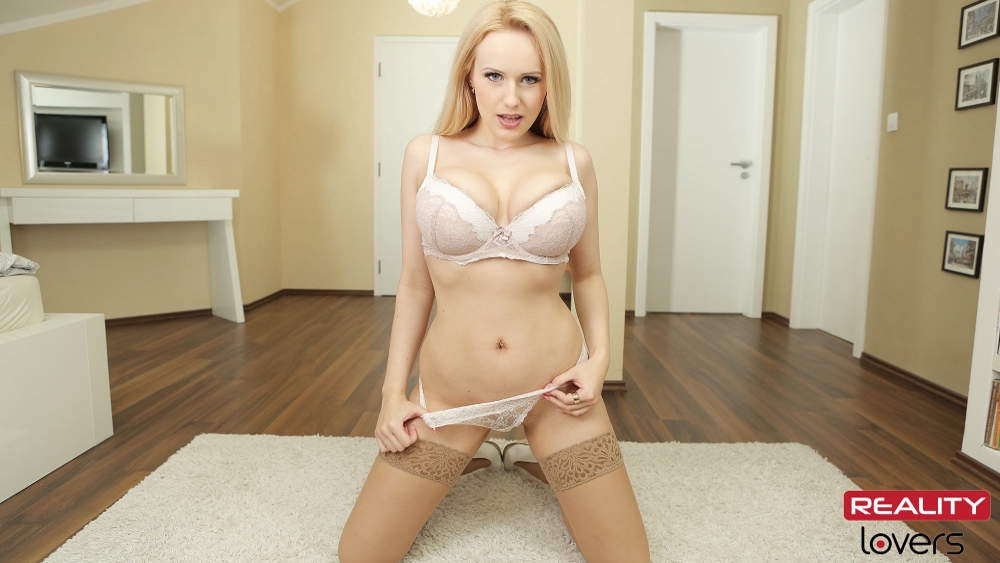 My pick for Best VR Porn Video January 2017 is "The Wet Angel" starring Angel Wicky. This solo scene was released by Reality Lovers on January 21st and received 4.0 stars on my VR Porn Reviews January 2017 post. This is the first solo scene and the first Reality Lovers title selected as best video of the month.
It was a tough choice this month as there were 5 videos that earned 4.0 stars. The other 4 were all threesomes with 2 coming from WankzVR and 1 each from Naughty America and CzechVR. They were all deserving titles, but I chose to start the year off with something different and made "Wet" my pick.
The set in "Wet" is a nicely decorated and brightly lit bedroom. The scale looks perfect and the clarity of the video is quite good. The camera is positioned at a height that makes it feel as if you are sitting on the floor directly in front of Angel. Reality Lovers also deploys a moving camera on 2 occasions in this video and the slow sweeping shots feel very natural.
"Wet" clocks in at 20 minutes and begins with Angel entering the room through a door and immediately setting the mood with a naughty "Hello there bad boy" greeting. She then approaches on her hands and knees with a smile that lights up the entire room. Angel lets you know that she has a little surprise for you before sliding down her bra to reveal those amazing breasts. After demonstrating how she wants you to suck her lovely pierced nipples, Angel turns around and lets you watch from behind as she slips off her panties.

The waterworks begin when Angel faces you in a squatting position with her legs spread wide. She pleasures herself with her fingers and gives the rug a good soaking with 3 consecutive rounds of squirting. Angel turns around once more to give you a view from the back as she continues to play with herself. The moving camera takes you in close enough to taste her sweet pink pussy.
Angel faces you again and gets right up in your face for 2 more squirting sessions. So close and explosive that you might feel as if that wet spot is on your VR headset instead of the camera. After draining herself dry for you, Angel lies back on the rug and imagines you're inside her as she takes herself to a screaming orgasm. You can see the look of satisfaction on her face as she finishes the scene off with a sweet kiss for you.
Angel Wicky is a natural in front of the VR camera and I have enjoyed all of her performances to date. She just has a certain charm and sensuality that comes across well in virtual reality. And it certainly doesn't hurt that she is also gorgeous and incredibly sexy. I realize some of you are not into solo scenes, but perhaps that will change once you get a taste of Angel Wicky in my Best VR Porn Video January 2017 selection "The Wet Angel."
Synopsis from Reality Lovers:
Stop everything you're doing at this very moment and take a few deep breaths. Get your penis ready, because you're about to witness the famous Czech porn queen Angel Wicky at her very best! She can change a regular solo to something totally entertaining and arousing. Watch the hot blonde show you her voluptuous body and put on an extravagant show full of intense squirting and pussy closeups. This is what you wanted!