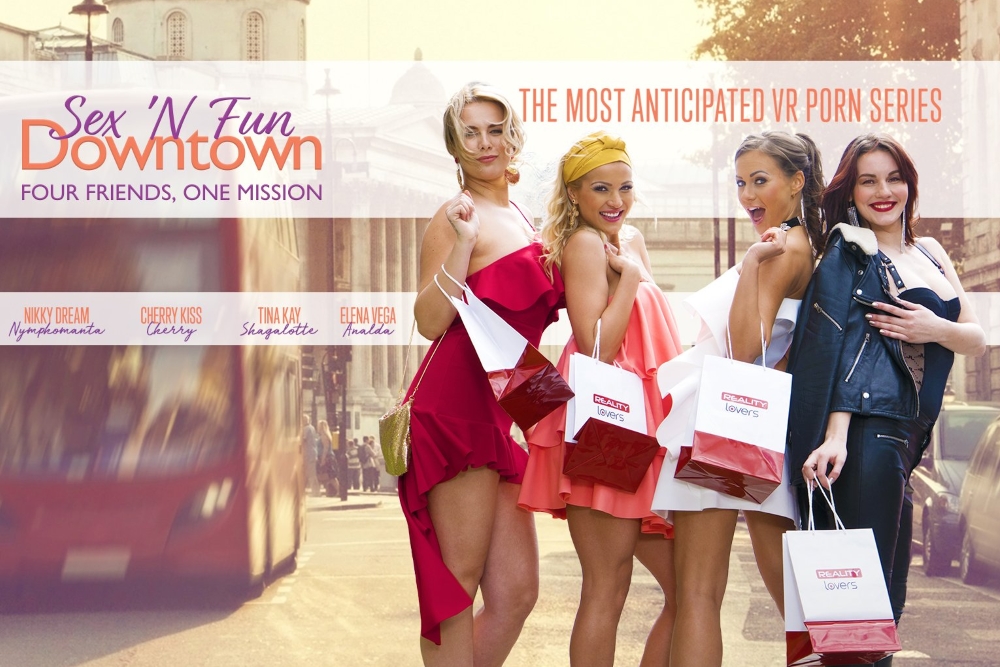 Sex 'N Fun Downtown is a VR porn parody to the original series Sex and the City. The new series was launched by Reality Lovers on May 30 and showcases the sex lives of four very hot best friends. Throughout the series you can follow the friendly banter between the girls and, unlike the original show, you can actually see all of the naughty things taking place in their bedrooms.
The first episode of Sex 'N Fun Downtown introduces us to the characters as they gossip about the men in their lives. The mesmerizing Cherry (Cherry Kiss) finds herself at a crossroads in her relationship. Cherry's lover manages to track her down in her hotel hideaway and apologizes about a snafu that caused him to unexpectedly ditch her the last time they met. It doesn't take long for the horny couple to get naked as they take full advantage of this chance to make things right.
Episode 2 was released on June 20 and features Tina Kay as Shagalotte. The romantic Shagalotte is always the one looking for a fairytale in both her personal life and sex life. She has just found herself an ideal man and is so excited to share the good news with Cherry. Shagalotte invites her new beau back to her place after their first dinner date and decides to take things a bit further after getting some friendly advice from Cherry.

The third episode of Sex 'N Fun Downtown is scheduled for release on July 18 with Elena Vega as the domineering Analda. Episode four is set for August 15 and will feature Nikky Dream as the insatiable Nymphomanta. No word yet from Reality Lovers on any further episodes, but there certainly seems to be plenty of opportunity to extend this series beyond the initial 4 videos.
The first two Sex 'N Fun Downtown episodes have been quite enjoyable and it will be interesting to see how Reality Lovers can further develop this new series. It's definitely an intriguing concept, but it's one we've seen before with the 8 episode How I Met Misha series from VirtualRealPorn being the most memorable one to date. The parody aspect of Sex 'N Fun Downtown does add an extra layer of intrigue and hopefully Reality Lovers will be able to take full advantage of that.