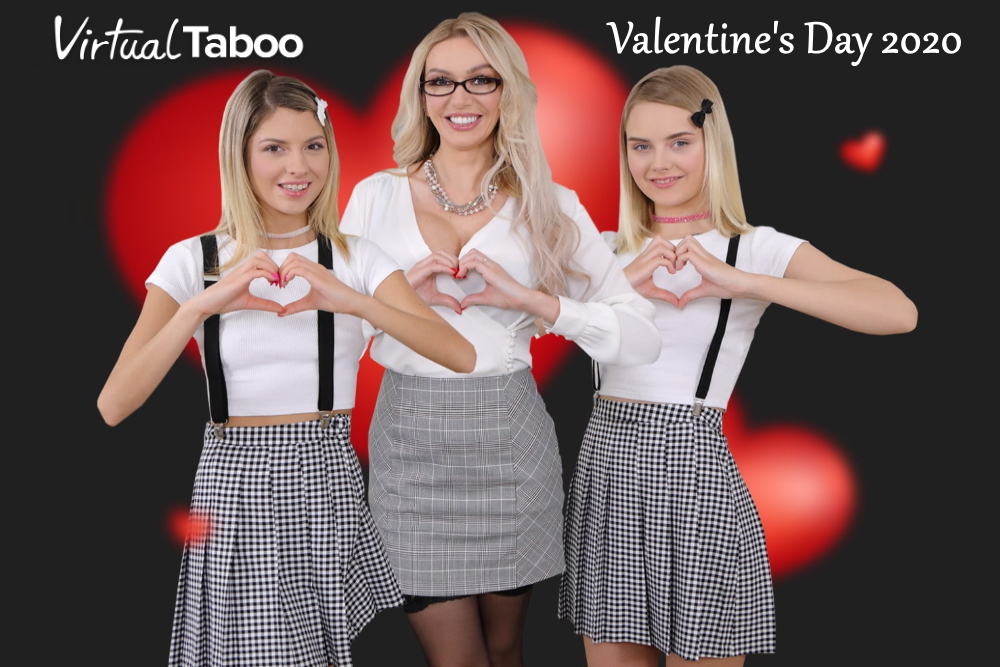 Here are all the Valentine's Day 2020 VR Porn deals and special videos. Valentine's Day provides a unique scenario for VR porn sites to take advantage of. It's a perfect opportunity to feature a romantic storyline with a virtual sweetheart. Let's see which VR porn site does it best in 2020.
The Deals
Naughty America (Review) – Their V-Day Sale gets you 40% off a 1 month membership.
BaDoinkVR (Review) – The VR Will Never Break Your Heart promo offers big discounts plus a free 1 month membership on another site within the BaDoink network. The participating sites are BaDoinkVR, VRCosplayX, 18VR and KinkVR.
VR Bangers (Review) – Their 2=1 Sale discounts all memberships with an extra year added on the yearly subscription. The same promo is available on their transgender site VRB Trans with even bigger discounts for a bundle membership to both sites. The lifetime sub is reduced to $250 on VR Bangers.


SexBabesVR (Review) – Their St. Valentine's Day Sale discounts every membership term.
Virtual Taboo (Review) – The Valentine's Day Super Sale offers big savings on monthly and yearly memberships.
VRHush (Review) – Their Exclusive Valentine's Day Sale is 40% off of a 1 month or yearly membership.
TmwVRnet (Review) – Their Valentine's Day Sale has a yearly membership for $89.95.


The Videos
2/15 – Coming Twice On Valentine by Czech VR – B/G, Febby Twigs. Being clever, you know how make Valentine's day work for you. All it takes is couple of plucked rose petals and a bed. When Febby Twigs gets home, she can't believe you prepared such a romantic gesture and jumps at you right away. She's so hot, you will come twice before the fun is over.
2/14 – Loving Melody by WankzVR – B/G, Melody Marks. Your sexy girlfriend has something special planned for your first V Day together and everything needs to be just right. Cupid's Arrow won't be the only thing that hits the mark when you enjoy a sensual one-on-one session with Melody. Fire your own shot and give her some sweet cream filling.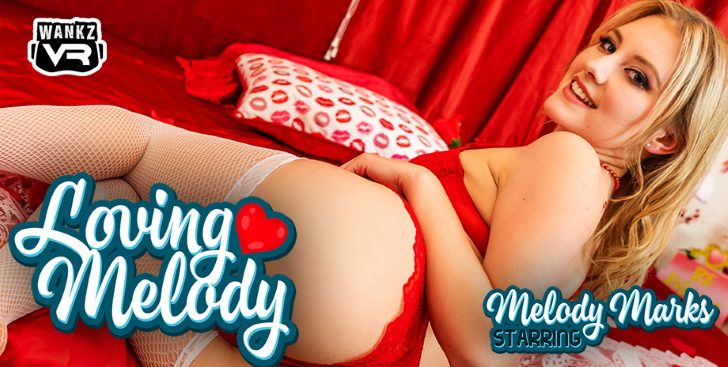 2/14 – Sensual Dance by Virtual Real Porn – B/G, Kaisa Nord. For your girlfriend, the occasion isn't as important as the person you choose to celebrate with. Being close to you on Valentine's Day and surprising you with a sensual dance where she gets slowly undressed is the best adventure she can live.
2/13 – Lovestruck by BaDoinkVR – B/G, Kenzie Reeves. When you and Kenzie broke up, the world as you knew it changed. But on this fateful Valentine's Day, Kenzie has shown up to your door to beg you to take her back. Resistance is futile. She simply looks too good. Your therapist specifically told you that regression is not the answer, but Kenzie has got you lovestruck and ready to rock.
2/14 – Sorority Hookup: Happy Valentine's Day by VR Bangers – B/G/G/G/G, Jada Doll, Jessie Saint, Riley Star & Sovereign Syre. Inside a classroom, surrounded by 4 sexy girls, is where you are going to spend your Valentine's Day. You will get Jessie Saint – the nerdy girl in the glasses; Riley Star – one of the popular girls; Jada Doll – a theater kid; and Sovereign Syre – a sexy teacher.


2/13 – Speed Dating On Valentine's Day by VRHush – B/G, Leda Lotharia. Leda doesn't have any Valentine's Day plans this year so she decided to attend your speed dating get together. From the second you let her into your house Leda was eye-banging you. Screw dating, Leda wants to skip all of that busy work and get straight to fun stuff.
2/14 – Your Present by Virtual Real Trans – B/G, Bianca Meirelles. For a second you forgot today is Valentine's. Like every year, your girlfriend goes beyond the expected. She knows you both enjoy a glass of champagne and touching each other slowly while you get as hot as Brazil weather. The most important thing for Bianca is that you always want to have these sexy adventures with her.
2/14 – I Cake You by Virtual Real Gay – B/B, Manuel Scalco. Your boyfriend isn't the best cook in the world, but on this Valentine's Day you have to admit Manuel exceeded your expectations. You don't get to taste the special Valentine's cake he made because you're too busy trying to find new uses for his whipped cream.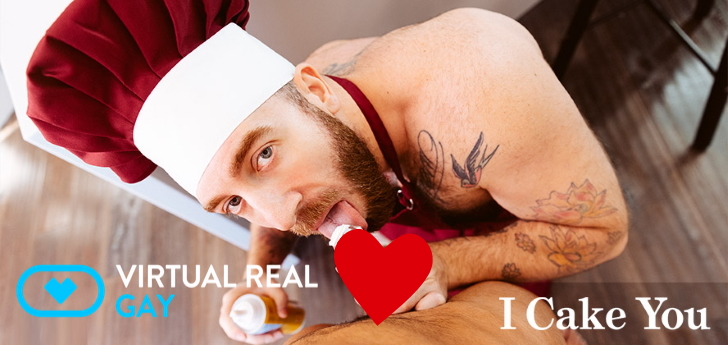 2/14 – My Valentine's Gift by Virtual Real Porn – B/G, Julia De Lucia. A Spanish princess joins you on a romantic bed covered in rose petals and slowly undresses to reveal her stunning tight body. She lovingly sucks you and then lets you take her sexy body before finally receiving a hot shot of your love juice all over her face.