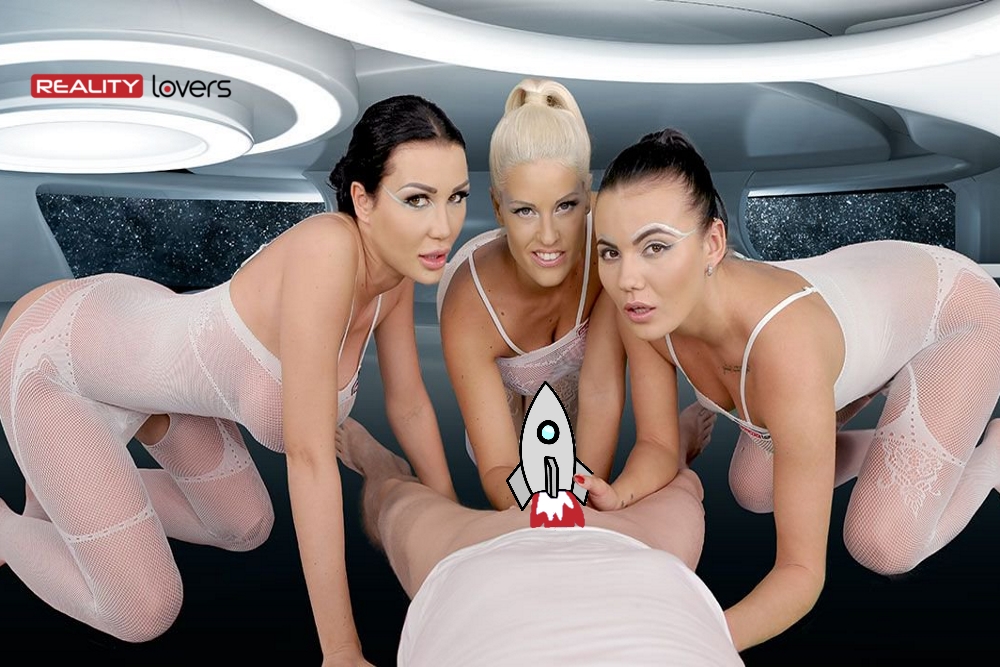 VR Porn News October 2017 – the evolution of VR porn took another step forward in October with many VR porn sites achieving higher levels of VR quality. There were also several Halloween themed videos released that were quite entertaining and a few scenes that utilized some new elements to enhance the VR porn user experience.
WankzVR took the top spot in my VR Porn Reviews October 2017 Recap and I also selected their Semen Demons video as my Best VR Porn Video October 2017. I really liked how WankzVR made use of clever editing to add some extra scares into Semen Demons. They also included plenty of extracurricular activity during the torture room scene that helped boost the overall entertainment value of the video.
Another WankzVR October release that pushed the VR porn envelope a bit farther was Road Test starring Jenna Reid. The video has you filling the role of a driving test examiner and Jenna is the cute examinee who seems willing to do just about anything to get her license. There have been other VR porn scenes featuring sex in, on or around cars, but in Road Test Jenna is actually driving through the streets of Southern California as she gives you handjobs and blowjobs. The video can be a bit disorienting at times, but it's definitely a fun ride.
The October 4th release of 2017: Space Orgasm by Reality Lovers marked the first time that a VR porn video has truly taken full advantage of green screen technology. "For us it's always a joy to try new things, add new functionality and help the audience feel a deeper connection to the characters in their favorite adult films," explained Stefan Geisler of Reality Lovers. "I am confident Space Orgasm is a scene people will still be talking about years from now as a watershed moment in XXX hardcore entertainment."

It was also nice to see that the sequel, Space Orgasm Reloaded, was filmed from a ladies perspective as there are still very few female POV scenes available in the market. Reality Lovers tells me that their green screen tech continues to evolve quickly and fans can expect many more truly innovative new videos being released in the near future.
Czech VR has been leading the way for quite some time when it comes to VR quality and they managed to up their game even further in October. They are calling it 5k and the milestone was reached on October 7th with the release of Good Housewife Always Swallows starring Samantha Rone. Here is part of the announcement from Czech VR that explains exactly what they have accomplished:
We are now able to shoot 2700×2700 pixels per eye resulting in the ultimate final resolution of 5400×2700 pixels at 60 FPS all in native resolution with no upscaling! To deliver such a huge amount of pixels we have also implemented the H.265/HEVC codec which keeps the filesize similar to what you are used to. We have also changed the viewing angles so you will now see 180 degrees vertically with no black arcs limiting your view which allows to see more of the girls during the most intimate moments.

Another virtual reality porn site that made significant improvements to their VR in October is Virtual Taboo. Their image quality had been inferior to that of the other VR porn sites on my Top 10 List for quite some time. Recent videos shot with their new camera rig look much improved and should finally get Virtual Taboo back on a level playing field with the other sites.
October 2017 was a great month for VR porn. There were far fewer issues with VR quality than there had been in previous months, especially when it came to camera positioning. I loved seeing new elements being brought into play as well. I am hoping that this type of experimentation will become a monthly event along with the technical improvements as the combination of these two factors is exactly what's needed to drive the evolution of VR porn forward.