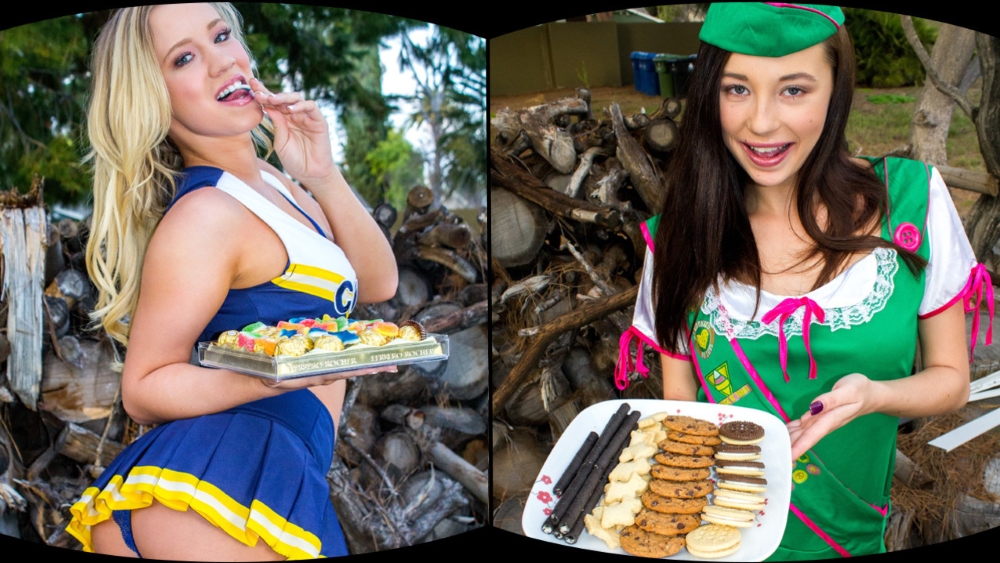 VR Porn Reviews January 2017 Recap – Shown below is a monthly summary and ranking for the top 10 VR porn sites that I currently follow. The rankings are based on my 5 star reviews of the VR porn videos each site released during January 2017. I also use these monthly recaps to adjust the overall scores and rankings for each VR porn site that I review.
WankzVR finished on top for the second straight month. They released 9 (4 B/G & 5 B/G/G) videos with 7 of them placing above what I consider an average score of 3.0 stars. Naughty America followed closely behind with 6 of their 9 (8 B/G & 1 B/G/G) videos scoring above average while third place Czech VR had 8 of their 18 (4 B/G, 4 B/G/G, 4 G/G & 6 solo) videos do so as well.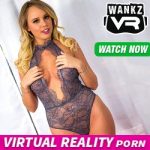 #1. WankzVR (Review)
With their 9 consistently good B/G videos (avg. score 3.5 stars) this past month, WankzVR continues to pump out quality titles filled with hot young porn stars. I especially enjoyed their Slutty Stepsisters and Everybody Wins threesome flicks. On the downside, image clarity continues to be an issue with WankzVR.
---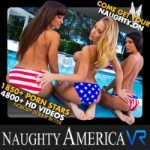 #2. Naughty America (Review)
Another month of great porn for Naughty America. All 9 of their B/G videos (3.4 stars) featured multiple positions and superb performances from talented porn stars. Their only threesome for the month, Balls Deep 2, was my favorite title. It was also nice to see Naughty America mix in some younger talent this past month.
---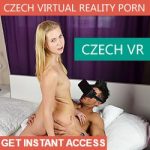 #3. Czech VR (Review)
By far the leader again with 18 total videos in January, Czech VR continues to impress with their VR quality and release rate. Their 6 solo (2.9 stars) and 12 B/G (3.3 stars) videos also included some decent porn performances, but the talent level at Czech VR is still the major reason their titles aren't scoring higher.
---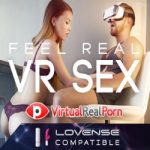 #4. VirtualRealPorn (Review)
With 1 solo (3.5 stars) and 8 B/G (5 B/G, 2 B/G/G & 1 G/G) (3.1 stars) videos, VirtualRealPorn continues to stay near the top with their steady release of quality titles. The final 2 episodes of their How I Met Misha series were 2 of the 3 VirtualRealPorn releases that I scored above average this past month.
---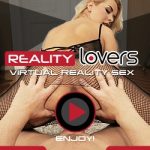 #5. Reality Lovers (Review)
It was a pretty good month for Reality Lovers with 2 solo (3.5 stars) and 6 B/G (4 B/G, 1 B/B/G/G/G & 1 G/G) (3.0 stars) videos. I loved their solo, The Wet Angel, featuring the beautiful Angel Wicky and named it my Best VR Porn Video January 2017. All 7 of the other Reality Lovers titles received the average score of 3.0 stars.
---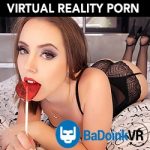 #6. BaDoinkVR (Review)
Another decent month for BaDoinkVR with 4 B/G (3.2 stars) videos. A couple of their titles did score above average, but only putting out 1 video per week is still keeping them from going higher. The slower release rate might be around for awhile as BaDoinkVR gets their new niche site, VRCosplayX, up to speed.
---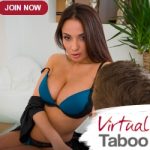 #7. VirtualTaboo (Review)
With 2 solo (3.0 stars) and 5 B/G (4 B/G & 1 G/G) (3.2 stars) videos, VirtualTaboo moves up a spot from last month. While I do enjoy their stepsister themed titles (2 of them scored above average), I would prefer to see a much wider variety of taboo subjects being covered on VirtualTaboo.
---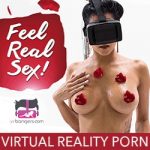 #8. VR Bangers (Review)
Another average month for VR Bangers with their 4 solo (2.9 stars) and 5 B/G (3.1 stars) videos. They had 2 of their titles score above average, but they also had 2 score below average. The potential is still there for VR Bangers and I am hoping that improvements to both their VR and porn quality will be coming soon.
---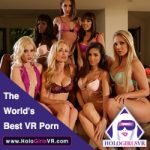 #9. HoloGirlsVR (Review)
Another disappointing finish near the bottom of my list for HoloGirlsVR. Of the 2 solo (3.0 stars) and 4 B/G (3 B/G & 1 G/G) (3.0 stars) videos they released, only 1 of them scored above average. Perhaps their new partnership deals with KinkVR and BurningAngelVR are impacting their performance.
---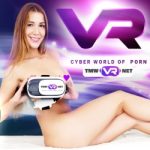 #10. TmwVRnet (Review)
More of the same from TmwVRnet is not a good thing as 7 of their 9 total videos scored below average. All 5 solo (2.6 stars) and 4 B/G (2.6 stars) videos suffer from the same scaling and clarity issues that have been there for months. TmwVRnet may be dropping out of my top 10 list very soon.
---