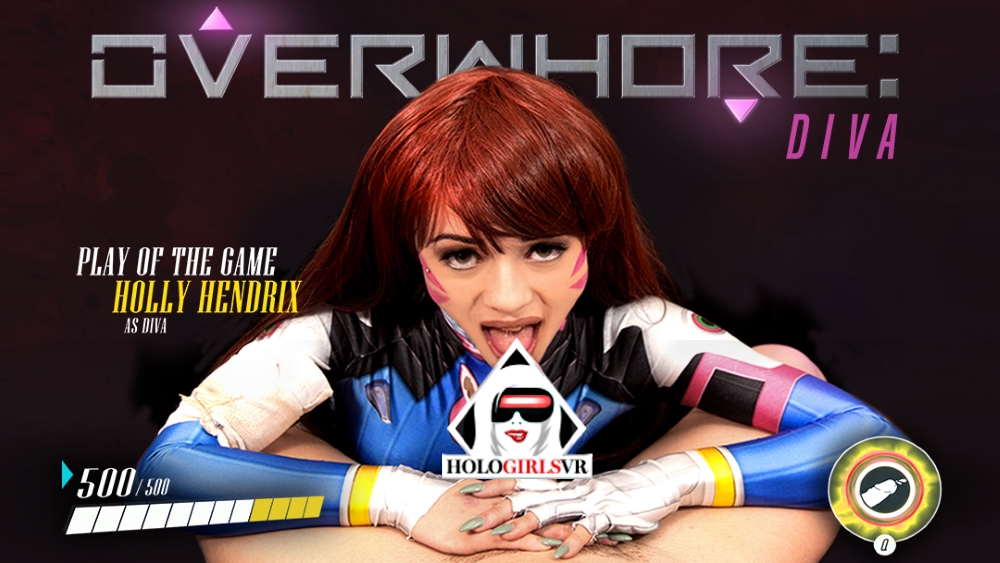 HoloFilm Productions, a leading-edge VR entertainment production and post-production company, announced that they have increased the image resolution in their HoloGirlsVR videos starting with the release of Overwhore: DiVa on March 31st. DiVa is a cosplay parody of the popular video game Overwatch and stars AVN's Best New Starlet 2017 winner Holly Hendrix as a beautiful gamer who uses her talents to pay off a debt.
Per the press release:
The DiVa scene was shot with an all-new, state-of-the-art VR camera rig. Brian Shuster, CEO of HoloFilm Productions, said "We've increased the resolution to the highest pixel density ever…for any VR scene! It's more than a 10% increase from the previous record, and you will see the results in the clearest image quality you've ever seen at true 4k! It is groundbreaking for its technical accomplishment; never before has any VR – adult or non-adult – been filmed at this resolution. Even on lower-end headsets, the video clarity is better than any scene that has ever been shot. Overwhore: Diva is the extraordinary beginning of a new era of VR filmed content. HoloFilm has once again shattered prior limitations to release this ultra-high quality VR scene, in the first of what will be hundreds of new scenes being released this year."

It's great to see announcements like this where technology is being used to push the quality of the product higher and higher. I have always loved the richness of the colors in HoloGirlsVR videos and even had them as my top rated site for VR quality last year. They have dropped a bit lately as they experienced some issues with their VR image over the past few months, but I am confident that HoloGirlsVR will rise towards the top again soon. My congratulations to HoloFilm for this latest achievement.
Synopsis for Overwhore: DiVa on HoloGirlsVR:
After losing a match against you, the Overwhore agent DiVa notices your craving for her juicy little ass through her skin tight suit. So rather than giving up her Mech, DiVa is going to instead reward you with a show by fucking her self on your lap with her bullet dildos. Now more turned on than a Bastion behind a Reinhardt, the devilish DiVa is going to ride and fuck you until you give her that sweet, sweet payload.