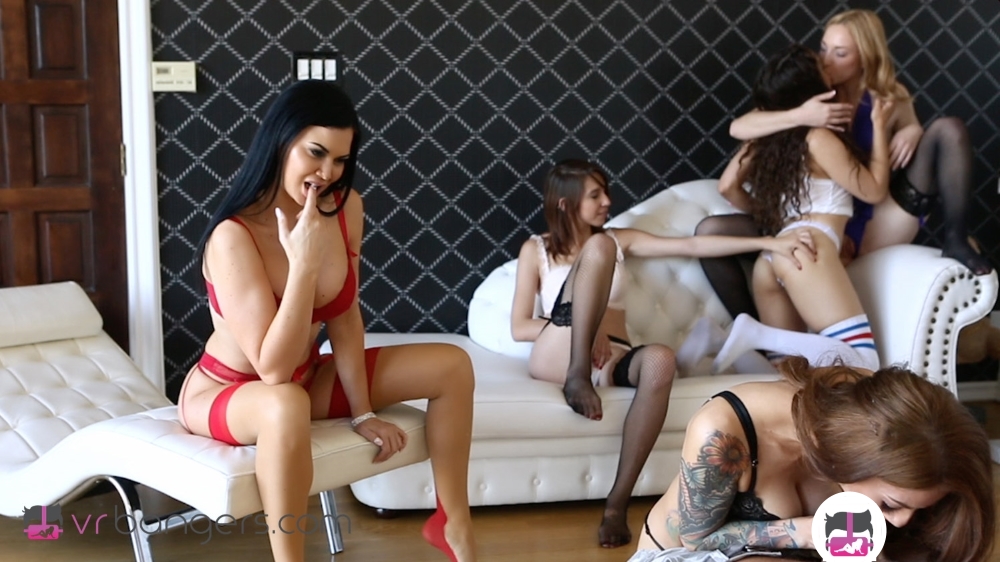 Updated March 2019 – VR Bangers was launched in January of 2016 and features a good mix of both American and European talent. They originally started with 2D videos, but made the switch to all 3D titles during the second half of 2016. VR Bangers also offers gay and transgender content on their separate VRB Gay and VRB Trans niche sites.
I viewed the VR Bangers videos on my Samsung S6 phone with a Gear VR headset and the Samsung VR app. Like most VR porn sites, the videos on VR Bangers are rated as 60fps and feature binaural sound. The field of view is where VR Bangers stands out from others as they originally offered some titles with a full 360º FOV instead of the usual 180º. The scores shown below are based on a comparison with videos from other VR porn sites.
1. Quality of VR (4.0 stars) – There were many issues with the VR quality on VR Bangers, but things steadily improved and they eventually became the first VR porn site to offer videos in 6K. Some inconsistencies remain, but the scale, colors, clarity and camera positioning all look much better lately. Unfortunately, much of the content they sourced from other parties was quite poor.

2. Quality of Porn (4.0 stars) – The quality of porn on VR Bangers is good, especially in the videos that feature American actresses. The European models are also attractive, young, fit and talented. The set designs are decent and there is enough dialogue and storyline to keep things interesting. A lack of positions in their recent scenes has kept the score lower here.
3. Quantity of VR Porn (3.5 stars) – Presently at around 250 videos, VR Bangers is now releasing scenes at a rate of about 1.5 titles per week. The rate has fluctuated lately and after dropping to 1 video per week for a short time.
4. Variety of VR Porn (4.5 stars) – VR Bangers has done an excellent job with their variety of VR porn when considering their average amount of total videos. They just need more quality titles to earn a top score here.
5. Website, Service, Extras (4.0 stars) – The VR Bangers website design was upgraded to be more user friendly and there are now release dates and search/filter options. Previews and image galleries are provided for each title. Membership pricing is about average at US $24.95 for 1 month and payments are processed through Epoch and Paypal.