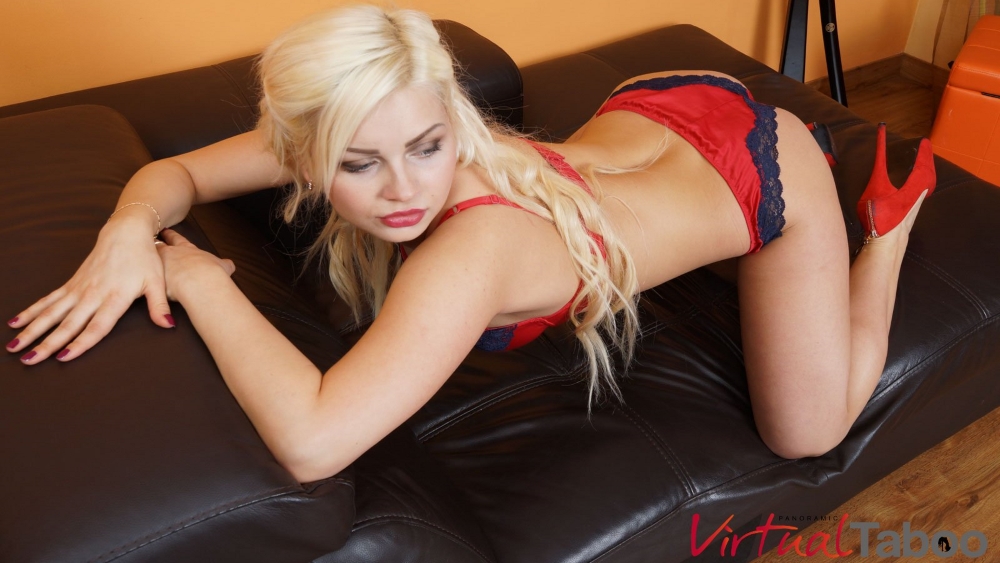 Updated March 2021 – Virtual Taboo has mainly focused on producing stepfamily fetish content since releasing their first VR porn video in December of 2015. They recently launched a new site, DarkRoomVR, which aims to open the door into a hidden room full of your deepest and darkest dreams.
I viewed the 4K videos from Virtual Taboo on my Oculus Go headset with the Skybox VR app. The scores shown below are based on a comparison with videos from other VR porn sites.
1. Quality of VR (4.0 stars) – The colors and clarity on Virtual Taboo have both improved lately while the scale remains good. Their camera positioning still needs improvement. Some earlier scenes were sourced from other studios so the VR quality often varied.

2. Quality of Porn (4.0 stars) – Virtual Taboo films their sex scenes in multiple positions which makes it easier for the models to show off their talents. The actresses are mostly attractive, fit European ladies. The set designs for each title were initially simple and low budget, but have been much better lately. The taboo storylines are focused on sex with stepmoms and stepdaughters.
3. Quantity of VR Porn (4.0 stars) – Currently with around 580 titles and growing at 3 videos per week, Virtual Taboo has been steadily catching up with the leaders in this category. About half of the new releases are solo masturbation videos.
4. Variety of VR Porn (4.0 stars) – Virtual Taboo has done a decent job with their variety of VR porn considering the number of solo videos they have released. There is plenty of MILF and teen action. Hopefully, they will expand into other taboo genres besides stepmother and stepsister scenes.
5. Website, Service, Extras (4.0 stars) – The Virtual Taboo website includes search and tag features. The download speeds are good and there are image galleries and model pages. Membership pricing is slightly above average at $29.99 for 1 month and payment can be made via PayPal or credit card with Epoch as the processor.