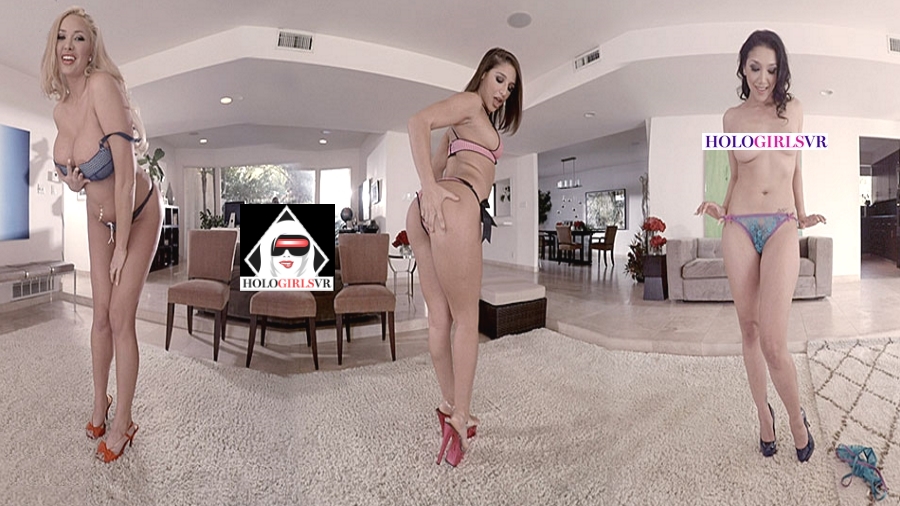 HoloGirlsVR was launched in January of 2016 by HoloFilm Productions, a leading edge virtual reality entertainment production and post-production company. The studio was founded by well-known adult industry technologist Brian Shuster, who is also CEO of the popular adult virtual world Red Light Center. HoloGirlsVR has a distribution relationship with Kink VR and Burning Angel VR.
I viewed the videos from HoloGirlsVR on my Samsung S6 phone with a Gear VR headset and the Samsung VR app. Like most VR porn sites, the videos on HoloGirlsVR are rated as 60fps and feature binaural sound. The field of view for HoloGirlsVR videos ranges from 180º to 220º. The scores shown below are based on a comparison with videos from other VR porn sites.
1. Quality of VR (3.0 stars) – The VR quality on HoloGirlsVR was at or near the top for quite awhile, but the other sites have improved their VR while HoloGirlsVR has been degrading as of late. They did manage to fix a stitching problem and their colors are still very good. Some of their content is now being sourced from other studios.

2. Quality of Porn (3.5 stars) – The porn on HoloGirlsVR has taken a step back recently as well. The actresses are still attractive and talented, but the scenes are often poorly done. The set designs for each title are fairly simple and the storylines are decent.
3. Quantity of VR Porn (3.5 stars) – Currently at around 200 titles and growing at 1 video per week, HoloGirlsVR has plenty of content to offer their fans. Please note that a significant portion of their videos are solo scenes.
4. Variety of VR Porn (4.0 stars) – HoloGirlsVR has done very well with their variety of porn and genres. They have facesitting and casting couch collections as well as GFE (girlfriend experience) and whip cracking mistress videos. They have released a few ethnically diverse titles, but could always use more.
5. Website, Service, Extras (3.5 stars) – The HoloGirlsVR website design is rather unique and simple. The download speeds are decent and there are sort, search and filter options. Membership pricing is about average at US $24.95 for 1 month and payments are processed through CCBill. A free VIP membership to Red Light Center 2 and RLCVR is included.