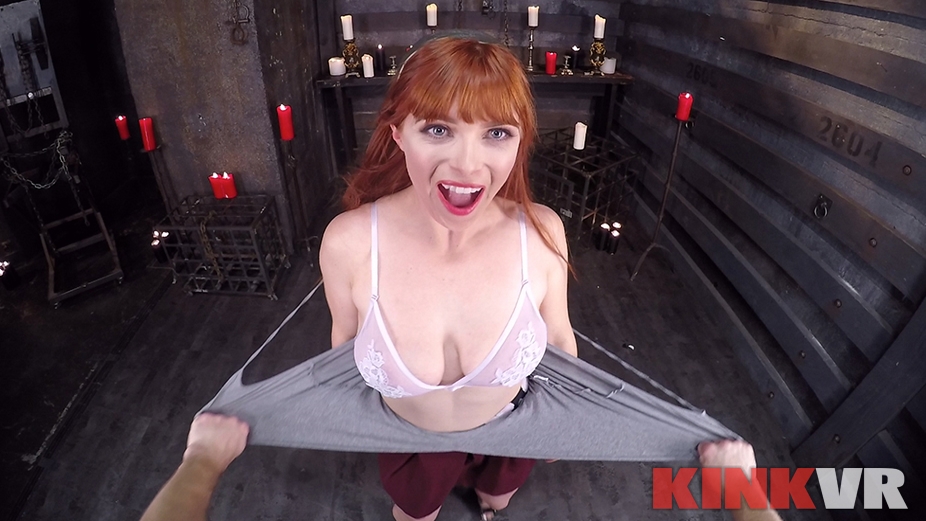 Kink VR is based in San Francisco and is one of many websites under the award-winning Kink.com brand. Started in 1997 by bondage enthusiast Peter Acworth, Kink.com is now the largest producer of BDSM and fetish pornography in the world. The Kink VR site has remained in beta mode since releasing their first video in November of 2015 and currently allows free downloads for all 14 of their shoots.
I viewed the videos from Kink VR on my Samsung S6 phone with a Gear VR headset and the Samsung VR app. Like most VR porn sites, the videos on Kink VR feature binaural sound with a 180º FOV. The scores shown below are based on a comparison with videos from other VR porn sites.
1. Quality of VR (3.5 stars) – I was not able to find a rating for fps on Kink VR, but I had no issues with frame speed as all of the videos are smooth and steady. The colors and clarity are good even though many of the scenes are filmed with a dark dungeon theme that must make the lighting setups difficult.
The biggest issues are the scaling being too big and the camera angles being off for the POV scenes. A couple videos also suffered from a tilting floor problem and a warping effect.

2. Quality of Porn (3.5 stars) – The models on Kink VR are not your typical porn stars, but they do an excellent job of vocalizing and staying engaged with the camera. The American actresses are mostly young, attractive and eager to please. The Kink VR videos contain much more dialogue than all of the other VR porn I have watched and it is well done.
The BDSM and fetish style porn that Kink VR produces might not appeal to the majority of viewers, but I have no doubt that they are good at what they do. Their set designs are rather simple and a bit repetitive, but they do fit the storylines.
3. Quantity of VR Porn (0.5 stars) – Currently Kink VR has 14 titles available and has not added any new content for the past several months. I am hoping that they will exit the beta stage soon and give us some more kinky fetish porn.
4. Variety of VR Porn (3.0 stars) – This is where Kink VR will shine. I only rate them low now because of the lack of videos they have released so far, but I expect they will score the highest here once their library of VR porn starts to grow.
5. Website, Service, Extras (4.0 stars) – The Kink VR website design is very nice. All of the videos are listed on one page and all relevant info is included for each shoot. The download speeds are decent and their instructions section does a good job explaining how to setup and use various devices and apps for viewing the videos.
Membership pricing is FREE!!! Once the beta testing period ends I believe Kink.com will offer access to Kink VR within their $49.99 per month unlimited plan.