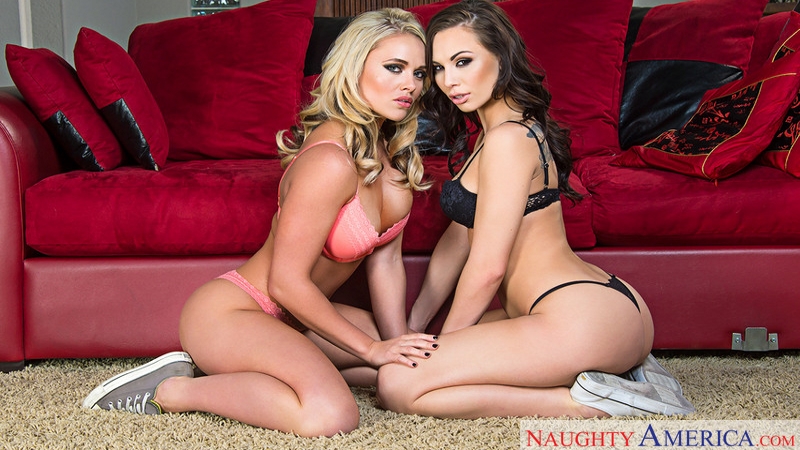 Updated April 2, 2018 – The Naughty America brand is based in Southern California and has been producing porn since 2004. They are often nominated for and have won several AVN and XBIZ awards. They are also known for being one of the very first sites to offer porn videos at 4k resolution. Naughty America became the largest adult film producer to enter the VR porn market when they released their original VR title in July of 2015.
The VR section is just a small part of the Naughty America mega site that is made up of 40+ different sites and contains over 10 thousand porn videos. They also have a couple of separate VR porn niche sites in Real Teens VR and Big Tits In VR.
I viewed the videos from Naughty America on my Samsung S6 phone with a Gear VR headset and the Samsung VR app. Like most VR porn sites, the videos on Naughty America are rated as 60fps and feature binaural sound with a 180º FOV. The scores shown below are based on a comparison with videos from other VR porn sites.

1. Quality of VR (4.5 stars) – This category was the Achilles heel for Naughty America for quite some time. The scale used to be way too big and is still slightly larger than the average VR porn site. The VR image quality is decent and has been improving, but it remains a step below the leading sites. Camera positioning has also improved a great deal and is now excellent.
2. Quality of Porn (5.0 stars) – Naughty America has superb VR porn quality as they mostly feature experienced porn stars who do an excellent job of vocalizing and staying engaged with the camera. The American actresses are usually a bit more voluptuous than the ladies on other VR porn sites. Filming in multiple positions in each video keeps things fresh and allows the models to show off more of their talents. The set designs in each video are nicely done and not repetitive. The dialogue is good and the storylines are usually short and sweet.
3. Quantity of VR Porn (4.5 stars) – Currently at 230+ titles and now growing at 3 videos per week, Naughty America has built a decent library of B/G VR porn.

4. Variety of VR Porn (4.0 stars) – As far as different genres go, threesomes and foursomes have been featured multiple times. There is a bit of a shortage of younger models and girls from different ethnic backgrounds, but hopefully that will change thanks to their higher video release rate.
5. Website, Service, Extras (4.5 stars) – The Naughty America website design is very good and offers detailed search and filter options. The download speeds are decent even though the site holds a massive amount of content. Membership pricing is a bit confusing since they switched over to their "Channels" format. Please visit Naughty America for the latest info regarding subscription packages. Payment options include Bitcoin, PayPal, gift card, check or credit card with Epoch or SegPay as a payment processor.