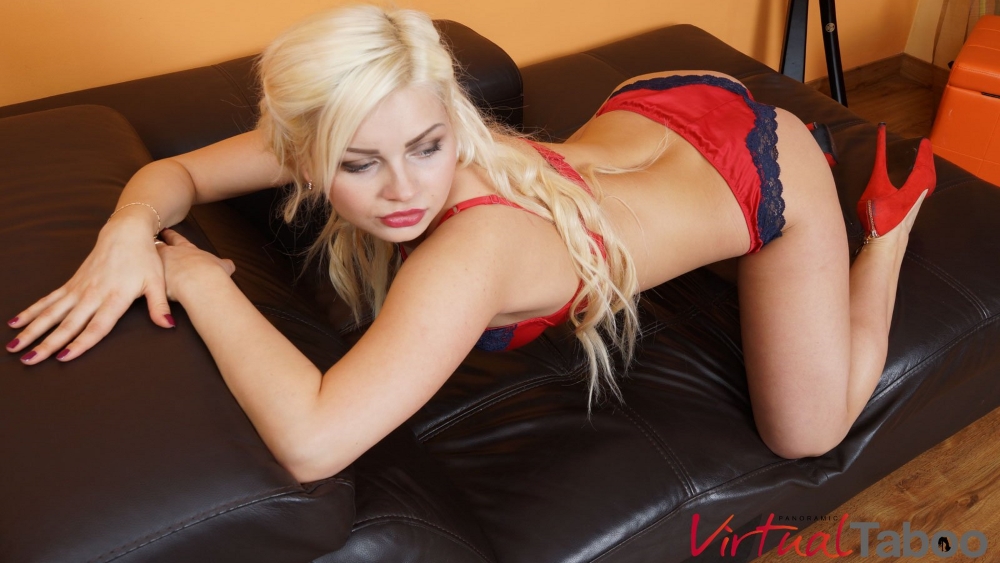 VirtualTaboo released their first VR porn video in December of 2015 and presently have around 50 videos with 1 new title being added each week. VirtualTaboo operates out of Barcelona, Spain and is more of a low budget player when it comes to sites currently producing VR porn.
I viewed the videos from VirtualTaboo on my Samsung S6 phone with a Gear VR headset and the Samsung VR app. Like most VR porn sites, the videos on VirtualTaboo are rated as 60fps and feature binaural sound with a 180º FOV. The scores shown below are based on a comparison with videos from other VR porn sites.
1. Quality of VR (4.0 stars) – The scale on VirtualTaboo is good while the colors and clarity are both average. The camera angles and positioning are also decent. They do occasionally have issues with their VR, but they also deserve credit for filming in multiple positions and consistently working to improve their product.

2. Quality of Porn (4.0 stars) – As mentioned above, VirtualTaboo films their sex scenes in multiple positions which makes it easier for the models to show off their talents. The actresses are mostly attractive, young, fit European ladies. They engage with the camera and look great in close-ups, but there is a noticeable lack of vocalization from some of the ladies. The set designs for each title are fairly simple and low budget. The storylines are not a major focus, but they do try to keep them taboo.
3. Quantity of VR Porn (3.0 stars) – Currently with around 50 titles and growing at 1 video per week, VirtualTaboo has a long way to go to catch up with the leaders in this category.
4. Variety of VR Porn (4.0 stars) – VirtualTaboo has done well with their variety of VR porn considering their limited amount of videos. Hopefully they will continue to expand into other genres.
5. Website, Service, Extras (4.0 stars) – The VirtualTaboo website design is very basic and the download speeds are good. All of the videos are listed chronologically and there are image galleries and previews provided for most titles. Membership pricing is less than average at Euro 14.95 for 1 month and credit card payments are processed through Paysite-cash.