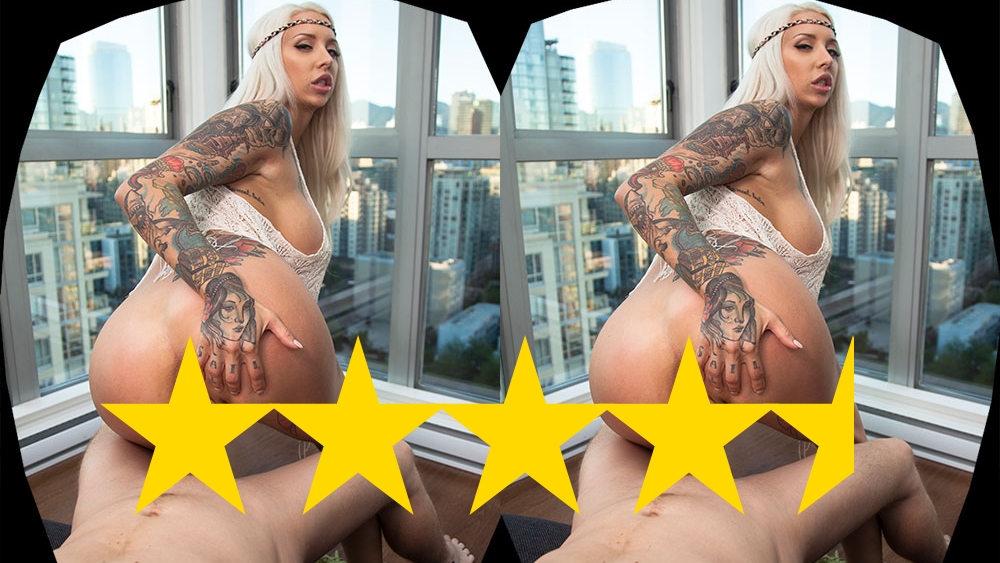 My pick for Best VR Porn Video July 2016 is "Music Festival Babe" starring Rachel Rampage. This B/G, POV scene was released by HoloGirlsVR on July 16th and received 4.5 stars on my VR Porn Reviews July 2016 post. "Babe" is one of those special videos that manages to combine high quality VR with high quality porn.
The set in "Babe" was located high up in an attractive downtown condo and featured a corner window with a great cityscape view. The HoloGirlsVR colors and clarity were top notch and made Rachel's tattoos appear incredibly vibrant. The scale was also spot on and, while the camera positioning was mostly good, there were moments when the male talent wandered off-center and that is the sole reason I didn't award this video a full 5 stars.
"Babe" clocked in at 19 minutes and 38 seconds and was packed with action from start to finish. In fact, I can't recall a B/G title that included more changes of position than this one. By my tally it went something like this: BJ, Cowgirl, BJ, Titty Fuck, BJ, Reverse Cowgirl, BJ, Cowgirl, BJ, Titty Fuck, Reverse Cowgirl, BJ, Cowgirl and then finally a BJ with a nice facial cumshot.

The best part of "Babe" was, of course, Rachel Rampage. She gave an amazingly energetic performance that was filled with lust and did well to showcase her superb bump 'n grind skills. Rachel seems like a perfect fit for VR porn and I am really looking forward to seeing more from her, especially if it's in another top rated video like my Best VR Porn Video July 2016 selection "Music Festival Babe."
Synopsis from HoloGirlsVR:
The hot chick you met at the music festival brought you back to her place! She uses her big tits and full ass to drain your balls! Once she pumps your dick dry you're of no use to her. So don't get too comfortable. You have to stay hard to keep her attention.