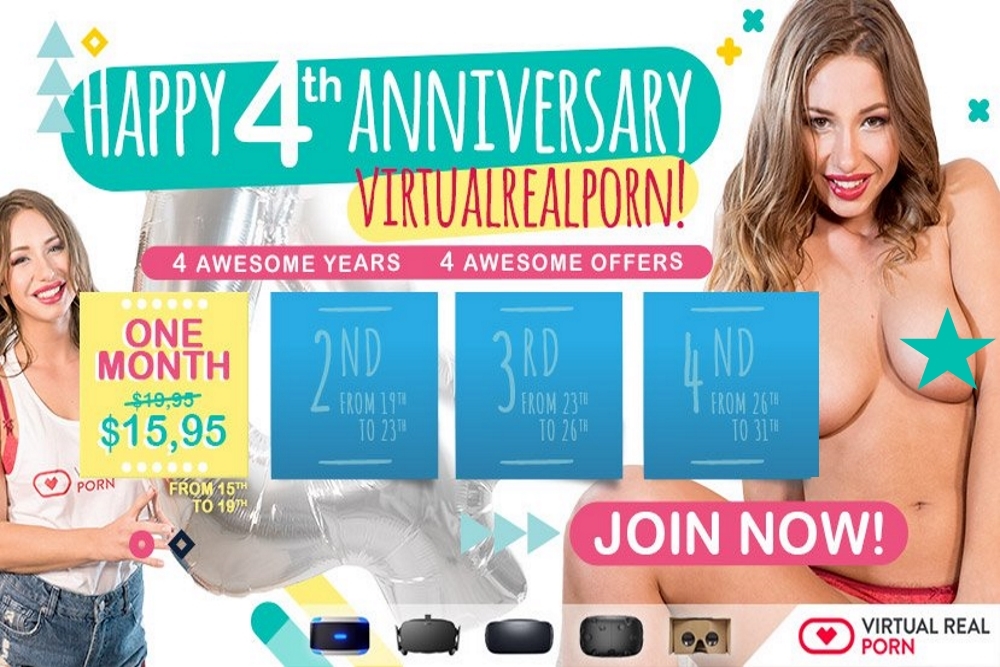 It's been a great 4 years of VR porn and VirtualRealPorn is celebrating their anniversary with special videos, orgies, membership discounts and other surprises. Widely recognized as the original VR porn site, VirtualRealPorn was also the first one to pair VR porn with interactive sex toys. In addition to their main site, VirtualRealPorn offers gay, transgender and female POV content on their separate VirtualRealGay, VirtualRealTrans and VirtualRealPassion niche sites.
Here are the different membership deals being offered over the next 2 weeks:
January 15 – 19 Monthly recurring for 15.95 €/$
January 19 – 23 One year for 59.95 €/$
January 23 – 26 Streaming for 6.95 €/$
January 26 – 31 Three Months for 25.95 €/$
Perhaps one of the surprises has already been revealed as it appears the image quality on VirtualRealPorn has taken a step up with their latest release Happy 4th Anniversary starring Taylor Sands. It could really be a game changer for them as VR quality is such a key factor and it's rate of improvement has been rather slow on VirtualRealPorn.

It's very satisfying to see the original VR porn site doing so well after 4 years in the business. VirtualRealPorn has consistently been one of my top rated VR porn sites and they continue to produce a wide variety of quality content. I look forward to following their development for many more years to come. Happy 4th Anniversary VirtualRealPorn!
Here is a video interview with the VirtualRealPorn CEO: