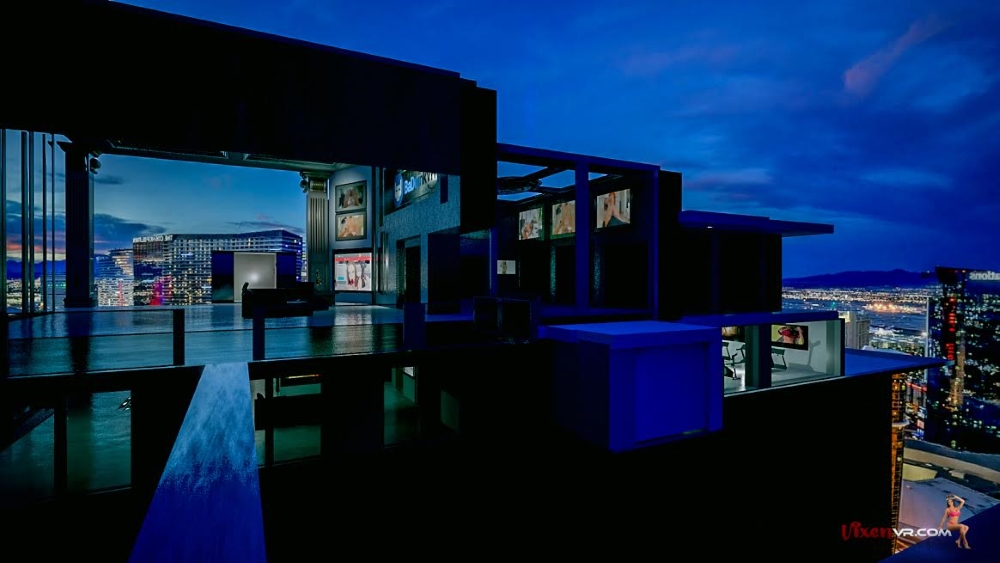 Temptation Towers, the newest game from VixenVR, is a unique VR experience that features content from established brands in the world of adult entertainment within a fully navigable game environment. The action takes place on multiple floors of a luxurious high-rise located along the Las Vegas Strip and is VixenVR's most exciting product experience to date. While I am not a big fan of the softcore style porn videos that VixenVR has released thus far, I do love the direction they are headed here with Temptation Towers.
The game currently includes both recorded and live-streaming video and offers content from top brand name adult providers like BadoinkVR, KinkVR, Muscle Girl Flix, CamWithHer and of course VixenVR. The plan, as explained to me by CEO Jimmy Hess, is to continuously update Temptation Towers with new content and to expand the Towers by building more rooms and floors into the game as additional partners get on board. VixenVR will also be adding their own VR strip club feature in the near future.
As for my experience in the Towers, I really enjoyed the exploration aspect of the game as I roamed around each floor and discovered the various rooms. It's a fascinating new way to view adult content and I can see a bright future for this type of product. I also like the idea that VixenVR can keep the Towers experience fresh and exciting by frequently updating the content and design of the game.
Temptation Towers is compatible with Oculus, HTC Vive and OSVR headsets and can also be viewed directly on a PC (minimum CPU specs required). VixenVR uses a credit system for purchasing content on their site and Temptation Towers will set you back 50 credits (roughly $15-20 depending on the package).

From VixenVR:
Temptation Towers is the worlds first adult themed, streaming, interactive virtual reality game experience. Ever expanding and continuously updated. When you enter this game the sky is the limit as you explore this tumultuous tower filled with racy rooms, exotic levels, audacious apartments and penthouses filled with passionate playthings. This is no cartoon, come enter this real life, ever-expanding VR game environment and live inside these debaucherous digs in VR and or on your PC. We suspect you'll want to make these towers your home once you navigate your way from room to room, floor to floor uncovering new and very sexy surprises around every corner. If you dare, maneuver your way across the thinnest of beams towering above sin cities amazing backdrop and you may end up partying in the coolest of clubs, but a little word to the wise…do not fall off that beam or you may end up confined in the kinkiest of places and among the fiercest of fiends. Join us for this ground breaking adult VR experience. Temptation Towers will continue to be optimized, updated and upgraded continuously via your internet connection. Compatible with Oculus, HTC Vive, OSVR and PC.