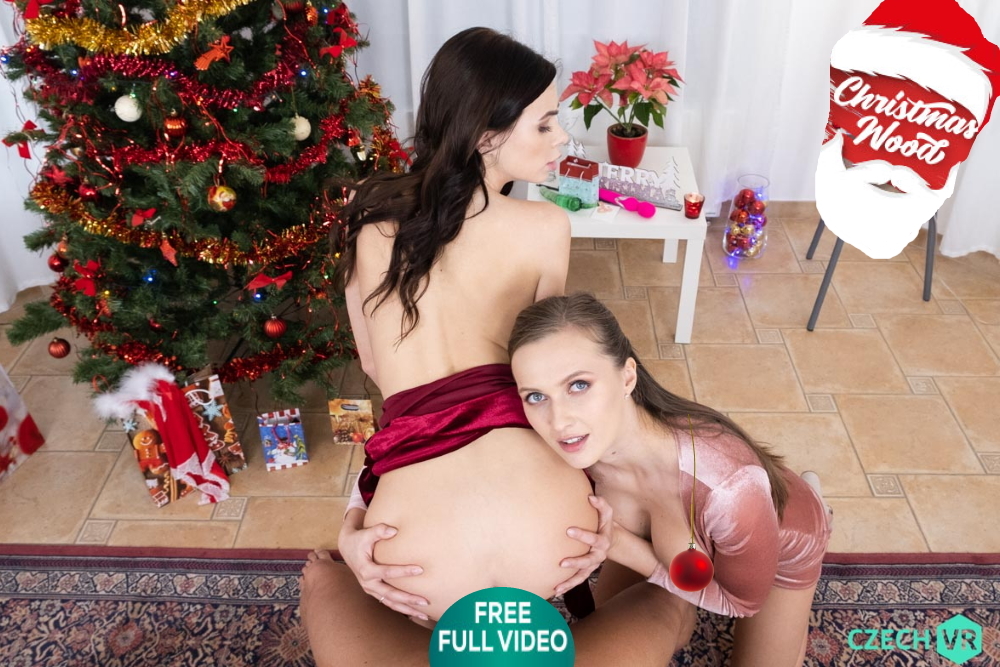 Many of the top VR porn sites were in a jolly mood again this year with their Xmas 2020 VR porn videos. Czech VR once again played the role of Santa and released a free full-length threesome scene.
Christmas Wood by Czech VR – B/G/G, Jenny Doll & Stacy Cruz. Christmas is a time of gift-giving and every year CzechVR prepares a treat for you that is hard to beat. The lovely Jenny Doll and irresistible Stacy Cruz are going to unpack their special gifts, but they want something more special as well and you guessed it – it's your cock. Enjoy a wonderful Christmas with these two incredible girls in 8K.
Dick The Halls by WankzVR – B/G, Kylie Rocket. No Wankzmas is complete without the right decorations. As Kylie Rocket gathers up the tinsel and festive ornaments, you sit back to enjoy the view. Will you help top the tree with the angel or will you place the heavenly Kylie on top of your dick? Get into the holiday spirit and get into Kylie too when you dick the halls this Christmas season.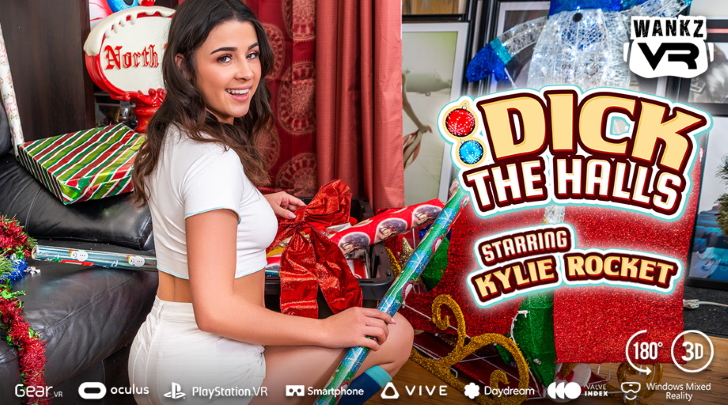 The Night Before Wankzmas by WankzVR – B/G/G/G, Laney Grey, Aiden Ashley & Lily Larimar. 'Twas the night before Wankzmas and all through this home, sexy creatures were stirring, and totally ready to bone. Stockings were clung across six shapely legs with care, in an exchange with Laney Grey that becomes a foursome affair! You with your boner, and Laney in lace, give each other some fun and cum all over the place.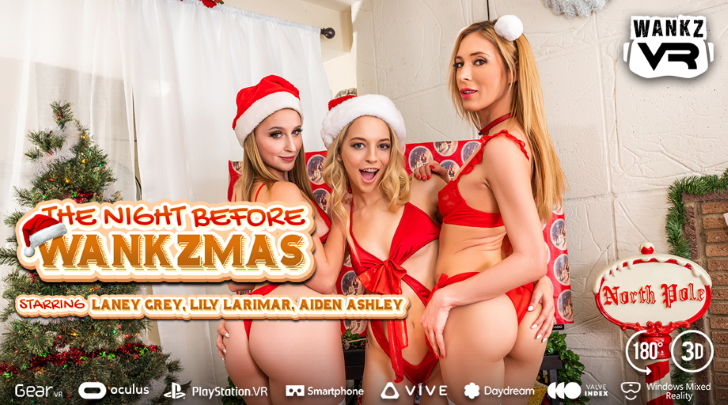 Stealing Santa's Cookies And Cream by Virtual Real Porn – B/G, Sofia Lee. Busty babe wears sexy Christmas-themed lingerie in anticipation of Santa's visit. She performs a little striptease in front of Santa and pours a glass of milk all over her big tits. Sofia then lets Santa bang her in cowgirl, missionary, and doggy style before jerking him off until he cums all over her body.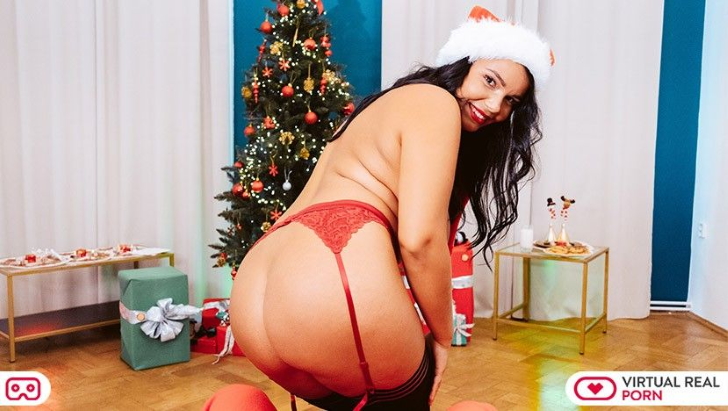 A Christmas Wish by Virtual Real Porn – B/G/G/G, Talia Mint, Leanne Lace & Kinuski. You receive a mysterious snowglobe that is said to have the power to make any wish come true. You decide to give the magical item a little shake. Lo and behold, three stunning babes appear in front of you. The girls take turns giving you pleasure. Christmas has never been this good.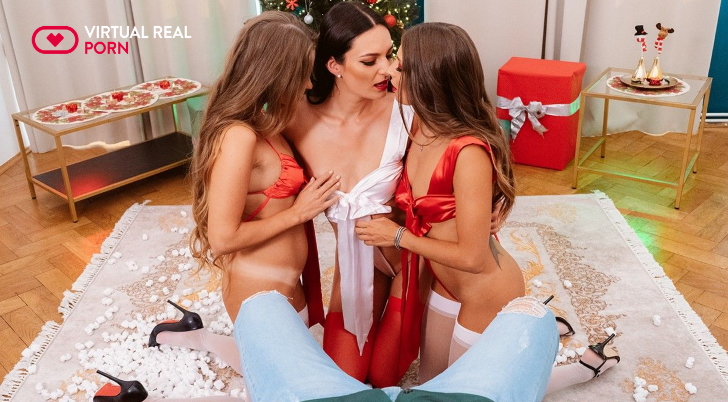 The Office 8 by Naughty America – B/G/G/G, Aiden Ashley, Daisy Stone & Spencer Bradley. You know your sexy employees will love the gifts you bought them. Being the promiscuous naughty girls they are, you know for a fact that will dress up in the sexy lingerie right in front of you and then give thanks by riding your hard cock. Merry Christmas to you!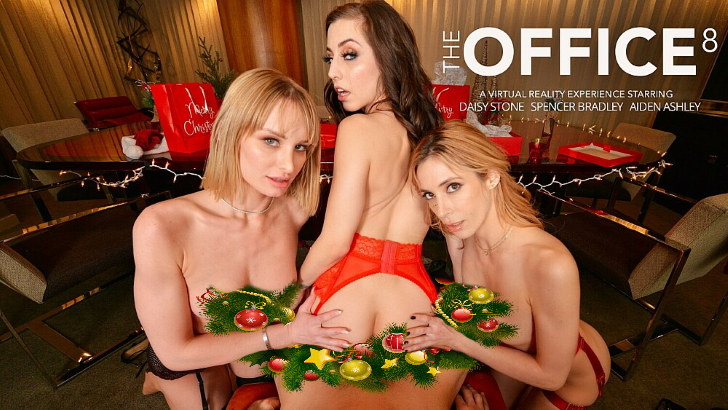 All I Want For Christmas Is You by VR Bangers – B/G, Nelly Kent. Spend some special time with your girlfriend surrounded by the Christmas theme – on the carpet in front of a fireplace while enjoying a cup of hot chocolate together. Things soon get pretty intimate as Nelly starts working on your candy cane. Help her out by banging her hard and make sure to decorate her pretty face with your Xmas spirit.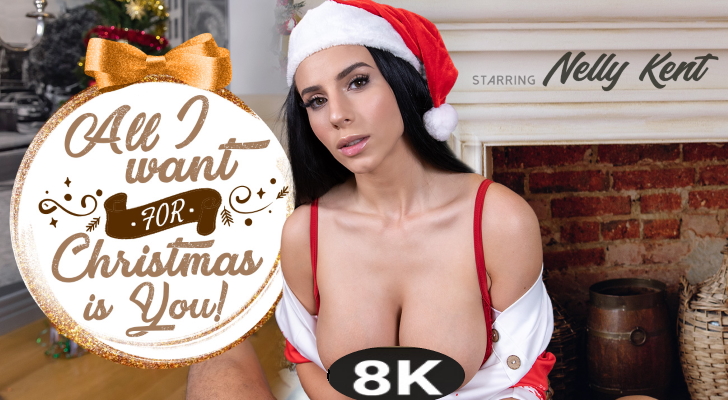 Naughty List Of Mrs. Claus by VR Bangers – B/G/G/G/G/G/G/G, Sheena Ryder, Alona Bloom, Avery Black, September Reign, Kaiya Rose, Hime Marie & Alexa Nova. Sheena Ryder is your Mrs. Claus and she makes your deepest hidden sexual dreams cum true. You will have a diverse group of girls to choose from and all of them are more than happy to give you exactly what you asked for this year.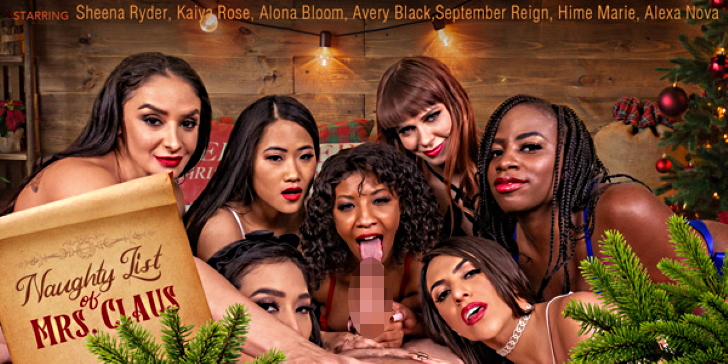 Hoes Of Christmas Past by BaDoinkVR – B/G/G, Kyler Quinn & Maya Woulfe. Your girlfriend has bailed out on Christmas again. As you drift to sleep though, something strange appears. Maya and Kyler are in your bedroom as the sexy ghosts of Christmas past. These two want to show you what you've been missing all year with your "girlfriend." It's time for a Xmas threesome you'll never forget.

Bye Bye 2020 by Virtual Taboo – B/G/G, Kaisa Nord & Scarlett Jones. You are dark, weird and the girls are both a little afraid of you. They have never been controlled by a man this way and find themselves unable to resist your sexual charisma. You have them both cumming on your cock and begging to swallow your load. By the time you put them to bed, the girls are completely under your control and can't wait for more.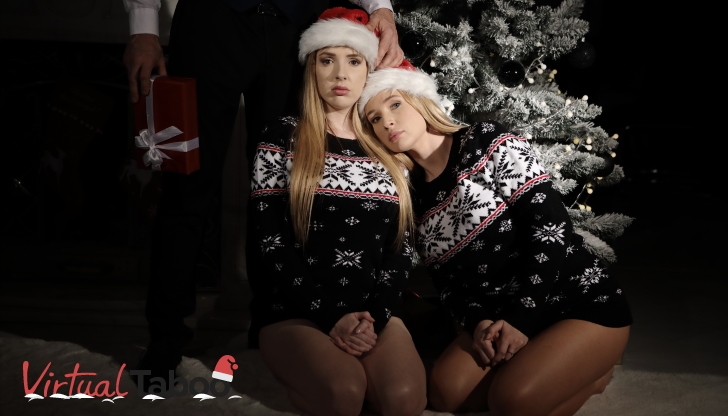 Christmas Perverse Family by Reality Lovers – B/B/G/G/G, Brittany Bardot, Nikola Volt & Isabela De Laa. Christmas with mom, dad, grandma, daughter and her boyfriend. Virtual Reality Porn actors like Nikola Volt (Grandma), Brittany Bardot (Mother), and Isabella de Laa (Daughter) love getting cum shots in the face and eating holiday creampie. Enjoy a really hot, horny, and perverted Christmas.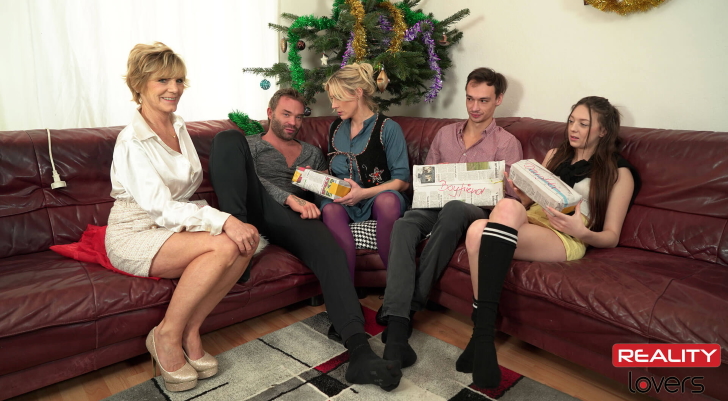 Cumming For Christmas by SexBabesVR – B/G/G, Isabella Della & Jenny Doll. With the Christmas colors of red and white as their matching lingerie, these two babes are waiting for you on the bed to get the Christmas party started, ready to bring their mouths together over your cock in a wild double blowjob, and let their hands and tongues explore each others' bodies while they're taking riding you.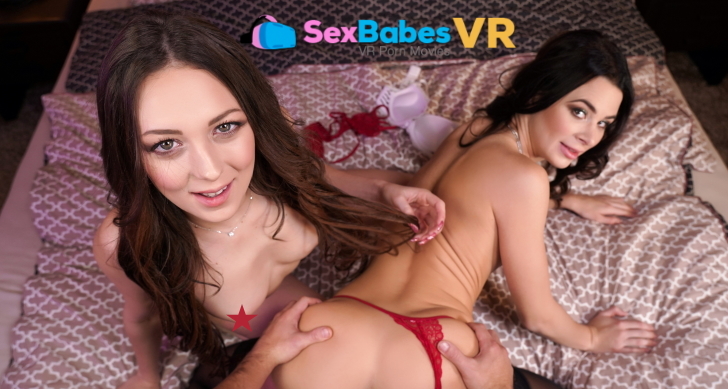 I Have A Surprise For You On Christmas by VRHush – B/G/G, Kayley Gunner & Jenna Noelle. You got Kayley a new car for Xmas, but she didn't get you much of a present this year. Not a problem though, her roommate Jenna Noelle has her back. They both know what you want most this Christmas. You want to bang them both at the same time. You have been a good boy this year right?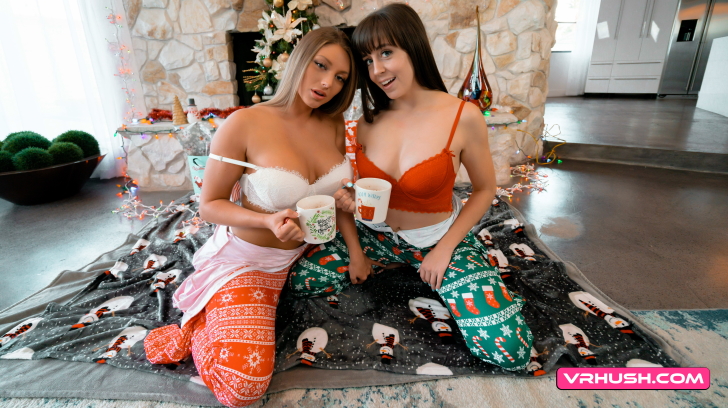 Unwrapped by MilfVR – B/G, Lilian Stone. You know better than to wrap your own gifts this year and decide to leave it to a true professional. On your block, Lilian Stone is the undisputed Queen of the Holidays and a domestic goddess like no other. Next in line for her gift wrapping service, you'll see Lilian add a little festive magic to everything she does. She'll wrap your presents and unwrap your pants too.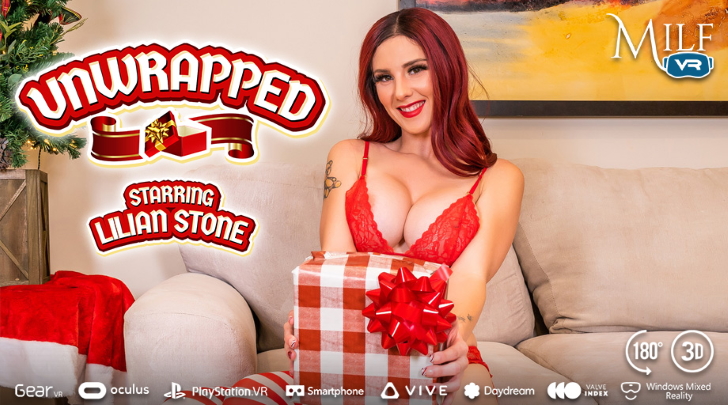 League Of Legends: Katarina A XXX Parody by VRCosplayX – B/G, Sybil A. You've been so busy training that you've almost forgotten it's Christmas, eh, Garen? Being the God King you are, you've got quite a lot of pressing issues, so when Katarina comes to wish you Happy Holidays, you're taken aback. You deserve to relax a bit Garen, sit back and let Katarina suck you and ride you into orgasm.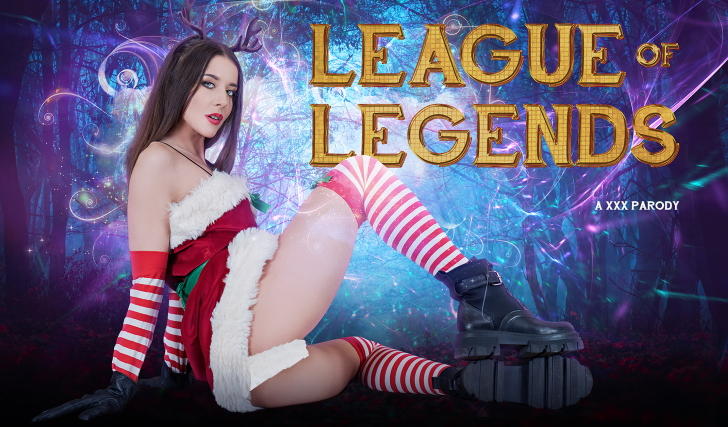 Pounding Presents by 18VR – B/G/G, Jenny Wild & Isabella De Laa. It's Christmas Eve and you decided to keep it quiet this year, said no one ever. Your two Czech bombshell babes were in town for the Holiday season so you invited them over for a Xmas dick delivery. Are they be ready to open their pounding presents? It's up to you to unwrap your merry sluts. You already know it's gonna be anything but a Silent Night.

Holidays on VirtualRealGay: Part I by Virtual Real Gay – Solo, James Lewis. This handsome blonde stud is busy preparing his home for the big Christmas Party he planned for you. James decides to give you a call as he wraps up the decorating and performs a little striptease for you before jerking off. The spontaneous solo masturbation ends with James cumming all over himself.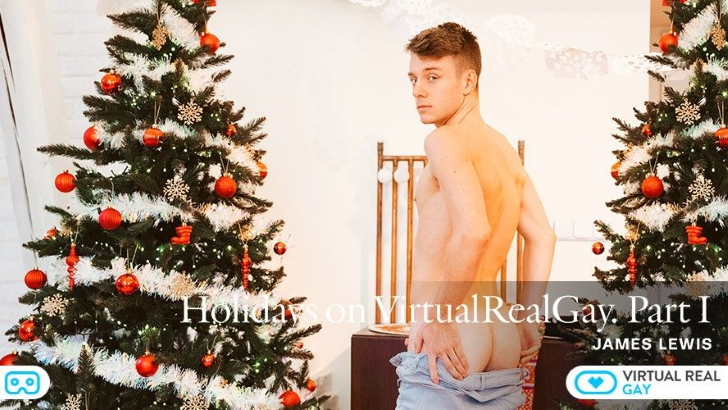 Holidays on VirtualRealGay: Part II by Virtual Real Gay – B/B/B, Jacob Harris, James Lewis & Michael Storm. Setting up the Christmas decorations has been a walk in the park with the help of your sexy friends. The two handsome studs fool around by the Christmas tree while you rest on the couch. They don't want you to miss out, so the boys let you join them for some holiday fun.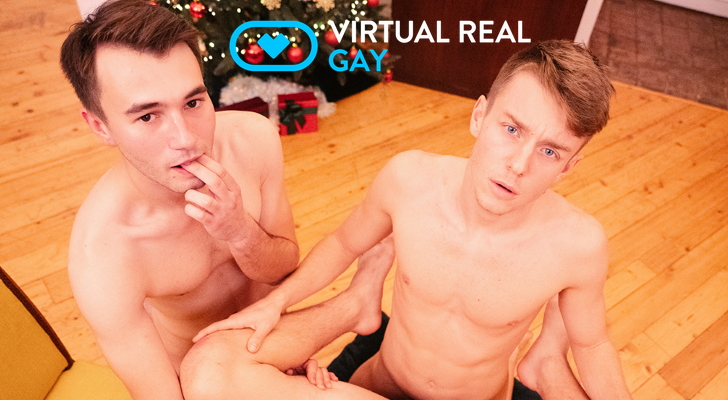 Christmas on VirtualRealTrans: Part I by Virtual Real Trans – Solo, Amanda Fialho. Tattooed Latina fills her house with holiday cheer. All the decorating made Amanda a bit horny. The busty Brazilian bombshell takes a break and begins to touch herself. She uses a black dildo to stretch out as she jerks off. The horny babe slides the toy in and out of her bum. She continues until she cums all over herself.
Christmas on VirtualRealTrans: Part II by Virtual Real Trans – B/G, Amanda Fialho. The beautiful TS babe is quick to reach for your hard shaft and give it a sloppy blowjob. Amanda makes sure to slobber your rod with her spit before sticking it into her. You can feel her tightening up around your shaft as she continues to ride you until you cum.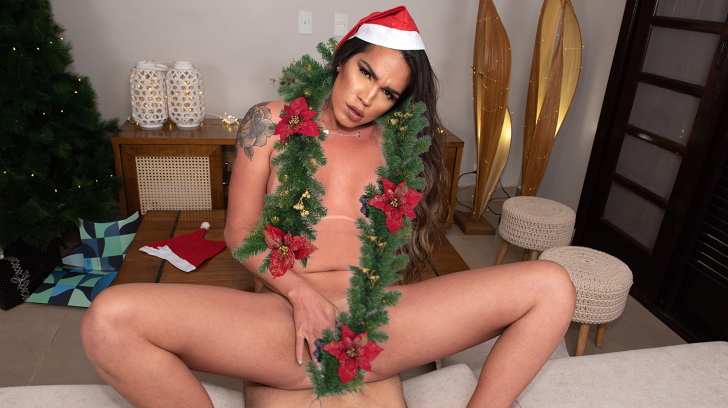 A Merry Hoe Hoe Hoe by Kink VR – B/G, Bella Wilde. This year, Santa is pissed. Imagine having to deliver all those filthy presents all year long and returning home with nothing to play with. Santa is tired of his blue ball Christmases. Well, 2020 is no ordinary year. The world population is offering one hell of a gift to Santa this year. Open it up Santa, your merry slut awaits.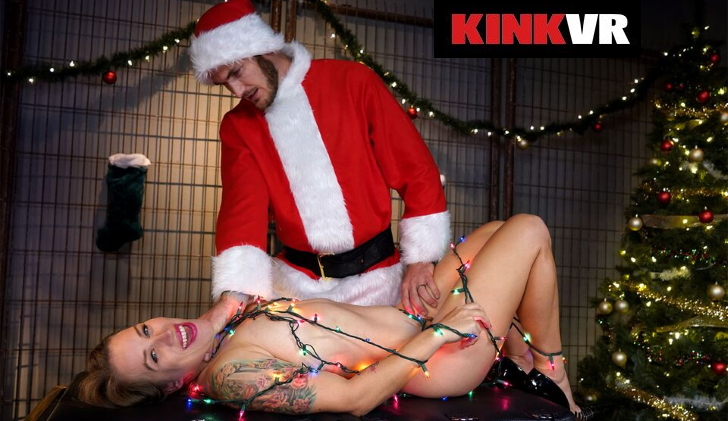 All I Want For Christmas by Grooby VR – B/G, Emma Rose. This gorgeous tgirl comes wrapped up in silk and stockings, ready to be unpacked. She's here to fulfill your holiday wishes as she strips and gives you a blowjob, sucking on your cock like it's a candy cane. When she gets you hard she mounts you, she wants you to bang her sexy bubble butt until you're ready to cum in her mouth.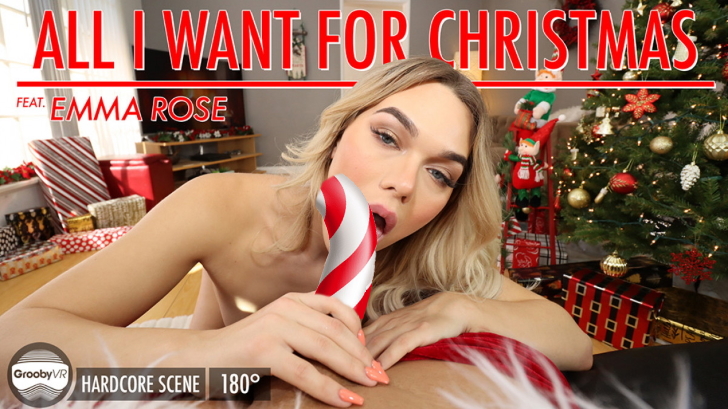 Heaven And Hell by VRB Trans – B/G/G, Vanessa Jhons & Redvex. An angel and a devil are about to visit you tonight. Vanessa Jhons as a stunning angel and Redvex as a horny devil – and the T-girls are here for you today to make you choose one of them. But you know what? Why would you even choose either of them when you can bang both of these transgender vixens.