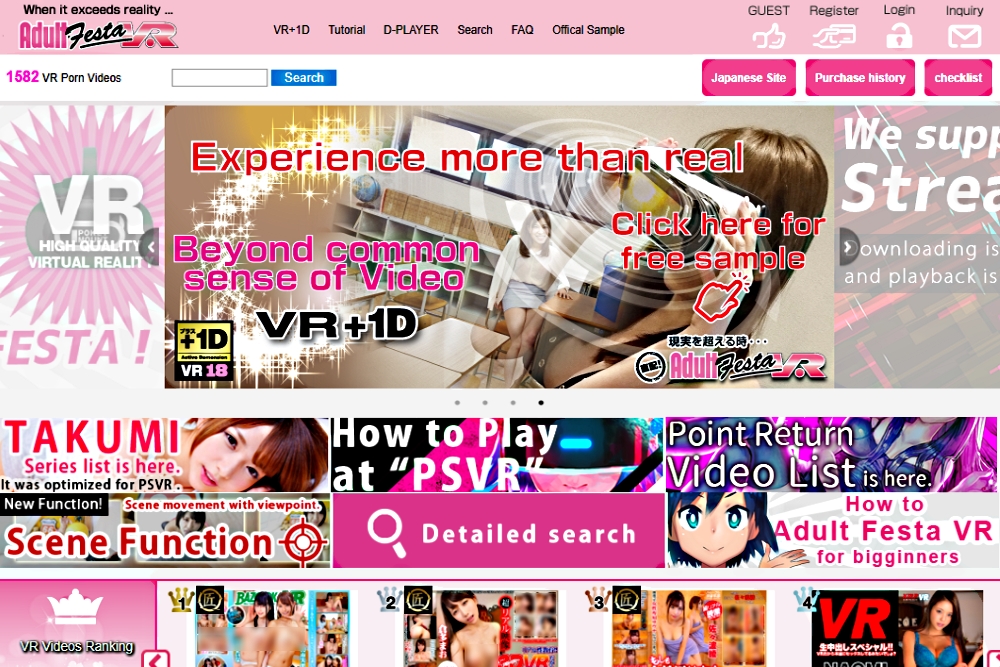 The recent launch of the Adult Festa VR English website is a big step forward for the Japanese VR porn industry as it has made acquiring Japanese VR porn much easier for a great many fans of the popular adult genre. Visitors to the new site can choose from over 1,500 videos that are found in a variety of interesting categories including bondage, cosplay, cuckold, groper, maid, nurse and my personal favorite – dubious nightclub.
Adult Festa, a leading distributor of adult Japanese content, expanded their product offerings to include VR when they opened Adult Festa VR in January of 2016. Adult Festa also provides camera equipment and post processing services for many of the 40+ studios that currently sell VR content on their website. Nearly all of the scenes on Adult Festa VR feature +1D technology which allows users to sync compatible devices with the action in the videos.
The new Adult Festa VR English website includes a nice tutorial page to help guide users through the registration, payment and download process. There are also detailed instructions for how to set up and connect with various interactive functions that they refer to as 4D-VR. To take advantage of the VR+1D function, users must have a compatible A10 Cyclone SA, Maiko DOS or U.F.O. SA device.

The Adult Festa VR English website successfully breaks down a language barrier that has made accessing Japanese VR porn incredibly difficult for so many consumers. It's great to see the site finally open for business after many months in development, but it does remain a work in progress as there are still several areas that need to be translated. The stated plan from Adult Festa is that they will continue to work on the site until all translations are complete. It's really wonderful news for all fans of JAV and another big step forward for the Japanese VR porn industry.