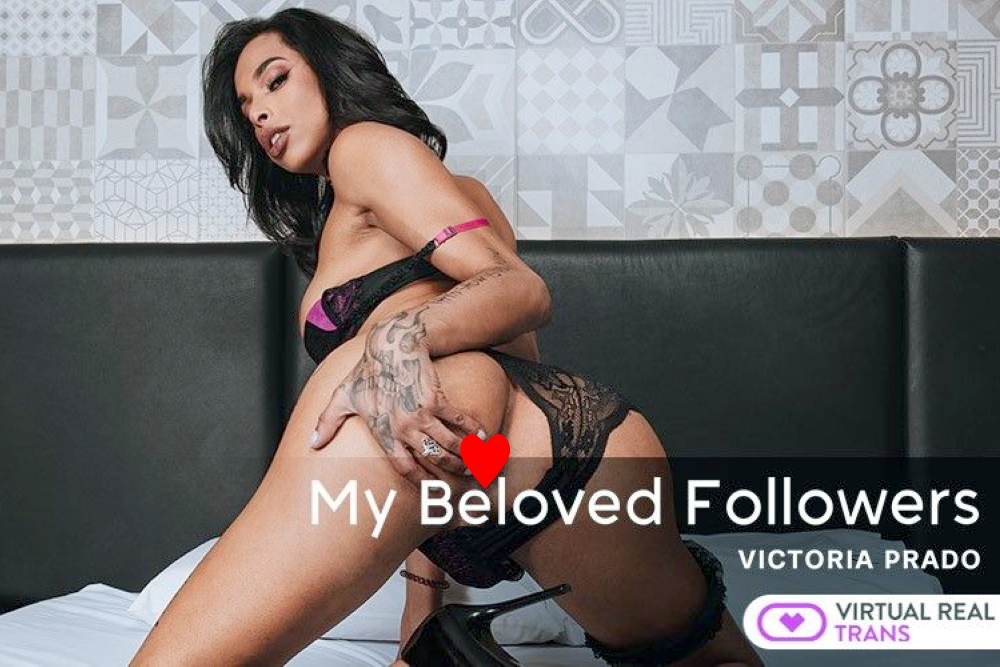 My pick for Best Solo VR Porn Video February 2021 is My Beloved Followers starring Victoria Prado. The self-pleasure scene was released by Virtual Real Trans on February 24 and received a score of 4.0 stars on my VR Porn Reviews February 2021 post. The clever storyline has Victoria celebrating a social media milestone by rewarding her fans with a special show.
The setting in My Beloved Followers is a simple bedroom with all of the action taking place on the bed. The scene is well-lit and the camera setup only changes once about halfway through. The image quality is quite good and there are numerous close-ups where you can see the sparkles from Victoria's body lotion.
My Beloved Followers clocks in at an impressive 42+ minutes and starts with Victoria slowly removing portions of her sexy lingerie to reveal messages (This Show Is For You, Thanks For Supporting Me, My Beloved 100k, Enjoy Me) written on her very fit body. She proceeds to tease and play with herself as she strips off her lingerie. Victoria whispers sweet nothings in your ear and works the camera like a pro to give you a look at her goodies from different angles.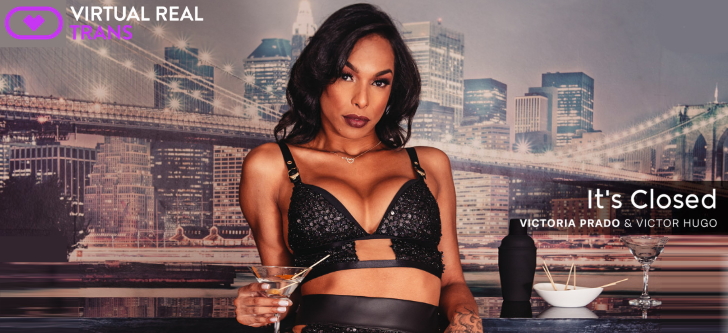 The action gets even hotter when Victoria applies oil to her enticing curves. She continues to pleasure herself in various positions before adding a dildo into the mix. Victoria gives you an up-close look at her assets as she plays with the pink toy. The entertaining session ends with Victoria exploding right in front of your face.
My Beloved Followers is an excellent solo scene thanks to a wonderfully erotic performance from the ravishing Victoria Prado. She was captivating for the entire 42+ minutes and that's a rarity for solo VR porn scenes. Her outstanding performance makes My Beloved Followers the perfect choice for Best Solo VR Porn Video February 2021.
Synopsis from Virtual Real Trans:
Stunning TS babe, Victoria Prado celebrates by giving extra love to her supporters. She just reached 100,000 likes, so she wants to show her gratitude towards her loyal fans. Victoria starts off the appreciation video by doing a little striptease and dirty talking. She then rubs a lot of oil all over her big tits and round booty. Victoria jerks off her cock while she slides a big dildo in and out of her asshole. The simultaneous stimulation of her ass and shaft makes her more aroused and horny. She continues her solo anal masturbation until she cums all over her body.