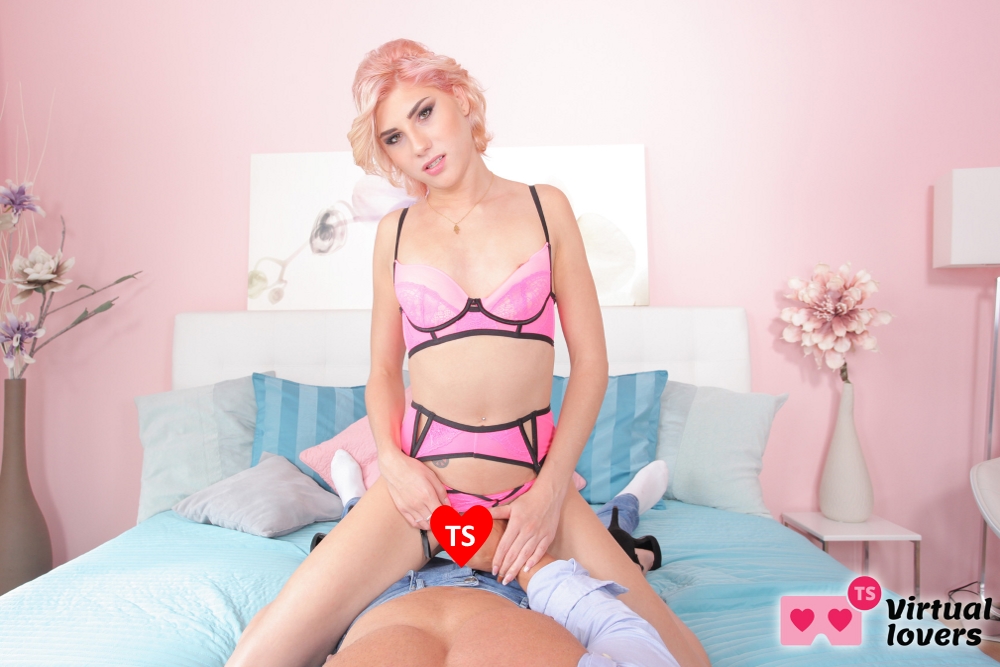 Updated March 2021 – TS Virtual Lovers was launched in June of 2017 and, after the debut of MILF site Mature Reality a month earlier, became the second VR porn niche site offering from the creators of Reality Lovers. TS Virtual Lovers focuses exclusively on transgender VR porn and has been sharing content with VRB Trans recently.
I viewed the videos from TS Virtual Lovers on my Oculus Go headset with the Skybox VR app. The scores shown below are based on a comparison with videos from other VR porn sites.
1. Quality of VR (3.5 stars) – The VR quality on TS Virtual Lovers is very similar to their sister site Reality Lovers. There are some inconsistencies, but the scale, colors, and clarity are all decent. Camera positioning needs improvement.
2. Quality of Porn (4.0 stars) – The actresses on TS Virtual Lovers are attractive and the scenes are filmed in a variety of positions as both a top and a bottom. The set designs in each video are well done and not repetitive.

3. Quantity of VR Porn (1.0 stars) – Currently approaching 100 titles, the release rate is now at 1 video every 2 weeks. TS Virtual Lovers was adding new scenes at a decent rate in the early days, but has relied on content from another transgender VR porn site recently.
4. Variety of VR Porn (3.5 stars) – TS Virtual Lovers has a good mix of solo, B/G, G/G, and threesome videos. They have also featured a couple of girls from different ethnic backgrounds.
5. Website, Service, Extras (3.5 stars) – The TS Virtual Lovers website design looks nice, is easy to navigate and has a tag filter option. The download speeds are decent and there are image galleries and video previews for each title. Membership pricing is US $29.99 for 1 month with Epoch serving as the payment processor. The main issue here is that a subscription gets you streaming-only and downloading videos is an extra charge.