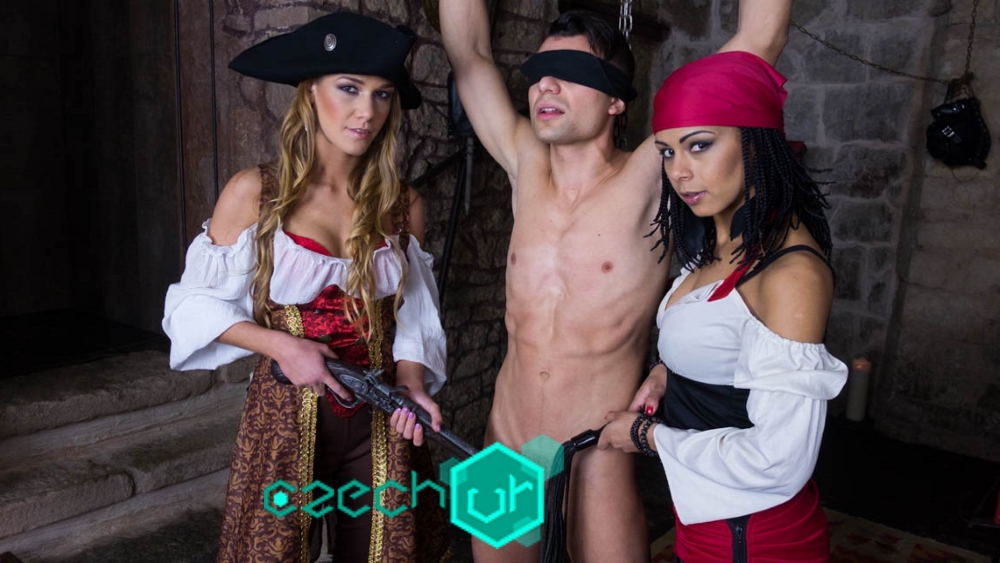 My pick for Best VR Porn Video April 2017 is Where Is The Map? starring Alexis Crystal and Isabella Chrystin. This B/G/G scene was released by Czech VR on April 1st and received 4.5 stars on my VR Porn Reviews April 2017 post. This is the second Czech VR title in the past 3 months to be selected as my best video of the month.
The dungeon setting in Map is well done and fits perfectly with the storyline. The scale is great and the clarity of the video is excellent. The camera positioning, audio and lighting are also very good, but some viewers may find that the camera is set a bit too far away during the cowgirl segment. Superior VR quality has long been the norm for Czech VR and it really adds to the immersion factor in scenes like Map.
Map clocks in just shy of 35 minutes and starts off in voyeur mode as 2 sexy pirate girls question their nude and blindfolded captive, Mr. Pierce, about the location of a map. Mr. Pierce is unwilling to divulge any info about the map even though he is chained to the ceiling and being threatened by the pistol toting Alexis and the whip wielding Isabella. Luckily for Mr Pierce, the girls soon decide that they should have a little fun before they kill him.

After taking turns pleasing Mr. Pierce with their oral skills, the girls unchain their captive and lead him over to a table. At this point the camera moves in slowly to the back of Mr. Pierce's head and then fades out for a second before coming back to life in POV mode as the blindfold is removed from your face. This is very cool effect that I have not seen before and it works perfectly to transition the viewer from voyeur to POV mode.
Alexis and Isabella proceed to please you with their mouths before hopping up on the table and offering themselves to you in missionary position. Still unable to convince you to talk, the girls try another approach that involves a bit of rope play as you lie on your back. They follow that up with some more oral action and a round of cowgirl rides before Alexis finally finishes you off with a little handiwork.
The best part of Map is how Alexis and Isabella keep the pirate/captive storyline going by asking about the map and whispering threats in your ear throughout the entire video. They play their parts as the lead pirate and her subordinate flawlessly and the girls actually repeat their amazing performance in a follow-up G/G scene from Czech VR titled Lesbian Pirates In Action. Alexis and Isabella are the real treasure here and it is their pirate booty that makes Where Is The Map? my Best VR Porn Video April 2017 selection.
Synopsis from Czech VR:
Well, Mr. Pierce, seems like you have your work cut out for you. Knowing what you know, you accidentally let yourself to be caught by two naughty, albeit absolutely gorgeous pirates and now they will have to torture you to get the information. Or will they? Well I guess you'll just have to wait and see in our latest virtual reality porn experience!