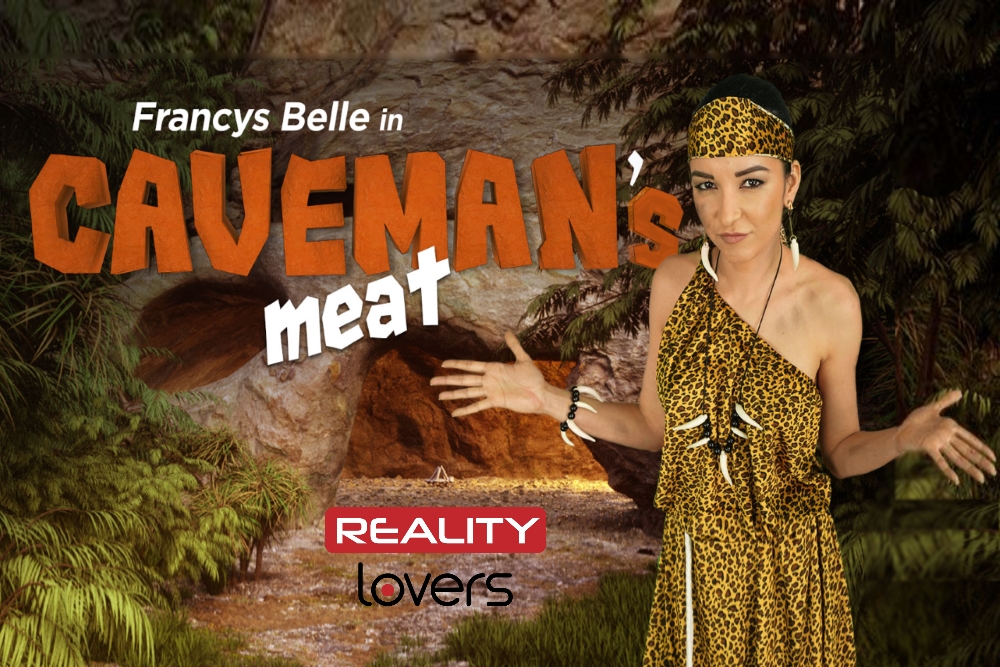 My pick for Best VR Porn Video April 2018 is Caveman's Meat starring Francys Belle. This B/G scene was released by Reality Lovers on April 25 and received 4.0 stars on my VR Porn Reviews April 2018 post. This is the second Reality Lovers title to be selected as my best video of the month.
It was a tough choice this month as there were a few videos that really stood out from the rest. The WankzVR scene Stretch, Strip, Fuck starring Bailey Brooke actually earned a higher score (4.5 stars), but I went chose Caveman's Meat because it's a unique scene that displays a step up in VR porn production values. Another top rated video that featured added production elements was the VR Bangers title Space XXX starring Britney Amber and Lauren Phillips, but I felt the special effects in Caveman's Meat were a bit more impressive.
The set in Caveman's Meat is a computer-generated prehistoric cave. The scale, colors, clarity and camera positioning are all very good. Reality Lovers makes excellent use of their green screen technology as the cave environment looks and sounds very natural.
Caveman's Meat clocks in at just under 40 minutes and begins with Mr. Caveman returning home with fresh meat in hand. The lovely Francys Belle is waiting inside the cave for her man to return and seems unimpressed with the fresh flesh he has brought her. After a bit of a protest she decides to satisfy her hunger with your man-meat.

Francys whips out your package and proceeds to give you oral pleasure as she kneels down on the animal skin rug. She gets you ready for action before she strips off her dress and turns around to let you take her from behind. Francys eventually moves on top and goes full cavewoman in a couple different variations of cowgirl. She rides hard and then finishes you off with the her hands before slurping up your caveman juice like it's a sweet dessert.
The sex scenes in Caveman's Meat are very well done and Francys makes it even more fun by staying in character throughout. Her performance matches perfectly with the prehistoric theme and, when combined with the sound effects and visuals, the result is an experience that feels very natural. And considering that's what virtual reality is all about, my choice for Best VR Porn Video April 2018 has to be Caveman's Meat.
Synopsis from Reality Lovers:
Who brings home the bacon – or meat for that matter? In the prehistoric times, this question likely had a distinctly simple answer – the man does! Caveman's Meat hopes to shed some more light on this, so here is its 5 cents: Francys Belle is a woman in waiting for her man (Tomas Hyka) to satisfy her craving for (his) meat. You can only imagine the joy she feels as he sees him safely return to her cave. As he throws the meat down to please his woman, he cannot contain his desire for her. After all, he risked his life and limb for her and rightfully expects his reward.