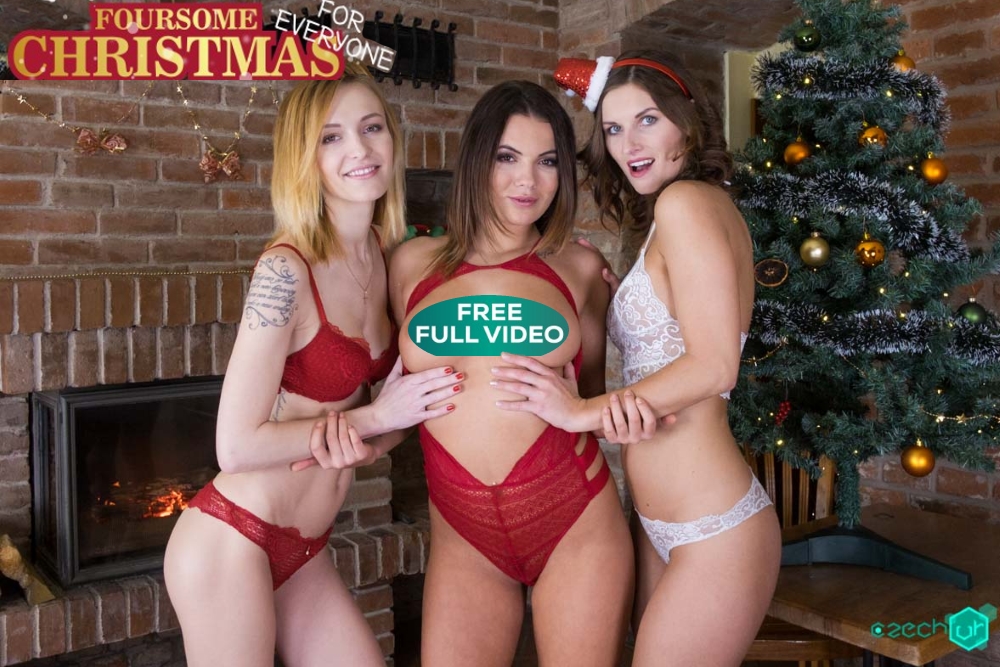 My pick for Best VR Porn Video December 2017 is Foursome Christmas For Everyone starring Belle Claire, Jenifer Jane and Vanessa Decker. This B/G/G/G scene was released by Czech VR on December 23 and received 4.5 stars on my VR Porn Reviews December 2017 post. This is the fourth Czech VR title in the past 11 months to be selected as my best video of the month.
There were a total of 5 videos in December that scored 4.5 stars including another scene from Czech VR titled Flexi Babe In Bubbly Fun. WankzVR also contributed 2 of the top 5 videos with Head To Toe and Cadey's Cuntry Kitchen. Reality Lovers ended their incredible month with a fantastic scene titled The Remembering, but I decided to go with Foursome Christmas For Everyone due to the fact that it is very likely the best free full-length VR porn scene ever released.
The festive setting in Foursome is very well done and fits the Christmas storyline. The scale is great and the clarity of the video is excellent. The camera positioning, audio and lighting are also very good. Superior VR quality has long been the norm for Czech VR and it really adds to the immersion factor in scenes like Foursome Christmas For Everyone.

Foursome clocks in at 49+ minutes and starts off with your sexy girlfriend Jenifer Jane hanging ornaments on the Xmas tree. Her friends Belle and Vanessa soon arrive and the decorating party is officially underway. Things quickly turn naughty after Jenifer steps up on a chair to reach the top of the tree. Belle and Vanessa simply can't resist grabbing the firm buns that have slipped out from underneath your girlfriend's short dress.
The girls enjoy each others company as they strip down to their Christmas appropriate lingerie. They eventually turn their attention to you and take turns climbing on top of your special tree as you recline in a chair. The action then shifts down to the floor where the girls enthusiastically offer themselves in missionary and doggy. For the final act you lie on your back as the girls take turns riding you in cowgirl before you've finally had enough and explode inside your beautiful girlfriend's pussy.
Foursome is a great video with superior VR quality and 3 extremely hot ladies, but the best part about it has to be the fact that Czech VR gave this title away for free. The Christmas season is when many newcomers are trying VR for the first time and a scene like Foursome really showcases the best VR porn has to offer. Czech VR helped make it a joyous holiday for many VR porn fans and I am happy to select Foursome Christmas For Everyone as my Best VR Porn Video December 2017.
Synopsis from Czech VR:
It's that time of the year again and we think everyone deserves a gift. So here it is – completely FREE VR porn experience to make your Christmas special! So what can you experience in your latest foursome? You are decorating the Christmas tree with your sexy girlfriend, when her equally beautiful friends Vanessa and Belle show up to help. When you have girls like these three in one room, it won't take long, before things will heat up in the most amazing way and end up with a lovely creampie in your girlfriend!