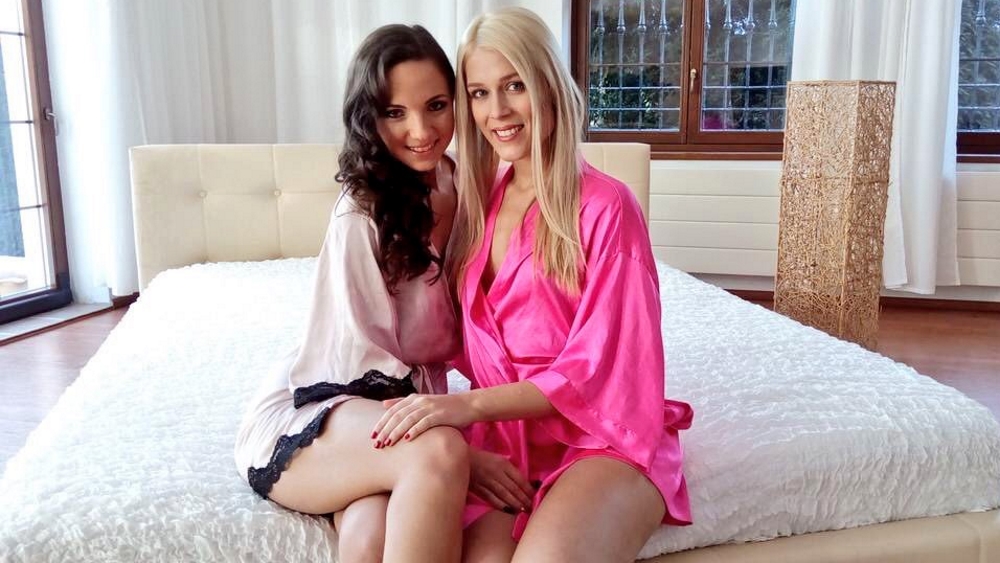 My pick for Best VR Porn Video February 2017 is "Czech VR 122: Bath Fun" starring Kristy Black and Sweet Cat. This B/G/G scene was released by Czech VR on February 25th and received 4.5 stars on my VR Porn Reviews February 2017 post. This is the first Czech VR title selected as best video of the month.
The set in "Bath Fun" is a spacious bathroom with a large round tub. The scale is perfect and the clarity of the video is excellent. The camera positioning and lighting are also top notch. This superior VR quality is typical for Czech VR as they have long been the leader in this particular aspect of VR porn.
"Bath Fun" clocks in at 29 minutes and begins with Kristy and Sweet Cat sitting on the edge of a bathtub opposite the male talent. The girls enjoy a few moments of kissing and flirting before they slip off their robes and stand up. After some more G/G play and teasing the girls approach and quickly get down to business. They each take turns showing off their oral talents before jumping on top for some seated reverse cowgirl fun.

The action then moves down to the floor and the girls both look amazing as they ride and play cowgirl style. Kristy proves that her "I love anal sex" tattoo is legit as she happily takes it deep in her backdoor. The girls then alternate getting laid in missionary position before Kristy finally takes the money shot all over her lovely belly.
The girls both did a great job engaging with the camera and with each other during the entire video. Kudos to Czech VR for booking such great talent and for making them look so good on camera. It certainly shows that when you combine superior VR quality with fantastic performances, the result is going to be something wonderful like my Best VR Porn Video February 2017 selection "Czech VR 122: Bath Fun."
Synopsis from Czech VR:
When you put together a bathroom and two smoking hot women, do you know what you get? Recipe for a perfect virtual reality porn experience! We got together Sweet Cat and Kristy Black – two very amazing girls, told them to have fun and you can experience the result yourself. You will get to fuck these beauties in awesome positions and Kristy will even let you fuck her perfectly shaped ass – so stop wasting your time reading, grab that helmet of yours and go have some fun right now!