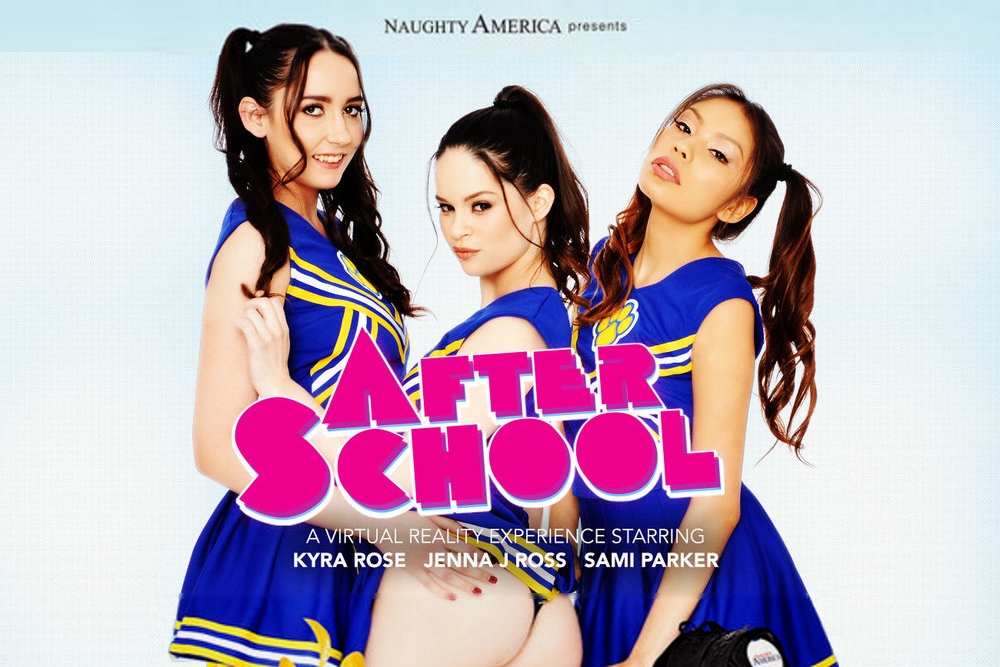 My pick for Best VR Porn Video February 2018 is After School starring Jenna J Ross, Kyra Rose and Sami Parker. This B/G/G/G scene was released by Naughty America on February 9 and received 4.5 stars on my VR Porn Reviews February 2018 post. This is the second consecutive month that a Naughty America title has been selected as my best video of the month.
After School is set inside a spacious and tastefully decorated house. The scale in this and other Naughty America videos is slightly larger than most VR porn sites, but I find it to be quite accurate. The camera positioning, audio and lighting are all very good and the image clarity is great thanks to the new Naughty America camera rig.
After School clocks in at just over 47 minutes and starts off with the Jenna, Kyra and Sami appearing before you in their cute cheerleader outfits. It only takes a minute for the girls to make their move and they go directly for the bulge in your pants. They each take turns showing off her oral skills before jumping on top of you and going for a ride. You enjoy all of the girls in cowgirl, reverse cowgirl and even a bit of side saddle as well.

The girls give you some more oral pleasure before turning around and inviting you to take them from behind. They also grab a couple of sex toys and begin using them on each other and themselves. Once you have satisfied all the girls in doggy and missionary, it's time for them to finish you off with a 3 way blowjob that would make any cheerleading squad proud.
After School is a great video with very good VR image quality, 3 incredibly cute girls and excellent camera work. While image clarity has recently become much better on many VR porn sites, camera positioning is still a big challenge that most sites have yet to conquer. This hot foursome from Naughty America is a great example of superior camera work and that element is a big reason After School was selected Best VR Porn Video February 2018.
Synopsis from Naughty America:
Ah, college: the perfect time to experiment. And when you have three horny coeds from the cheerleading squad wanting to get naked and fuck you, we'd say you have great timing! Naughty America presents Sami Parker, Jenna J Ross and Kyra Rose to you in lifelike virtual reality! These college girls know you've been looking at them during practice, and now that class is over and nobody knows what to do with their time, they've brought their friend – the double-ended dildo – to have a little fun with you. Put on your VR headset and sit back with your big cock out! These college girls are going to cheer each other on as they suck and fuck you until it's time to go out and party after the sex party. Rah-rah-sis-boom-bah, bang-fuck-blow!