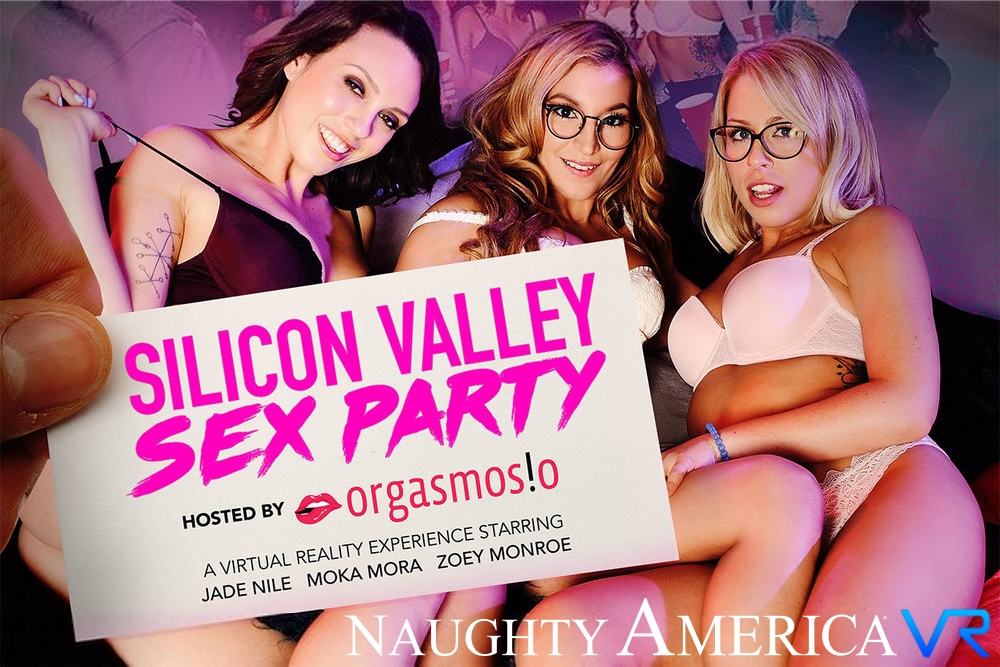 My pick for Best VR Porn Video January 2018 is Silicon Valley Sex Party starring Jade Nile, Moka Mora and Zoey Monroe. This B/G/G/G scene was released by Naughty America on January 26 and received 4.5 stars on my VR Porn Reviews January 2018 post. This is the first Naughty America title in over a year to be selected as my best video of the month.
There were a total of 4 videos in January that scored 4.5 stars including another scene from Naughty America titled What Happens In Vegas with the beautiful Adriana Chechik. WankzVR had 1 of the top 4 videos with Mom's Boy Toy starring Alex Blake and their sister site MilfVR also contributed a top rated scene with Artist's Touch starring Dee Williams.
Silicon is set inside a spacious and tastefully decorated house. The scale in this and other Naughty America videos is slightly larger than most VR porn sites, but I find it to be quite accurate. The camera positioning, audio and lighting are all very good and the image clarity is great thanks to the new Naughty America camera rig.
Silicon clocks in at a robust 91+ minutes and starts off with a bit of high-tech business talk regarding cryptocurrencies and coding. It's not long before one of the bros invites Zoey upstairs for some private discussion. The scene then shifts to POV mode as Zoey does her best to make sure you're still interested in her business venture. She shows off her oral skills before jumping on top and going for a ride. You take a turn pounding her from behind, but the fun is cut short when someone calls to you from downstairs.

Silicon shifts back into Voyeur mode as the action moves downstairs where a group of 5 guys and 5 girls have gathered for a party. A "Cuddle Puddle" is then formed when everyone strips to their underwear and lies down together on the floor. The cuddling quickly becomes a full-fledged orgy with Jade, Moka and Zoey taking center stage as the other participants leave the room. POV mode returns once again and you have Jade and Moka pleasuring you while Zoey takes on your bro until he explodes all over her backside.
Zoey exits the scene for a few minutes before returning to join Jade and Moka. She takes her turn riding you in cowgirl and is the first girl you enjoy in doggy as well. Once you have satisfied all the girls in doggy and missionary, it's time for them to finish you off with an enthusiastic 3 way blowjob.
Silicon is a great video with superior VR quality and 3 extremely hot ladies. The feature length movie run time allowed Naughty America to add some interesting elements that most VR porn videos can't offer. These additional elements are something that VR porn needs a lot more of and they are the main reason I selected Silicon Valley Sex Party as my Best VR Porn Video January 2018.
Synopsis from Naughty America:
Bro! Are you ready for the Cuddle Puddle tonight? You bet your ass you are, because ALL the chicks from your incubator are gonna be there! And being the badass VC who everyone calls the Crypto Wizard, and who everyone is looking to to back their latest app build, it's your duty to throw a killer rager, fit with valley girls, brogrammers and all-around engineer unicorns. Jade Nile, Moka Mora, and Zoey Monroe are just a handful of the hotties showing up, and you just know that the ones from NutCoin are looking to cash in on some nut! It's the land of the free with Naughty America VR porn, and your entrepreneurial spirit, and big dick, will rise to the orgy occasion. But don't let your fuck you money get to your penis head quite yet, because there's other stiff-cock competition in the room, too! Just keep your wits about you and try to keep up with Zoey, Moka and Jade because they're not just code ninjas, they're bedroom ninjas who've been around the blockchain and the cockchain more than once. With their big asses and big tits all up in your face, you know they've come for serious business, and they'll show you just how much it means to them. Strap on your VR headset and sit down…this virtual reality sex experience will shoot your CryptoCum high!