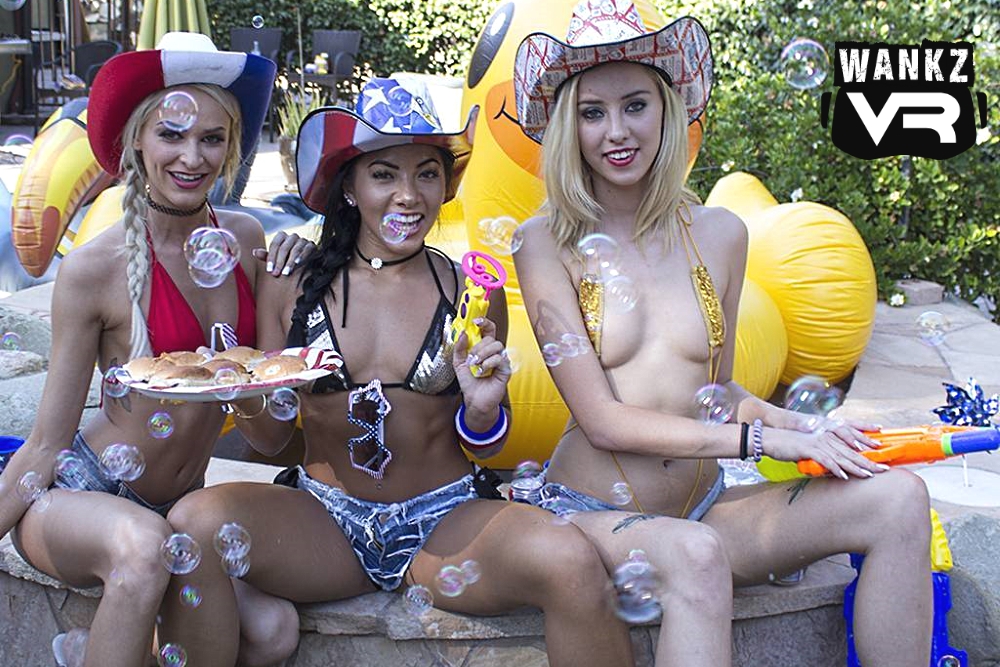 My pick for Best VR Porn Video July 2017 is Foursome of July starring Emma Hix, Haley Reed and Morgan Lee. This B/G/G/G scene was released by WankzVR on July 4th and received 5.0 stars on my VR Porn Reviews July 2017 post. This is the third consecutive month that a WankzVR title has been selected as my best video of the month and the very first time that a video has scored a full 5 stars on my monthly VR porn reviews.
The backyard pool setting in Foursome is a very natural fit for the 4th of July party theme. The VR image quality is quite good as there are no issues with scale, colors, clarity or lighting. The camera angles and distances are excellent and the male talent does a great job staying centered in all of the scenes.
Foursome clocks in at 77+ minutes and starts off with 3 incredibly hot young ladies frolicking by the pool as you look on with beverage in hand. A couple of dudes make small talk and provide comic relief as they manage the BBQ duties. It's not long before the girls approach you and start taking turns swallowing your manhood, sticking their booty in your face and riding you cowgirl style.

The action in the second half of Foursome follows a similar sequence, but has you taking the girls in doggy and then missionary. The beautiful ladies also enjoy kissing and playing with each as you pound away at them until the sun goes down. You finally give the girls your own version of a water gun soaking when spray your load all over their cute faces.
The main element that makes Foursome such a great video is the energy and enthusiasm that all the girls exude throughout the entire video. It almost seems like you're getting it on with 3 super hot Energizer bunnies, they just keep going and going and cumming and cumming. Great camera work by WankzVR is certainly a big help, but it's really the fantastic performances from Emma Hix, Haley Reed and Morgan Lee that make Foursome of July my Best VR Porn Video July 2017 selection.
Synopsis from WankzVR:
Uncle Sam would be proud! Celebrate 4th of July with a Foursome of July! You're hosting the hottest backyard party on the block and Emma Hix, Haley Reed and Morgan Lee are your special guests. Things start to heat up when their playful antics turn into a dazzling group sex display! Be the center of attention in this Independence Day XXX fantasy come to life. Blast your own sticky fireworks across these three patriotic cuties and make them see stars and stripes!