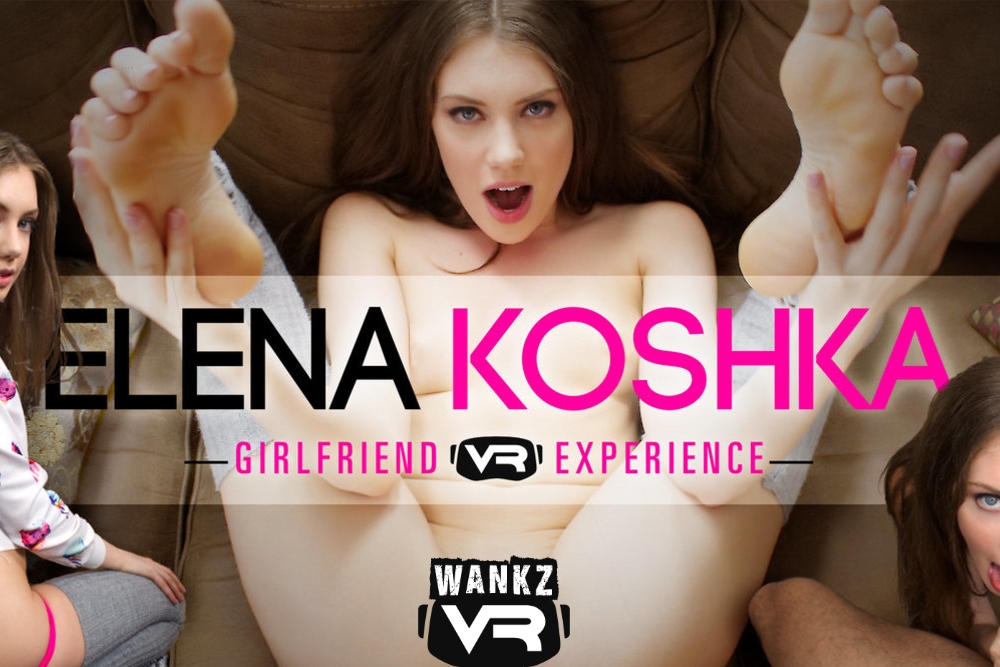 My pick for Best VR Porn Video June 2017 is Elena Koshka GFE starring the beautiful Elena Koshka. This B/G scene was released by WankzVR on June 30th and received 4.5 stars on my VR Porn Reviews June 2017 post. This is the third WankzVR title in the past 4 months to be selected as my best video of the month.
The bachelor pad style shower and living room settings in Elena Koshka GFE are a perfect fit for the theme of the video. The VR image quality is quite good as there are no issues with scale, colors, clarity or lighting. The camera angles and distances are excellent and the male talent does a great job staying centered in all of the scenes.
Elena Koshka GFE clocks in at 65+ minutes and starts off with your girlfriend Elena in the shower. She engages you in a bit of small talk and puts on a bit of a show as she cleans her incredibly hot body. Elena asks you to give her some privacy as she finishes up in the shower with a promise to come see you when she is done.
The setting then shifts to the living room as your girlfriend emerges and finds you sitting on the couch. Elena is upset with you for shirking your laundry duties and proceeds to give you a lecture about your responsibilities as a good boyfriend. She decides the punishment is to make you watch as she plays with her new toy. One thing quickly leads to another and you are soon in control of the vibrator.

The new toy works wonders and your girlfriend eventually shoves her delicious booty up in your face for a bit of tongue action. Elena then decides to return the oral pleasures you gave her, but not before she makes you promise to do the laundry when your love session is over. She gets you nice and hard with her mouth before hopping on top for some reverse cowgirl.
The second half of Elena Koshka GFE has your girlfriend riding you in cowgirl and then taking you in doggy and missionary. Elena seems to love every minute of it and even squirts her appreciation a few times along the way. The creampie finish in missionary is a perfect ending to the scene. Now it's time to join Elena for a shower before you get to those laundry duties.
The main element that makes Elena Koshka GFE such a great video is the very believable, girlfriend-like performance by Elena. GFE scenes rarely feel as natural as this one does and Elena deserves a lot of credit for keeping it real. Her terrific performance combined with perfect camera work from WankzVR is what makes Elena Koshka GFE my Best VR Porn Video June 2017 selection.
Synopsis from WankzVR:
You wanted the ultimate Girlfriend Experience with Elena Koshka and we deliver! After peeping on your GF in the shower you take advantage of the time with your favorite video game. Once the shower is done Elena is on your case because it was laundry day and she's been left with almost nothing to wear. She's not too impressed so you decide to turn her frown upside down with your stiff cock. Fuck Elena all over the living room in this virtual but very genuine GFE!