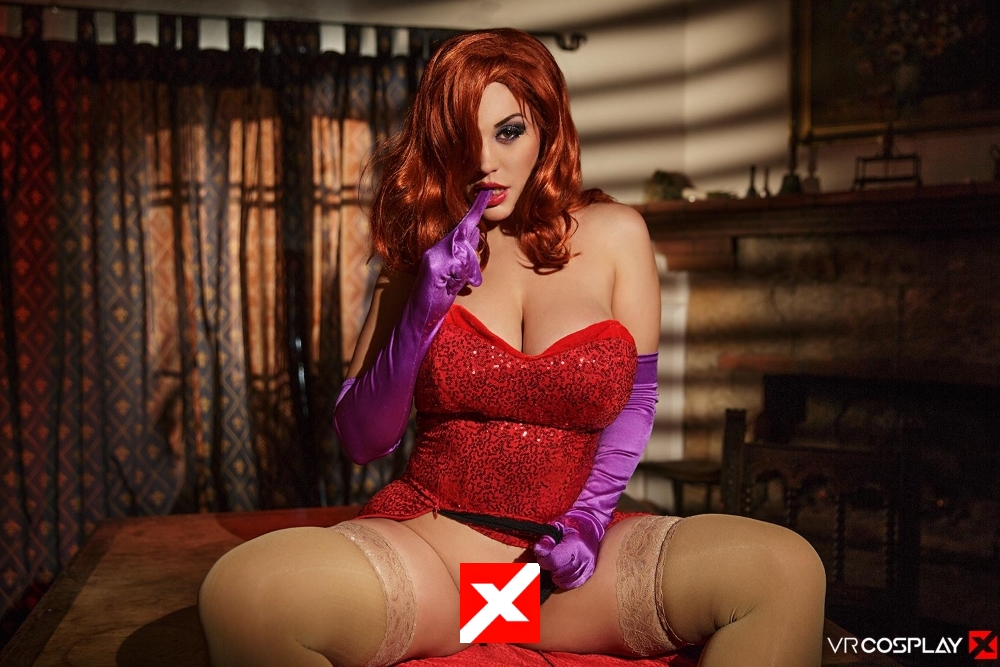 My pick for Best VR Porn Video March 2018 is Jessica Rabbit A XXX Parody starring Blondie Fesser. This B/G scene was released by VRCosplayX on March 9 and received 5.0 stars on my VR Porn Reviews March 2018 post. This is only the second video to receive a 5.0 score in my monthly reviews and it is the first VRCosplayX title to be selected as my best video of the month.
Jessica is set inside of a plainly decorated and dimly lit room that really fits nicely with the mood of the scene. The lack of overall lighting actually works quite well in this video as the fully illuminated Blondie stands out perfectly against the darker background. The scale, camera positioning, image clarity and audio are also very good.
Jessica clocks in at 35+ minutes and starts off in voyeur mode as Blondie enters the room and sits at a table opposite a male figure. The scene makes a very smooth transition to POV as Blondie lights up a cigarette and begins to explain her situation to you. She believes that Roger is cheating on her and she would like to hire you to investigate. Currently lacking the necessary funds, Blondie offers another form of payment.

Blondie climbs on top of the table and gives you a good look at the assets she has to offer. Apparently Roger has not been paying much attention to her lately and has left her needs unfulfilled. After a bit of self pleasuring, she turns her attention to you and wraps those big red lips around your member. Blondie makes sure to get those famously large breasts in on the fun as well and even works in some foot play before she turns around and begins to ride you in a seated reverse cowgirl.
Watching Blondie from behind is great, but the view gets even better when she turns to face you in cowgirl. The beautiful bouncing redhead moans with delight as she slides you in and out. Once Blondie seems completely satisfied she stands up and asks you to take her from behind. After some hot doggy action, Blondie takes you in her very capable hands and strokes you to a climatic finish.
Jessica is really a fantastic video with so many extra elements that most VR porn videos don't have. There is the music, the lighting, the costume, the storyline and those amazing Jessica Rabbit boobs. Blondie Fesser gives an incredible performance and, without a doubt, she is the biggest reason that this scene received my highest score of 5 stars. I would love to see the other VR porn sites follow this example from VRCosplayX so that we can all enjoy more immersive content like Jessica Rabbit A XXX Parody, my pick for Best VR Porn Video March 2018.
Synopsis from VRCosplayX:
Jessica Rabbit has come to you because you're the best private dick in town. She's got a sneaking suspicion that Roger is cheating on her and she needs you to confirm that. What kind of short-sighted rabbit asshole would cheat on such a babe? Jessica can't pay you in cash without risking her covert investigation being exposed, so she suggests another form of payment. You usually only accept cash, PayPal, or MasterCard, but in this case, you'll accept pussy. When her plump lips are wrapped around your cock, all you can think is "Oh, Roger, how the tables have turned." If Jessica thought you were a good dick before, imagine what she thinks about you now.