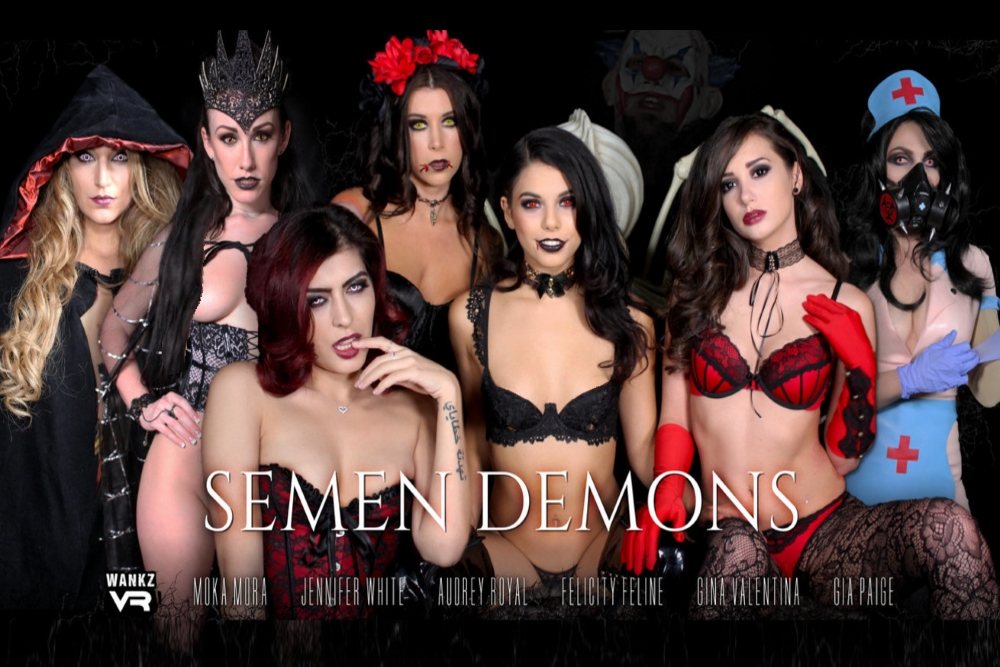 My pick for Best VR Porn Video October 2017 is Semen Demons starring Audrey Royal, Felicity Feline, Franchezca Valentina, Gia Paige, Gina Valentina, Jennifer White & Moka Mora. This B/G/G/G/G/G/G/G scene was released by WankzVR on October 31st and received 4.0 stars on my VR Porn Reviews October 2017 post. This is the sixth consecutive month that a WankzVR title has been selected as my best video of the month.
WankzVR actually released 3 or 4 other very good videos this month that included more enjoyable sex scenes than Demons does, but I selected Demons for the overall entertainment value it provides. The fact that it's not a typical VR porn video is a real plus for me as I feel that much of the VR porn content being produced lately has become rather stale and redundant.
Demons is not the best WankzVR video from a technical perspective either. The nighttime setting has you in the back of an SUV for the first 10 minutes and then moves to a dark torture room for the remainder of the video. There are no issues with scale, but the image quality is often negatively impacted by the lack of lighting. The camera angles and distances are excellent during the seated portion of the video that lasts over 60 minutes, but they are a bit unstable during the first 10 and final 20 minutes.
Demons clocks in at a whopping 93 minutes and starts off with you and your cheerleader girlfriend Mika Mora having a bit of fun in the back of an SUV. There is some playful interaction with a couple of demon hunters before Gina Valentina comes along and gives you a good scare. After blacking out for a bit, you find yourself waking up in torture room surrounded by a group of cum hungry beauties.
Sadistic nurse Franchezca Valentina brings you back from the dead with a couple of slaps and your soon set upon by Audrey Royal, Felicity Feline, Gia Paige and Gina Valentina. The girls all take turns giving you oral pleasures before Gia and Gina jump on top for some cowgirl action. They eventually give way to their Dark Queen Jennifer White and then your newly demonized girlfriend Mika returns to join in on the fun.
The debauchery continues in doggy style after the girls order you to take them from behind. You end up blowing your load on the Dark Queen and the demons have a great time sharing your love juice with each other. In fact, they like it so much that they decide to keep you around for future cum harvesting sessions.
I really appreciated how WankzVR made use of clever editing to add some extra spiciness into Demons. There was also plenty of extracurricular activity happening around the torture room that helped make the scene more entertaining. These added elements are exactly what VR porn needs to have more of and they are a big reason why I selected Semen Demons as my Best VR Porn Video October 2017.
Synopsis from WankzVR:
Be careful because the hills have boobs! You and your hot cheerleader girlfriend sneak away in your truck for a kinky fuck session but you discover you're not alone! Something goes hump in the night as you end up on a wild XXX adventure with Demon Hunters, sperm-crazed Succubi and demonic nurses. This out-of-control group sex adventure features the hardcore cum-harvesting skills of Gina Valentina, Moka Mora, Felicity Feline, Gia Paige, Audrey Royal and more! In the climatic conclusion, you're the last man standing as you face off against the Dark Queen, Jennifer White!