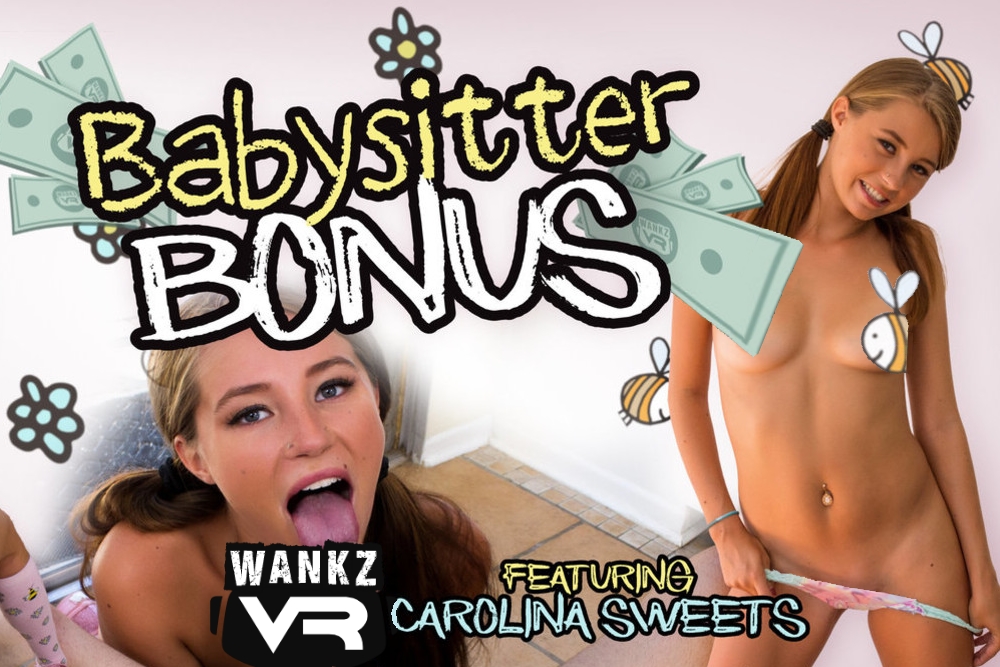 My pick for Best VR Porn Video September 2017 is Babysitter Bonus starring Carolina Sweets. This B/G scene was released by WankzVR on September 5th and received 4.5 stars on my VR Porn Reviews September 2017 post. This is the fifth consecutive month that a WankzVR title has been selected as my best video of the month.
The setting for Babysitter is a well-lit room that adjoins a kitchen and looks out on the houses backyard patio. The VR image quality is quite good as there are no issues with scale, colors, clarity or lighting. The camera angles and distances are excellent and the male talent does a great job staying centered in all of the scenes.
Babysitter clocks in at 56+ minutes and starts off with your extremely cute babysitter, Carolina Sweets, reminding you that today is payday. Apparently the cash you hand over to Carolina is not enough to pay her schoolbook bills so she asks if there is any other way to earn some extra money. Eventually your 18 year old pigtailed babysitter convinces you to take a seat and the naughty bonus work commences.
Carolina stands in front of you as she removes her top followed by her shorts and panties. She lets you admire her incredibly beautiful and all-natural body before she begins to pleasure you orally. Once she has you ready for action, Carolina hops on top and lets you slide inside her sweet little lovebox. She rides you like a wild pony and then turns around and does the same in reverse.
After an amazing cowgirl session, Carolina gives you a taste of her honey before getting in position for some doggy action. You pound away at her from behind and then flip her over for some missionary work until you can't take it anymore and explode all over Carolina's perfectly toned belly. Your cute babysitter seems very pleased and lets you know that she is up for making this bonus activity a weekly endeavor.
The main element that makes Babysitter such a great video is how well Carolina played the role of a shy, sweet, naughty teenager. Of course it also doesn't hurt that she has the perfect look to pull off that kind of character. And great camera work by WankzVR is certainly a big help as well, but it's really the superb performance from Carolina Sweets that makes Babysitter Bonus my Best VR Porn Video September 2017 selection.
Synopsis from WankzVR:
The cute and enthusiastic Carolina Sweets is your babysitter and her shift is coming to an end. You have a quiet moment and the two of you discuss her pay for the week. Carolina needs a raise and offers up other services to earn a bonus. She's eager to show you her other skills but will you finally indulge and put this pigtailed teen cutie to the test? Good thing you have plenty of jobs in mind handjobs, blowjobs and more. Carolina rides your dick to get ahead!