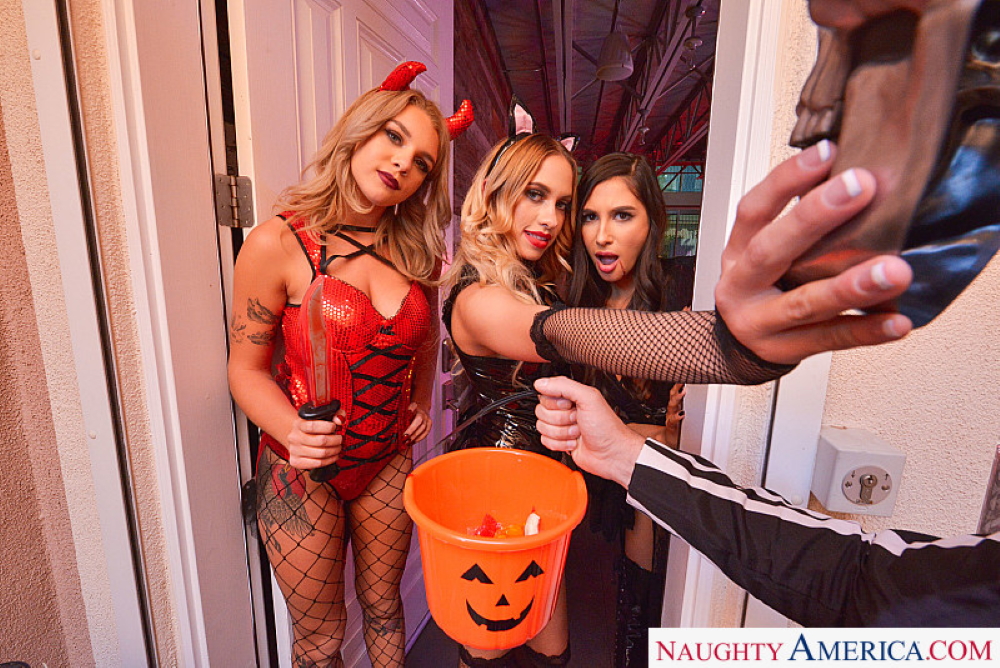 It was another good year for horny horror fans as most of the top VR porn sites released Halloween 2019 VR porn videos. It is always nice to see how creative each site can be when given the opportunity to produce something special.
Halloween After-Party by Czech VR – B/G/G, Nesty & Tiffany Rouso. It's late evening on Halloween and you are expecting some quests. Your friends came early from the party and seems they are still ready to have some fun. Tiffany Rouso and Nesty look so damn good you have no trouble at all letting them tease you before the big finale. Time to strip them down and bang them like there is no tomorrow.
Halloween House Party: Cum-Slinger by WankzVR – B/G/G/G/G, Aryana Amatista, Chloe Cherry, Kali Roses & Kyler Quinn. This year, you'll swing into action to be part of the wildest Halloween party on the block! Kali Roses welcomes you in full costume as you meet partygoers, Kyler Quinn, Chloe Cherry and Aryana Amatista. A spirited game of spin the bottle evolves into bobbing for cock as this sexy quartet of costumed cuties all fight for a taste. Blast them with the sticky treat they crave in this peter-tingling sex session.
Halloween House Party: Pickle-Dick by WankzVR – B/G/G/G, Anny Aurora, Gina Valentina & Lena Anderson. Welcome back to the land of the living! After a night of partying hard on Halloween, you wake to discover that you're not alone. You look over to see Anny Aurora, score! Then Lena Anderson comes into view, double score! When Gina Valentina follows close behind, the truth of it all comes to light… Everyone loves Pickle-Dick! Be part of this epic foursome today.

Tricks And Treats by Naughty America – B/G/G/G, Gabbie Carter, Gianna Dior & Khloe Kapri. Bang three hot girls this Halloween! Immerse yourself in the most realistic VR experience with Naughty America VR. Have a Halloween to remember.
Dolls Kill by Virtual Real Porn – B/G/G/G, Alessa Savage, Kiki Minaj & Lovita Fate. You don't always find an e-mail in your inbox inviting you to Dolls Kill; the best Halloween show in virtual porn. Just like, every year, you don't have the chance to have Alessa Savage as the Master of Ceremonies or watch Kiki Minaj and Lovita Fate following her instructions. When an opportunity like this appears, there's not much to think about. Before walking down the hall and surrender to Alessa's rules, you have to know that your deepest desires for an orgy, anal or fisting may come true in this place.
Happy Hallowcream by BaDoinkVR – B/G, Sybil A. Everyone tends to be at least a little jumpy around Halloween, right? Well, your girlfriend, Sybil, tries to prank you every year, and she almost always get the best of you, but this time, it's your turn. You want to make her scream. That's why you've grabbed your Ghostface mask and bought yourself one of those voice-changers. "What's your favorite scary movie?" This will be a piece of cake. Insert some intimate knowledge into the mix, sneak into the house, and give her the fright of her life. But afterward, be sure to calm her down with your Halloweeny. You aren't scared, but you sure are stiff.
Stolen: The American Whore Story 1984 by VR Bangers – B/G/G/G/G, Ana Foxxx, Vanna Bardot, Emily Willis & Whitney Wright. You and your in-scene daughter, Whitney Wright, will be riding a truck on the spooky Halloween night when all of a sudden three super-hot teen sluts will appear almost magically right in front of your face. Ana Foxxx, Vanna Bardot and Emily Willis standing by the roadside in the middle of the night? That is strange, isn't it? The girls could think that they are the ones playing trick or treat with you, but inside of this virtual reality porn fantasy nothing is certain and new twists and turns will shock you every now and then – yet do not worry as we did not forget that this was a VR porn video, and we made sure that it has all the sex and juicy pussies for you to enjoy that you could think of.

I Love Candy On Halloween by VR Hush – B/G, Brittany Andrews. During the party, you thought it would be fun to maybe put something extra in the candy bowl. You know Brittany Andrews will love the surprise and all you have to do is simply sit and wait till she notices your perfect setup. Just as you imagined, Brittany with her beautiful blonde hair, blue eyes, and incredible body is thrilled with your final and best Halloween Costume. Now its time to watch Brittany get out of that sexy nurse outfit and sit on your cock to round off another perfect Halloween Party.
Eyes Wide Slut by MilfVR – B/G, Lauren Phillips. You've penetrated the inner circle of a very exclusive club but will you be found out? Upon entering this hedonistic wonderland filled with unimagined delights, you'll come face-to-face with masked beauty, Lauren Phillips. She knows you're out of place in this gathering of the most influential people around, but Lauren will keep your secret if you follow her instructions.
Hocus Pocus A XXX Parody by VRCosplayX – B/G/G/G, Angel Wicky, Valentina Nappi & Zazie Skymm. Today is Halloween and you and your buddy are in the mood for adventure. That's why you've gone to visit the ol' Sanderson house. When you arrive and light the candle of the black flame, things suddenly get spooky. Out of nowhere, three terrifying witches appear. They want to suck your soul and steal your youth. But not before they've had their fun with you. Go ahead and bang this titillating trio and make this the best Halloween ever.
Monster Cock by Virtual Real Trans – B/G, Karina Abelha. We believe it's time for you to know the legend of the Monster Cock. From time to time, Karina Abelha, goes from door to door looking for something more than a trick-or-treat. That's why we must tell you, you'll need more than some chocolates and sweets to satisfy her "cock-tooth". If you let yourself go, the adventure will be easier and highly satisfying.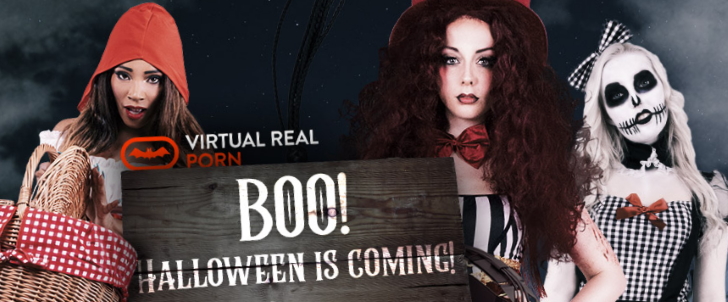 Halloween At The Office by Virtual Real Gay – B/B, Dmitry Osten & Max Born. You know that, when you start working, you have to do it as an apprentice. That means getting the coffees and taking the jokes, such as making you believe there was going to be a Halloween costume party at VirtualRealGay Office. Falling into that trap the same day you have a meeting with your boss, Dmitry Osten, was pure bad luck, but working in cowboy position will make you forget the bad moment.
Two Magic Rods by VRBTrans – B/G, Nikki Vidic. This redhead TS VR porn scene with an evil witch (or maybe a bitch?) called Nikki Vidic will be full of magical incantations and spells – and all of that to get your cock as hard as possible, as our little TS VR porn hag really wants to be banged hard and can't wait for your dick to enter her tight ass. Thanks to all of that, this anal Shemale VR porn film will develop according to your plans (and needs) only if you will be brave enough to face the evil magic of Nikki – if you will only treat her harshly enough, she will in no time turn into a good sorceress that will do miracles with your cock.