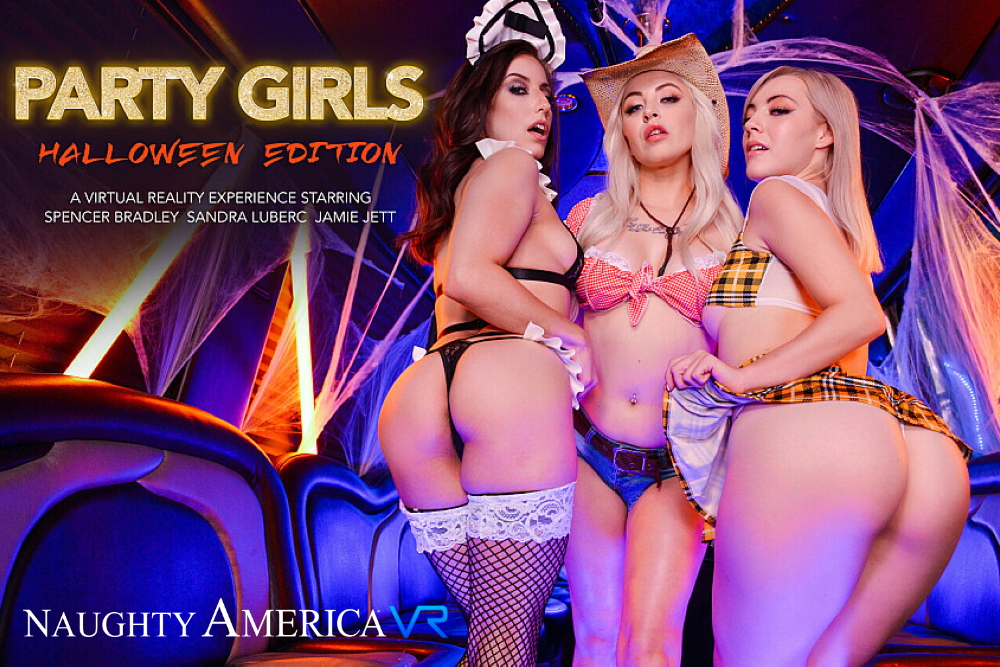 It was a decent year for fans of horror porn as many of the top VR porn sites released Halloween 2020 VR porn videos. This holiday you can celebrate with witches, maids, cowgirls, schoolgirls, fortune tellers, wild MILFS, and more. Immerse yourself in the VR world of terror if you dare.
Saving Oktoberfest by Czech VR – B/G, Texas Patti. It's more a cosplay theme than Halloween, but it's still a great video that fits with the season. The best part is that you can get this scene and all their other great videos for 30% off thanks to the Czech VR Pleasure Sale ongoing until November 10.
Big Dong! The Witch Is Fed by WankzVR – B/G/G/G, Jillian Janson, Kylie Rocket & Maddy May. As the hottest enchantress in your city, in the county of the Land of Wankz, Jillian will welcome your dick most eagerly but Kylie and Maddy will fight for a taste most greedily. Big Dong! The witch is fed, her spell on you is nearly done. Big Dong! Together you'll all cum as one!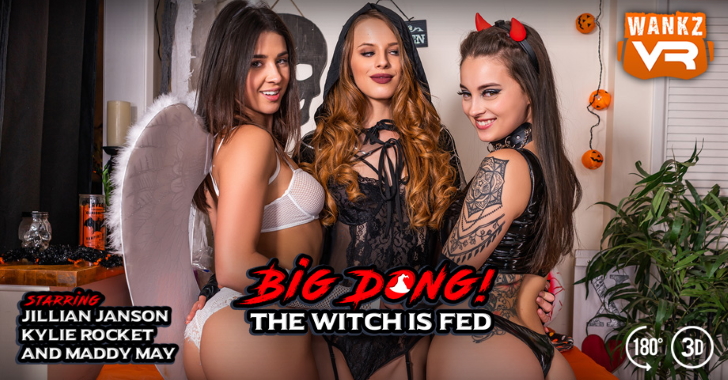 Party Girls Halloween Edition by Naughty America – B/G/G/G, Jamie Jett, Sandra Luberc & Spencer Bradley. For Halloween, Jamie wants to share you with her horny friends at the costume sex party! It's your lucky night and you get to bang a French maid, a cowgirl, and a schoolgirl making your wildest, craziest fantasy come true.
Live Experience by Virtual Real Porn – B/G/G/G, Candy Alexa, Honey Demon & Kitana Lure. You decided to accompany your girlfriend to an appointment with some famous mediums who, not only can predict the future but also make it come true. You knew this year was a bit awkward, but you could never imagine it would include the most amazing foursome ever.
Fuck The Witch by Virtual Taboo – B/G, Jenny Doll. To get what she wants, your hot stepsister Jenny dresses as a fortune teller and invites you to have your future told. She tells you that she sees a beautiful brunette girl having sex with you and then quickly makes her premonition come true.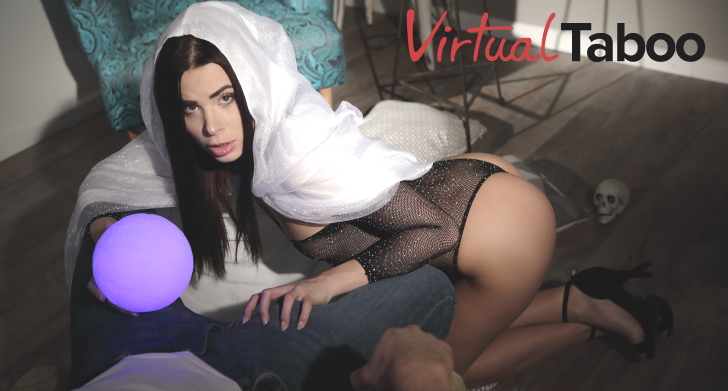 Do You Like My Halloween Costume by VR Hush – B/G, Kayley Gunner. Your blonde bombshell wife has a surprise for you. Her perfectly toned body in a skintight Halloween costume that shows off all of her assets. Her huge tits barely fit in the cute outfit. It also brings out her stunning blue eyes and gorgeous smile while highlighting the curves of her cute bubble butt. Time to treat yourself.
Threesome of Terror by MilfVR – B/G/G, Gia DiMarco & Lily Lane. When things go hump in the night this Halloween, two unhinged and totally wild women are on the prowl for unsuspecting young men. Prepare yourself for all the pulse-pounding action as Gia and Lily lure you into their sexy trap. Be part of this experimental triumph and a mind-bending tribute to titillating grindhouse tits and ass! Will you cum out alive?
Sharing Is Scaring by 18VR – B/G/G/G/G, Marilyn Sugar, Nicole Love, Sarah Kay & Paola Hard. Like they say, it cums at night. Your urge to breed, that is. When Halloween cums, all the hot Euro babes lose their inhibition. They run around in the sluttiest costumes they can find, searching for spooky spunk. Well, lucky for them, you have spunk in spades.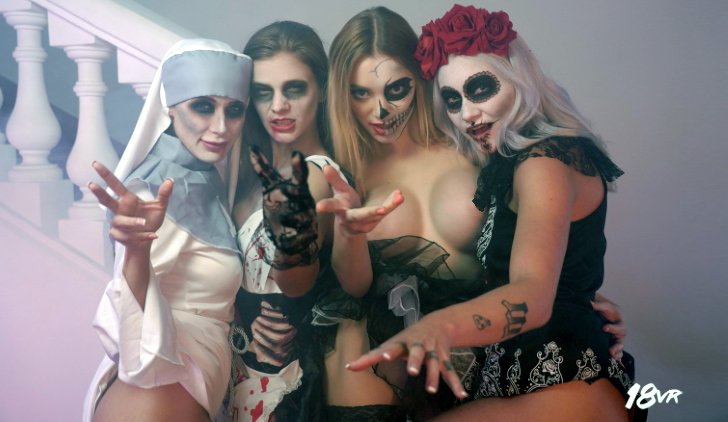 The Devil's Advocate by Virtual Real Trans – B/G, Vanessa Jhons. You ended up celebrating Halloween by invoking the devil. What you never imagined is that the creature to appear in your living room would be one of the queens of evil. It's time to overcome your fears and make love with the dark side.
Bad Religion by GroobyVR – B/G, Coco. Naughty Thai girl Coco is ready for Halloween in her sexy outfit, part nun part seductress and she's all yours. You get to enjoy Coco's company as she shows off her hot costume, letting her rock hard cock peek out before she starts stripping. She put's on a hell of a show for you, writing messages in lipstick before jacking off and cumming.
Live Experience by Virtual Real Passion – B/G/G/G, Female POV, Raul Costa, Kitana Lure, Honey Demon & Candy Alexa. When Raul checked how right the fortune-tellers were about his girlfriend's future, he decided to give them a chance and find out what the future held for him. And it seemed, it was going to be very similar to what Candy had enjoyed in her adventure on Virtual Real Porn.