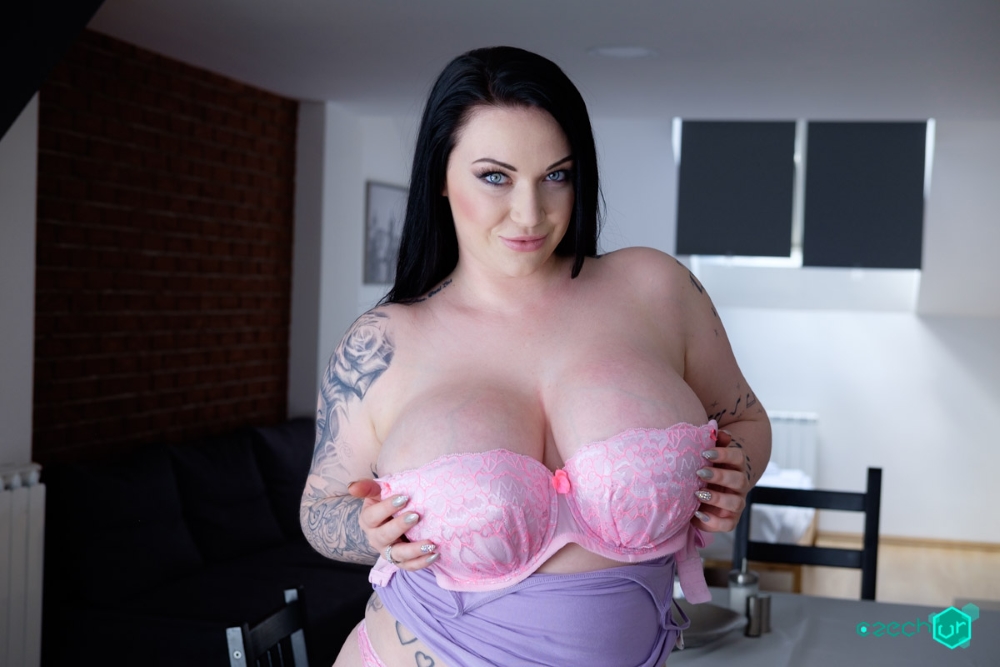 Lovers of curvy women received a special treat last week when the voluptuous Harmony Reigns was featured in two very nice VR porn videos. Following her memorable debut in 2015's The Rehearsal, Harmony continued to appear in a handful of scenes with VirtualRealPorn until early 2017. After more than a year away, it's great to see Harmony back to making VR porn scenes for the grossly underrepresented BBW niche.
Soothing Revenge, released by Czech VR on June 20, has Harmony Reigns visiting your place after finding out that her boyfriend has cheated on her. The full-figured British babe wants to punish him by sleeping with you, her best friend. Once she takes those two huge melons out, you know she is about to give you an experience that will change your life.
It's another case of revenge against a cheating boyfriend in Selfies & Nudes, released by VirtualRealPorn on June 22. This time Harmony is your lover and she is helping her sexy Hungarian friend Cathy Heaven punish her unfaithful man. Enjoy banging these two busty brunettes and then get ready to say "cheese" for Cathy's retaliatory selfie.

Other VirtualRealPorn scenes with Harmony Reigns include Gothic Girl, Super Bowl Night, My Birthday Present and Follow Me. Another beautiful curvy girl who has made multiple appearances in VR is Krystal Swift. Recently she has been featured in two videos (German Lesson Gone Wrong & New Lingerie, Old Habits) with Virtual Taboo and also made four scenes (Czech VR Casting #073, Czech VR #145, #147 & #150) with Czech VR last year.
BBW has been one of the most underserved niches in VR since the early days when Samantha Mack was making regular appearances on HoloGirlsVR. Perhaps the appearance of Harmony Reigns on two different VR porn sites within the same week is a sign that producers have recognized the demand for content featuring full-figured girls and more BBW scenes are on the way.