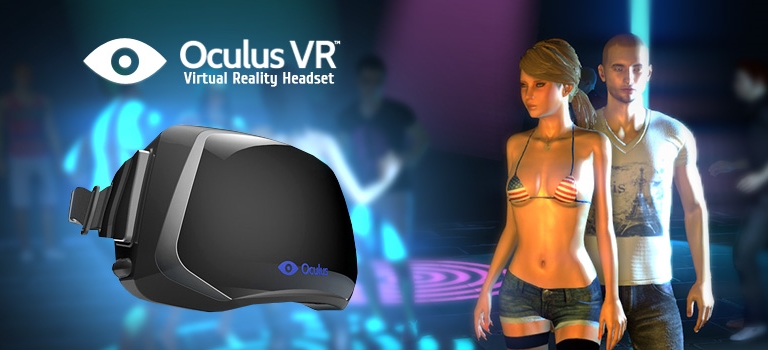 January 2016 Update: At CES 2016 in Las Vegas, Oculus VR announced that the consumer version of their Oculus Rift headset would begin shipping in late March 2016. They also set the retail price at $599 and noted that the cost for an accompanying PC with sufficient processing power is expected to run close to $1000. Oculus CEO Brendan Iribe announced that a package deal containing a PC with the device is in the future of Oculus.
The Oculus Rift is a PC-based (connected by cable to a computer) VR headset and is currently the most well known HMD. The Rift is the first product developed by Oculus VR and was originally proposed in a 2012 Kickstarter campaign. The campaign raised over US$2 million which helped to fund the development and release of their first Rift prototype in March of 2013. One year later Facebook agreed to acquire Oculus VR for US$2 billion in cash and Facebook stock.
Oculus has continued to develop, rename and release different versions of the Rift over the past couple of years. The latest prototype is called "Crescent Bay" and includes built-in audio and 360-degree tracking thanks to the presence of tracking LEDs in the back of the headset.
On May 6, 2015 Oculus VR announced that the consumer version of the Rift will ship in the first quarter of 2016 with pre-orders starting in late 2015. The consumer version is an improved version of the Crescent Bay Prototype, featuring per-eye displays running at 90 Hz with a higher combined resolution than DK2, 360 degree positional tracking, integrated audio, a vastly increased positional tracking volume, and a heavy focus on consumer ergonomics and aesthetics.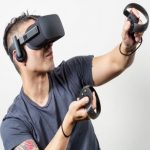 Oculus uses optical sensors (cameras) to track body movement for the Rift and also sells the Oculus Touch, a new pair of tracked handheld controllers that let you take your VR experiences further than ever before.
From the Oculus website: The Oculus Rift uses state of the art displays and optics designed specifically for VR. Its high refresh rate and low-persistence display work together with its custom optics system to provide incredible visual fidelity and an immersive, wide field of view. The Rift's advanced display technology combined with its precise, low-latency constellation tracking system enables the sensation of presence – the feeling as though you're actually there. The magic of presence changes everything. You've never experienced immersion like this. From the moment you pick up the Rift, you'll feel and see the attention to detail that went into its design and construction. Customizable, comfortable, adaptable, and beautiful, the Rift is technology and design as remarkable as the experiences it enables.