VRCosplayX finally revealed the true power of the force in their slick Star Wars VR porn parody released December 8, 2017. Officially titled Star Wars VR: A XXX Parody, the 26 minute video stars the lovely Taylor Sands as a young lady on the run from the First Order. She needs your help to escape the dark side so that she can deliver a special lightsaber to the Jedi Order.
Star Wars starts with a dramatic chase scene through the desert. You quickly dispatch the dark agent pursuing Taylor and then further impress her with your lightsaber skills. Taylor drops to her knees to show her appreciation and finds that your force has already awakened. After pleasuring you with her oral skills, Taylor leans up against an embankment and invites you to take her from behind. The scene then shifts to the sandy desert floor where Taylor rides you cowgirl style before stroking you to a climatic finish.
I was really impressed with how VRCosplayX was able to film this Star Wars VR porn parody in a desert location that looks very much like an environment seen in many Star Wars movies. Shooting outdoors can often cause issues, but the image and audio quality were still quite good in this VR porn video. The action was very good as well and the superb special effects added greatly to the entertainment value. When it comes to VR porn cosplay videos, I would have to say that the force is definitely strong with this one.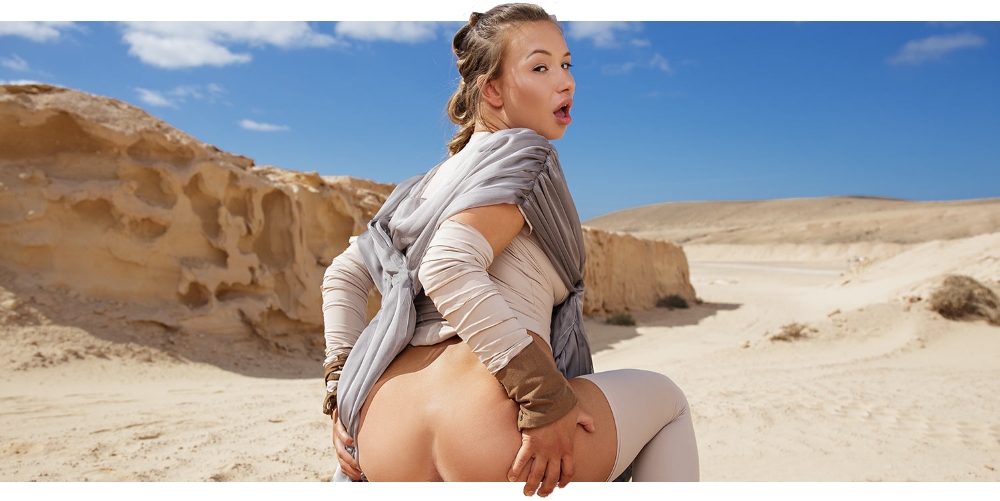 Synopsis from VRCosplayX:
Taylor is on the run from the First Order and she needs your help. She's been tracked to Jakkuoff by TIE fighter ace, FN-069. But like many stormfuckers, he is fairly incompetent and he crash-lands his ship in the desert within minutes of entering the planet's atmosphere. The stormfucker gives chase, but you're there waiting for them, aren't you? Pulling out your blaster, you put a hole through FN-069's torso and he drops to the ground. The way you handle your blaster has got Taylor as wet as the swamps of the Dagobah system and she is ready to show her gratitude. When she drops to her knees and puts your cock to the back of her throat, you know that this is going to be a fuck session to remember. Taylor will show you the true power of the force.