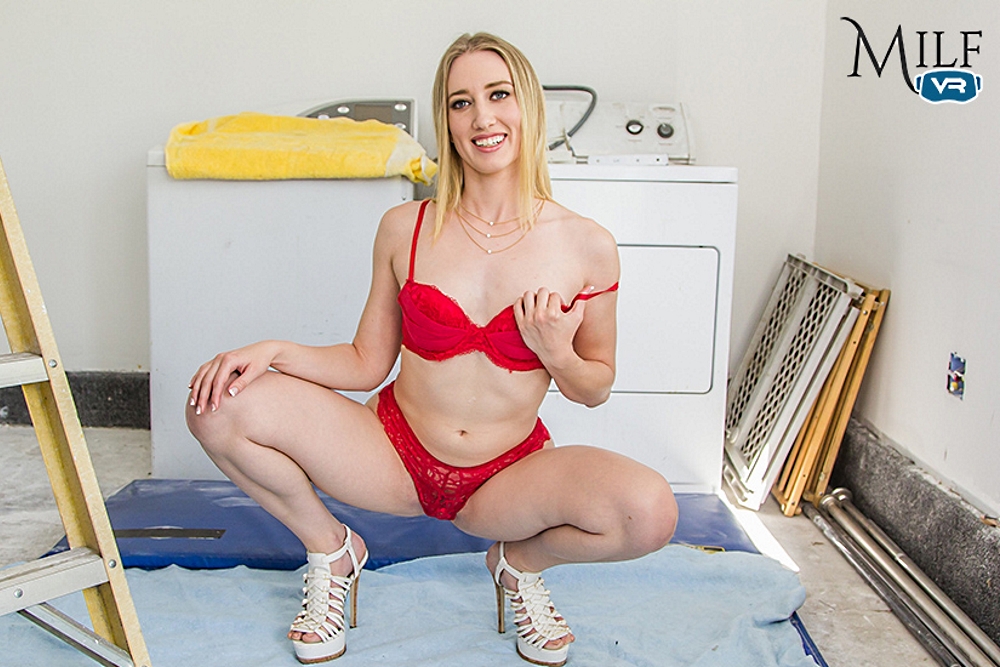 Top VR Porn Videos May 2018 – Listed below are my 5 star reviews for the top VR porn videos released in May 2018. I review content from 20+ VR porn sites and list my top rated videos here. I determine the scores based on the quality of VR and the quality of porn in each video. I rate solo scenes on a different scale than I do B/G scenes. The scores range from 4-5 and are shown in ( ) after the titles.
5/1 – Two Beauties (4.0) SexBabesVR – B/G/G, POV, Katy Rose & Shrima Malati. A couple of playful beauties chasing each other around the house and teasing you. These girls just want to have fun. Camera is set a bit far from the action so zoom function will help here.
5/3 – Tit For Tat (4.0) MilfVR – B/G, POV, Riley Reyes. Her husband isn't exactly the romantic type and when she discovers he's cheating on her, Riley decides to have some fun with the handyman.
5/4 – Cums With the House (4.5) WankzVR – B/G, POV, Jane Wilde. You're recruited by Jane when she suddenly learns her old fuck buddy has moved away. Become Jane's new FWB and fill in for her old fuck friend's duties. Her tight little booty and sweet pierced tits are all yours in this eye-popping experience.
5/5 – Wife's Sex Friend Reunion (5.0) Czech VR – B/G/G, POV, Tina Kay & Veronica Leal. Your beautiful wife Tina Kay has a sexy little friend who comes to visit and things take an unexpected turn. The two horny babes start making out and then they let you join the fun.

5/5 – Hidden Play Thing (4.0) SexBabesVR – B/G, POV, Emily Angel. That silly Emily Angel, she's offering you a striptease and doesn't seem to realize that most of her clothes are already off. Look at that sweet ass as she bends over in front of you, showing you her sexy curves.
5/7 – Snitches Get Bitches (4.0) BaDoinkVR – B/G, POV, Maya Bijou. Your guard does you a solid and arranges a visit from Maya. You know your snitching was risky, but when Maya takes off her jumpsuit, you don't even care. Maya is ready to bang in every corner of your 8 x 10.
5/8 – Double-Cross (4.0) WankzVR – B/G/G, POV, Bailey Brooke & Vienna Black. You find yourself in the middle of some drama between your stepdaughter, Vienna Black and her sexy blonde friend, Bailey Brooke. You're having some fun with Bailey and Vienna returns just in time to get an offer she can't refuse.
5/8 – Move-In Lay (4.0) 18VR – B/G, POV, Lady Bug. This petite babe couldn't be more excited about the rental contract she just signed and there's an instant attraction between you two. There's so much sexual tension in the air, Lady could cut right through it with her rock-hard nipples.
5/12 – Horny Morning (4.5) Czech VR – B/G, POV, Lucy Li. Big-breasted goddess Lucy Li wants to thank you for being nice to her. All it took is preparing her some tea in the morning and she's already getting wet between those amazing legs. Watch her huge, perfectly shaped boobs jump up and down in front of your face.
5/15 – After Hours (4.0) 18VR – B/G, POV, Veronica Leal. The two of you have stayed late to finish up some reports and the rest of the office has long since clocked out. Ms. Leal decides that the both of you could use a bit of fun so she drops her folders and panties and offers you her ass.

5/18 – The Ringer (4.5) WankzVR – B/G/G, POV, Alice Lighthouse & Jade Nile. Your sexy girlfriend, Jade Nile, has a surprise lined up for you and this time it's not your typical couples therapy. When the insatiable Alice Lighthouse walks in, you know you're in for a treat.
5/19 – Asian Private (4.0) Czech VR – B/G, POV, Poopea. Welcome to the private room with your own Asian hooker. Poopea is ready to play with your cock, but she wants to tease you first, so relax and enjoy the show before you whip it out and come in her mouth. This Asian chick knows her way around the bedroom.
5/22 – Ayumi's First Time (4.0) VR Bangers – G/G, POV, Ayumi Anime, Cherie DeVille. It's time for Ayumi's innocence to go, and Cherie is going to make sure that it's gone for good. Watch as this little Asian teen learns how to handle a cock from one of the best in the business, all with a first person view.
5/22 – Kali-Fornication (4.0) WankzVR – B/G, POV, Kali Roses. The breathtaking Kali Roses officially joins the WankzVR family as a contract performer. It's your job to deliver Kali's contract, but this insatiable cutie has more than paperwork on her mind.
5/25 – After School (4.0) Naughty America – B/G, POV, Ashly Anderson. You two have been planning this for some time now and the day of reckoning has finally come. Slap Ashly's ass and undo that bikini to ensure your cock doesn't get thong-tangled when you start banging her like the horny college kid you are.