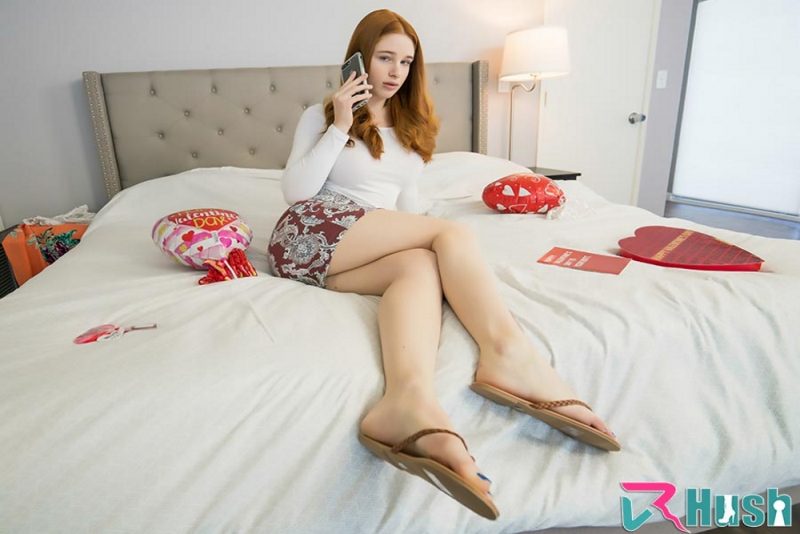 A romantic Valentine's Day encounter seems like a perfect storyline for a VR porn video and a few sites took full advantage of such a scenario this year. The videos listed below feature some real sweethearts including one resourceful babe who risks felony charges to make sure this Valentine's Day is one you will never forget. There is also a very nice threesome from Czech VR and a decent B/G scene from MilfVR, but my favorite 2019 Valentine's Day VR porn video is Be Mine From Behind from WankzVR.
2/16 – Valentine Threesome by Czech VR – B/G/G, Kristy Black & Leanne Lace. Your girlfriend Kristy Black is smoking hot and loves it in the ass, but today should be more romantic so she has something special waiting. After all, it's Valentine's Day. She invited her gorgeous friend Leanne Lace for a very entertaining Valentine's threesome and that is an offer you should never refuse.
2/15 – Be Mine from Behind by WankzVR – B/G, Jaye Summers. Today you're celebrating your first Valentine's Day with Jaye Summers. She's got the perfect day lined up that's absolutely filled with romance, lace and deep, toe-curling butt fucking. Jaye knows what you really want and this fun-loving XXX cutie is ready to finally take it in the booty.

2/14 – Cupid's Arrow by BaDoinkVR – B/G, Lena Paul. Usually, when February 14 rolls around, you shut yourself in and avoid the world. You didn't have any plans this year, but you have been messaging a girl called Lena lately. You sent a flurry of dick pics and didn't get anything back, which is why you are so surprised to wake up with Lena on top of you. How she tracked you down, broke into your house, and decorated your room while you were asleep will forever be a mystery, but what are you supposed to do? Turn her away? Lena has natural triple D titties, a deep throat, and a tight pussy, so say a quick thank you to St. Valentine and let this beautiful busty babe suck and fuck you until you're ready to cum all over her huge titties.
2/14 – Stealing Hearts by VR Bangers – B/G, Gianna Dior. Valentine's Day is here, but did you remember? This incredibly hot brunette will initially be mad, but given enough time even she will understand. This could end up being the best Valentine's Day of your entire life if you play it right. Spending an evening with Gianna is never a bad choice and you are not gonna regret celebrating together with this incredibly talented VR porn star.
2/14 – I Got Ditched On Valentine's Day by VRHush – B/G, Scarlett Snow. Scarlett really gets into Valentine's Day. It is one of those days that not only makes her feel romantic but also incredibly wet. Scarlett has set the bedroom up to surprise her boyfriend. Her curvy body is just aching for some good loving on this sexy holiday, but her boyfriend just said he can't make it over today. No worries, she will just call one of his best friends (you). She knows you can't keep your eyes off her and what better way to teach her boyfriend a lesson about not being attentive than by fucking one of his friends on this special holiday.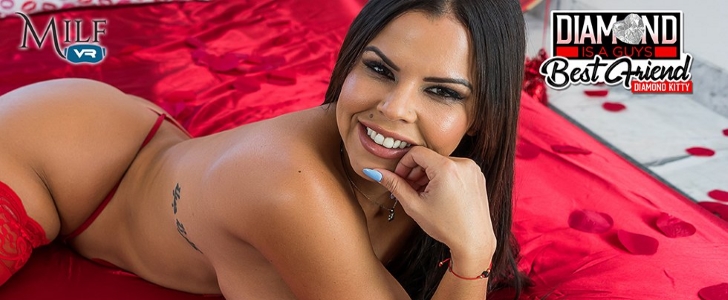 2/14 – Diamond Is A Guy's Best Friend by MilfVR – B/G, Diamond Kitty. Whoever said romance was dead? You've just returned from a trip away from home and your sweet Valentine, Diamond Kitty is there waiting for you. She greets you in sexy red lingerie for a very special V-Day encounter and you can't believe your luck. Bring your XXX Valentine's Day VR porn fantasy to life and enjoy every inch of this sweetheart.
2/14 – Luxury Valentine's Day by Virtual Real Gay – B/B, Kevin Lauren. You might not be the kind of person who needs a set day like Valentine's Day to have a romantic adventure, but your boyfriend, sensual Spaniard Kevin Lauren, has a special plan to celebrate this day. This well gifted European will please you with so much great sex until you finish with a special cumshot.