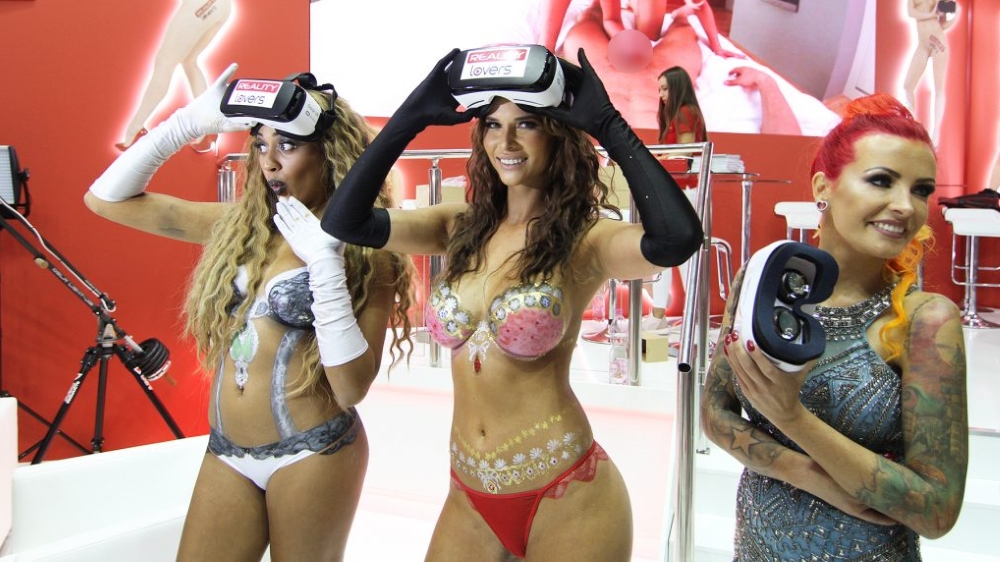 Venus is an erotic trade fair with exhibitors representing all facets of the adult industry. Venus 2016 marked the 20th anniversary of the show and featured a handful of companies within the adult VR sector. I was fortunate enough to attend this years show in Berlin and had a great time visiting with everyone there.
Reality Lovers was the only major VR porn producer at Venus 2016 and they put on a great display for everyone. Their large exhibit was very well done and their beautiful girls showed plenty of skin as they playfully interacted with the fans. Reality Lovers even brought their camera rig with them and staged a few scenes so the crowd could see how VR porn is filmed. They also took home the Venus award for "Most Innovative Product" of 2016.
Cam4VR shared a booth with teledildonics leader Kiiroo and they each had VR headsets available for attendees to try out. Kiiroo impressed the crowd by pairing their Onyx male masturbation device with various VR porn videos which allowed users to feel how their popular product syncs up stroke for stroke with adult content.

The only other VR porn producer at Venus was Germany based Cyberotic VR. They are a new entity just getting into VR porn, but the venture has a great chance for success as it combines a longtime adult content producer with an expert in the field of 3D. The Cyberotic VR site currently has demo videos available for viewing and you can also check out the 3D portfolio at RealVision 3D.
Probably the most interesting VR related exhibit at Venus 2016 was Virtual Real Pleasure. Their product, the VR-P Pleasure Box, is an all-in-one solution for businesses that would like to offer their customers an opportunity to experience their erotic fantasies in VR. Basically it's an updated version of the adult video arcade that utilizes a VR headset instead of a TV screen.
The standard VR-P Pleasure Box model includes interior lighting and ventilation. The proprietary software was designed for ease of use and includes an individually configurable payment system. Virtual Real Pleasure also provides the high-end VR headsets and comfortable armchairs with integrated control units. The available content currently includes videos from my top rated site VirtualRealPorn and there are plans to license from other VR porn producers in the near future.