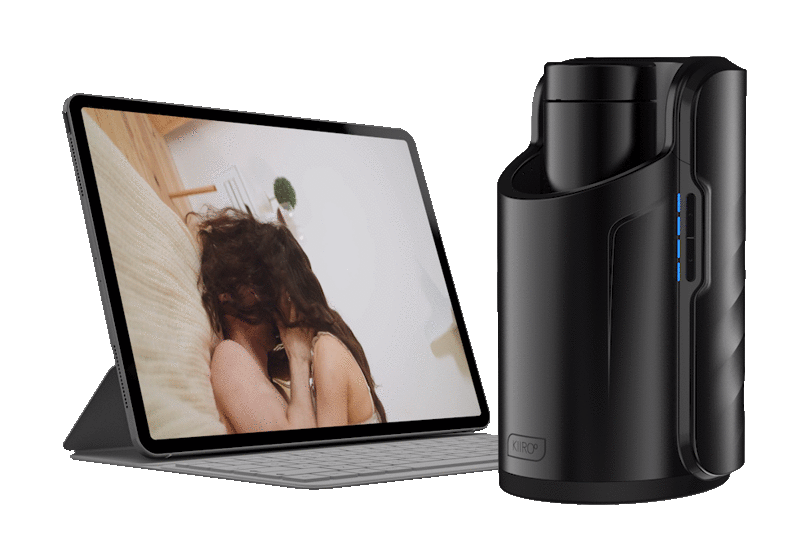 With the KEON masturbator, Kiiroo is looking to set a new standard in interactive pleasure. The device is actually a combination of 2 new products that are being released as Kiiroo's flagship automated masturbator and stroker. When paired together, the Keon masturbator and the Feel stroker give users a realistic, fully automated experience.
The Keon is an evolution of more than 2 years of research and development that has come to life in a critically acclaimed masturbator capable of reaching up to 230 strokes per minute. The Keon works perfectly with Kiiroo's FeelTechnology™ haptic and interactive technology to give an intense and realistic solo, couple or content-oriented experience.
Kiiroo's researchers and partners worked closely with reviewers and users with reduced physical capabilities to create unique attachments, accessories and add-ons to enable as many people as possible to experience the Keon. These will be available in early 2021.
The Feel stroker is Kiiroo's first non-powered stroker designed exclusively for the Keon. The Feel stroker is light, durable and created using a high-quality blend of materials that is as close to the "real thing" as possible. More versions are planned for the Feel Stroker collection in 2021.

"We have spent two years researching, designing and developing the Keon. To give our customers the best interactive experience, we have also invested in a number of significant improvements to our FeelTechnology™ platform." said Toon Timmermans, CEO of Kiiroo. He continued by saying "2020 has been a year of ups and downs, but I am thrilled that we are closing the year on a high with the most innovative product we have produced to date!"
Early reviews of the Keon and Feel Stroker were very positive and complimentary. They have described the KEON in combination with the Feel Stroker as giving "mind-blowing orgasms", "extremely comfortable to hold", "extremely powerful" "very user-friendly" and "My new favourite automatic male masturbator".
The Keon is compatible with all existing FeelTechnology™-enabled products and interactive content (2D and VR). Kiiroo is working on introducing new immersive 2D, VR/AR and couple-related features that will make the overall user experience even more realistic and intense.
The Keon and Feel Stroker combination is now available to order from kiiroo.com for $249.00.