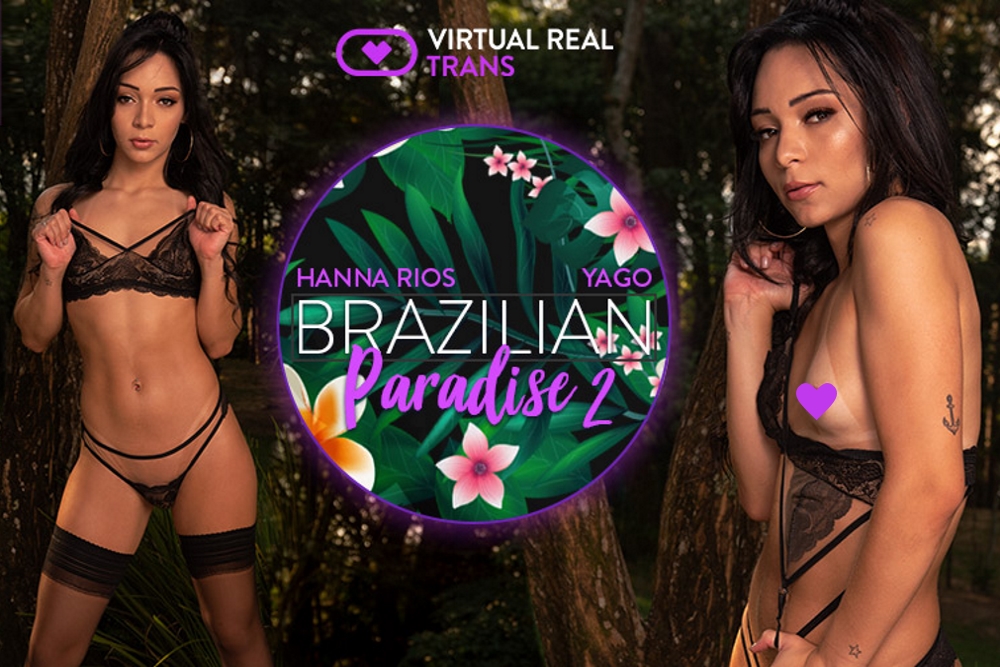 VirtualRealTrans continued to diversify their talent pool with the recent addition of 4 new Brazilian models. Bruna Castro, Luana Pacheco, Hanna Rios and Mariana Castro put their versatile lovemaking skills on display in steamy one-on-one scenes. The South American beauties provide a special kind of sexual passion that is sure to delight all fans of transgender VR porn. The gorgeous Bianca Hills also made a return appearance on VirtualRealTrans as 5 of the last 6 videos there have featured sexy Brazilian babes.
Just like parent site VirtualRealPorn, VirtualRealTrans has always been a leader when it comes to their model diversity. They have now featured a total of 6 Brazilian girls on their site and also have several scenes with Asian, European and Latina transgender models. They say that variety is the spice of life and VirtualRealTrans is definitely keeping things spicy with their superb mix of porn stars.
Currently with a total 69 videos, VirtualRealTrans is also the leader in regards to quantity of transgender VR porn. They have been steadily releasing scenes on a bi-weekly basis since their launch in December of 2015. There is a fairly large drop in total video count after VirtualRealTrans, but there is one transgender VR porn site that is quickly closing the gap.

VRBtrans launched in August of 2017 and has been pumping out 1 scene per week ever since. They now have a total of 45 videos with a decent variety of scenes featuring mostly European models. And like parent site VRBangers, the latest VRBtrans videos are being offered in 6K ultra high definition.
The next largest transgender VR porn site is TS Virtual Lovers with a total of 42 scenes and a release rate of 1 video every 2 weeks. They have done quite well in the variety category and now offer a good mix of solo, B/G, G/G and threesome videos. GroobyVR is also putting out roughly 2 scenes per month and now has a total of 34 videos available for purchase.
It took quite awhile for some of these larger transgender sites to gain a following, but it appears that this particular genre of VR porn is really starting to gain traction. More diversity in casting is a clear sign that the appetite for transgender VR porn is strong enough for the studios to seek out talent from other parts of the world. It's great to see VirtualRealTrans taking this step to improve their product offering.