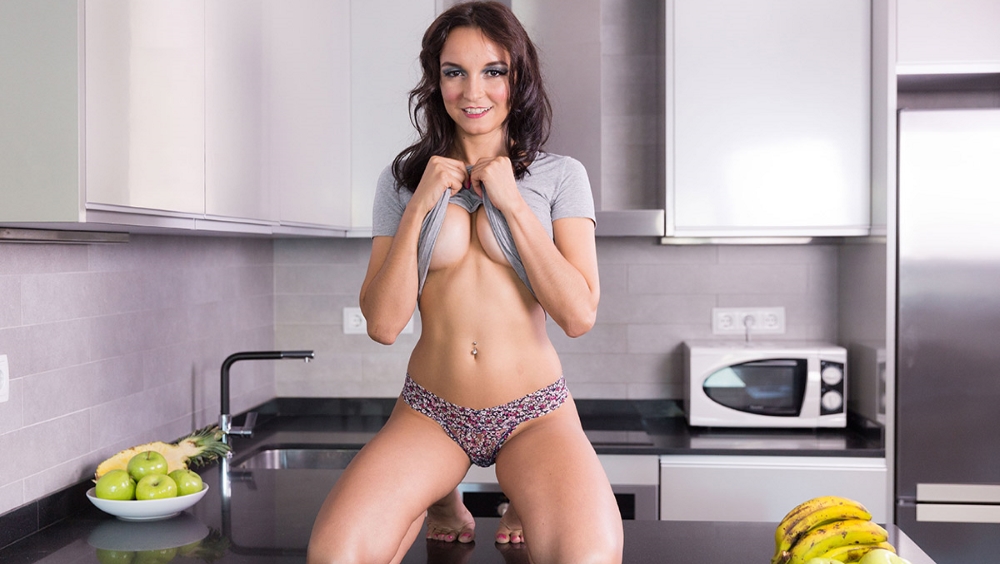 VR Porn Reviews July 2016 Recap – Shown below is a monthly summary and ranking for all of the VR porn sites that I currently follow. The rankings are based on my 5 star reviews of the VR porn videos each site released during July 2016. I also use these monthly recaps to adjust the overall scores and rankings for each VR porn site that I review.
VirtualRealPorn is my top ranked site for July and therefore remains my top ranked site overall. They released 9 videos (3 solo & 6 B/G) in July and had the highest average score for both solo and B/G titles. While BaDoinkVR had a slightly higher average score, I slotted them behind HoloGirlsVR and WankzVR based on the fact that they released only 4 videos (all B/G) vs 12 (6 solo & 6 B/G) for HoloGirlsVR and 8 (all B/G) for WankzVR.
#1. VirtualRealPorn (Review)
With 3 solo (avg. score 3.2 stars) and 6 B/G (3.8 stars) videos, VirtualRealPorn takes the top spot for July 2016. They continue to pump out quality titles with a good variety of genres and ethnicities. My only complaint is that the colors on VirtualRealPorn still have a bit of a washed out look to them.

---
#2. HoloGirlsVR (Review)
Just like in my overall VR porn site rankings, HoloGirlsVR lands in second place here. They released 6 solo (2.9 stars) and 6 B/G (3.6 stars) videos during July 2016. Their VR quality remains the best in the business and their release rate is faster than all but one. HoloGirlsVR also had my favorite video for July with "Music Festival Babe" starring Rachel Rampage.

---
#3. WankzVR (Review)
With their 8 consistently good B/G videos (3.6 stars) for July, WankzVR is on the verge of making a move up in my VR porn site rankings. There is still an issue with clarity that I hope will improve soon so we can all better appreciate the performances of WankzVR's hot young porn stars.

---
#4. BaDoinkVR (Review)
Add another 4 quality B/G videos (3.6 stars) to BaDoinkVR's library of VR porn. Even though it was not much of a turn-on for me, I was happy to see that they experimented with something a little different in their last video release of July. Unfortunately, a couple of BaDoinkVR's titles suffered from off-center camera issues.

---
#5. Czech VR (Review)
By far the leader with 17 total videos in July, Czech VR continues to impress with their VR quality. Their 12 solo (2.8 stars) and 5 B/G (3.1) videos showed an improvement in porn quality as well. I liked Czech VR's outdoor scenes this month, but I am still not a fan of their moving camera.

---
#6. Naughty America (Review)
Another month of good porn and bad VR for Naughty America. All 5 of their B/G videos (3.1 stars) featured multiple positions and great performances from talented porn stars. They were also negatively impacted by Naughty America's ongoing big scale issue and the very frustrating 9:20 frame stutter effect.

---
#7. VirtualTaboo (Review)
With 3 solo (3.0 stars) and 3 B/G (3.0 stars) videos, VirtualTaboo maintained their steady pace of releases with decent quality VR and porn. They also did well to add to their variety with an Asian model in of their 2 titles and another one that featured a female POV.

---
#8. Reality Lovers (Review)
Their weekly release schedule resulted in 2 solo (2.5 stars) and 2 B/G (3.0 stars) videos for Reality Lovers in July. Their attractive models are still not vocalizing, but changes have been made to the VR. While the big scale issue was fixed in the latest Reality Lovers release, there is now a problem with clarity.

---
#9. VR Bangers (Review)
After quite a long dry spell with no releases, VR Bangers got back into the game with 1 solo (2.0 stars) and 1 B/G (3.0 stars) video. I was not impressed with these 2 new titles, but I am hopeful that there are better things to come from VR Bangers.

---
#10. Kink VR (Review)
Kink VR is about to drop out of my top 10 if they don't start releasing new titles soon.
---