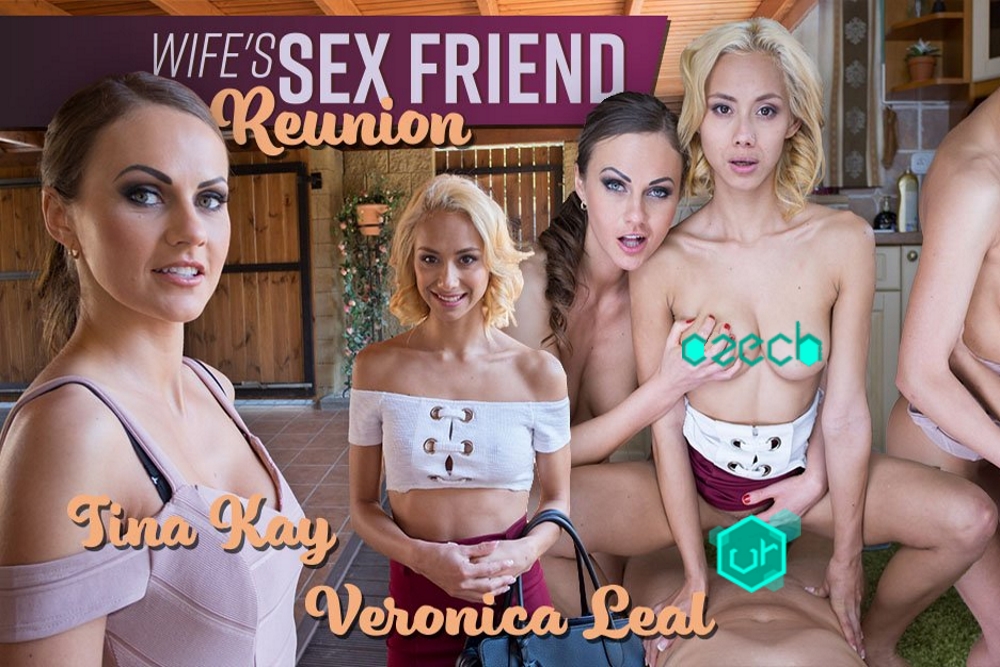 My pick for Best VR Porn Video May 2018 is Wife's Sex Friend Reunion starring Tina Kay and Veronica Leal. This B/G/G scene was released by Czech VR on May 5 and received a top score of 5.0 stars on my Top VR Porn Videos May 2018 post. This is the third Czech VR title in the past 7 months to be selected as my best video of the month.
The setting in Reunion is the kitchen and dining area of a modern home. The scale is great and the clarity of the video is excellent. The camera positioning, audio and lighting are also very good. Superior VR quality has long been the norm for Czech VR and it really adds to the immersion factor in scenes like Wife's Sex Friend Reunion.
Reunion clocks in at 53+ minutes and starts off with your beautiful wife Tina Kay welcoming her sexy friend Veronica Leal to your home. The girls are so happy to see each other and you can tell they have a special connection that goes beyond just friends. Tina invites Veronica inside for some tea and the girls begin to reminisce about all the fun they had together in college. Things quickly turn naughty after your wife suggests that they put on a little show for you.
The girls engage in some passionate kissing and proceed to pleasure one another orally. After an incredibly hot session of cunnilingus, they decide to use their mouths on you. The girls take turns going down on you before your wife turns around and lets you take her from behind. Veronica whispers in your ear as you pound away at your wife and then she jumps in for her turn at standing doggy.

The next scene sees the girls hop on top of the kitchen counter as you take them in standing missionary. The action then shifts down to the kitchen floor where the girls enthusiastically ride you in cowgirl and reverse cowgirl. For the final act you explode inside Veronica's gorgeous pussy and your wife helps to spread her wide until every last drop spills out.
Reunion is an excellent threesome scene with superior VR quality and 2 extremely hot ladies. Czech VR continues to lead the way with their technical quality and Tina and Veronica played their parts superbly. The combination of those 2 factors made Wife's Sex Friend Reunion an obvious choice for my Best VR Porn Video May 2018.
Synopsis from Czech VR:
Imagine having a wife like Tina Kay. That is a win already, because this incredibly beautiful woman would fuck you to well, you would never need to look for another. But it gets better. You see – your wife has a sexy little friend, who comes to visit and things take an unexpected turn. Before you know it, two horny sluts are riding your cock and enjoying proper fucking only you can provide!