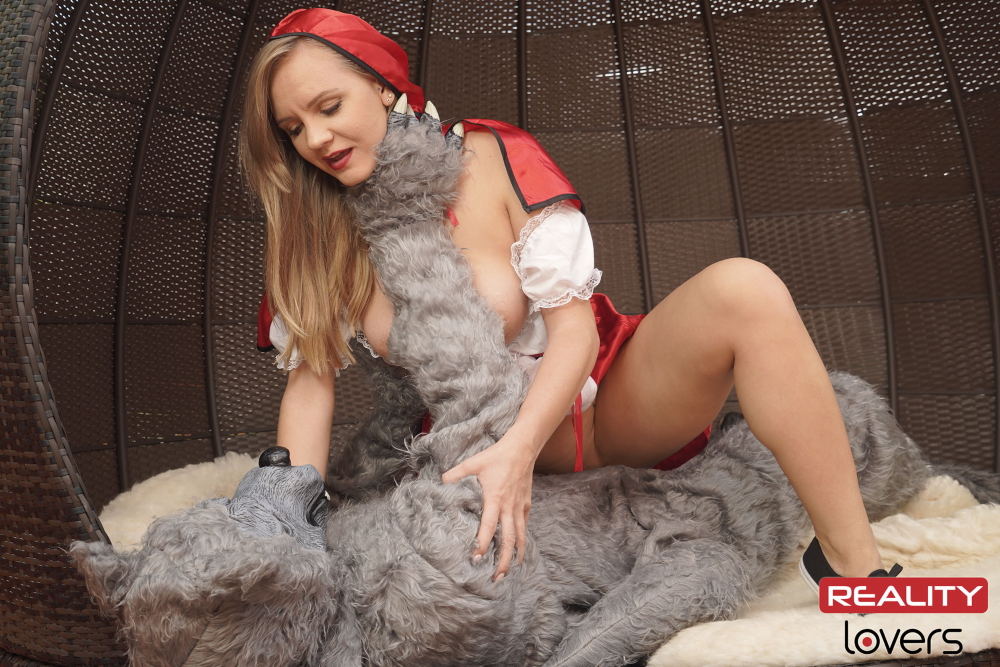 The furry fandom can rejoice with the release of Red Riding Hood, a furry VR porn video featuring the Big Bad Wolf. This truly unique scene was produced by Reality Lovers and stars Lucette Nice in cosplay as a very naughty Little Red Riding Hood.
The video begins by following the traditional storyline but quickly takes a different path when Little Red realizes what the Big Bad Wolf really wants. She leads him to a private area outside grandma's house and proceeds to give wolfie what he's been craving. The sex scenes are well done and I have to give kudos to the male actor for being on point with his wolf cries, growls, and moans.
While most VR porn is POV, Red Riding Hood is a voyeur scene and perhaps that's a better choice for furry videos as it allows viewers to appreciate the costumes more.
With furry VR porn being almost non-existent up to this point, it's great to see a studio like Reality Lovers going all-in on a furry video. They did well to have both actors remain in costume and in character throughout the entire 32-minute scene. And extra credit to them for picking a perfect storyline that allowed them to combine the furry and cosplay genres.

The furry genre might not have mass appeal, but this scene is one to remember. Reality Lovers proves they are innovators once again, just like they have done in the past with dual perspective scenes, green screen technology, and their Mica's Sommerhaus der Pornostars and Sex and Fun Downtown parody series.
Red Riding Hood synopsis from Reality Lovers:
The famous story of Little Red Riding Hood recorded in a Furry VR Porn video: Once upon a time, there was a sweet and little girl who everyone called Little Red Riding Hood. One day her mother said "Your grandmother is sick, maybe you can make her happy and bring her cake and a bottle of wine ….. ", and from now on the story continues in Reality Lovers Version: "When Little Red Riding Hood was walking through the forest on the way to her grandmother, she was pursued by the big, bad and horny wolf. Well, the wolf was not bad and after a little shock, she gathered herself together and suddenly realized that he is not angry at all. She quickly grabbed his big tail and said ……. ". If you want to know how this hot VR cosplay story with our horny porn queen Lucette Nice continues, you'll just have to watch on Reality Lovers.