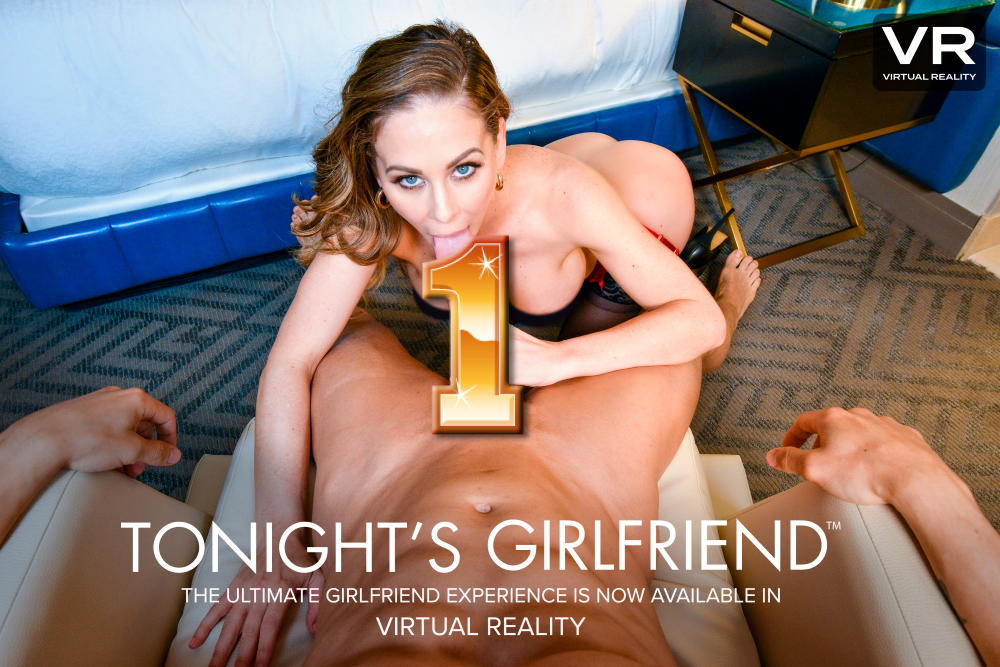 Tonight's Girlfriend, a popular paysite offering the ultimate girlfriend experience, has released it's first VR scene. The initial video stars Cherie DeVille as your favorite pornstar and tonight, that incredibly sexy MILF is all yours.
Tonight's Girlfriend has been around since 2011 and features the top pornstars in the business playing out your naughtiest fantasies. Most scenes involve intimate encounters in upscale hotel rooms with a beautiful lady who's being compensated to pleasure you for the evening. With a weekly release schedule, TG's back catalog is now packed with well over 400 quality GFE videos.
The new Tonight's Girlfriend VR scene has Cherie DeVille satisfying the needs of a married man who has been banging the same woman in the same position for many years. Cherie knows exactly what to do with a man like that and luckily for you, she gets turned on the most when her clients are married.

Tonight's Girlfriend is now the 4th paysite under the Naughty America umbrella to feature VR content with the other 3 sites, Big Tits In VR, Randy's Roadstop, and Real Teens VR, being exclusively VR.
There has always been a demand for more GFE videos in VR so the Tonight's Girlfriend content should play right into that. It will be interesting to see how the material differs from the many Pornstar Experience scenes that can be found on the main Naughty America site. No matter the difference, it's great to see another popular adult paysite producing new VR content.
The setup: You're a professional man with needs and you know what you want in your girlfriend for the night. Tonight's Girlfriend is sexy, thrilling, kinky and exhilarating. You've always wanted one night alone with your favorite pornstar and tonight is the night.