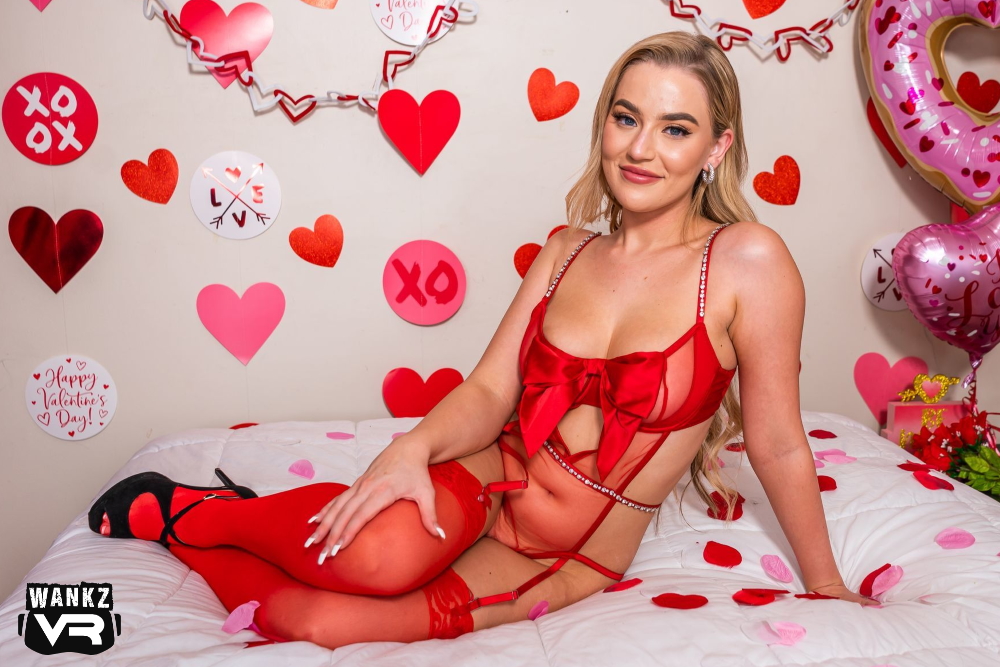 There were plenty of virtual sweethearts to choose from this year as many of my top-ranked sites released Valentine's Day 2021 VR Porn videos. Valentine's Day provides VR porn sites with a perfect opportunity to feature a romantic theme. Let's see which VR porn site did it best in 2021.
I determine the scores for each video based on the quality of VR and the quality of porn. The scores range from 1-5 and are shown in ( ) after the titles. The Valentine's Day 2021 VR Porn videos are listed in order by their review score.
Lover's Gift by CzechVR (4.0) – B/G, Stacy Bloom. Stacy is an amazing lover. Her husband bores her nowadays and you are her latest boy toy. You bought something special for your hot girlfriend and she is very pleased. She will wear it in bed with you today and give you something special in return.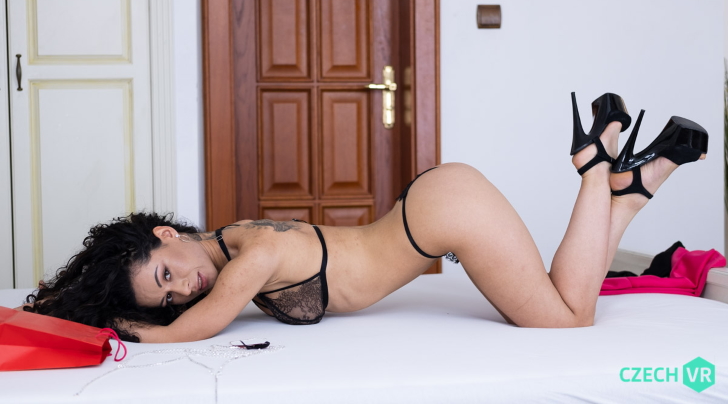 Perfect camerawork throughout and great usage of the slow-moving camera in the opening sequence. A wonderful performance from the very seductive Stacy.
---
Delivered With Love by BaDoinkVR (4.0) – B/G, Aidra Fox. It's Valentine's Day and Aidra was just dumped this morning. She's taken to the streets with her food delivery service and her Valentine's Day catering service is all-inclusive. Yes, she'll bring you those wings you ordered, but she'll also deliver some thighs, ass, and breasts.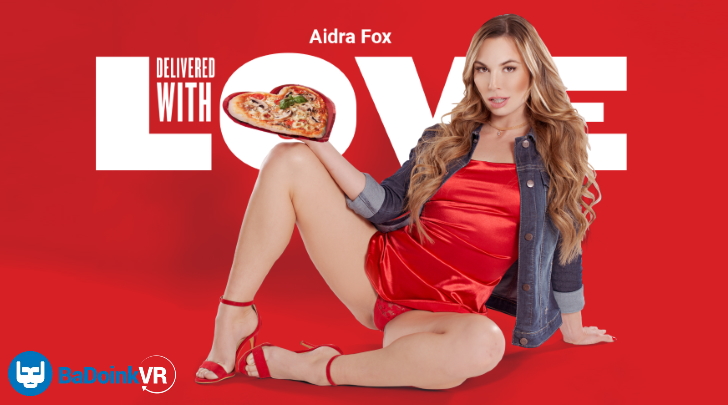 The hot delivery girl fantasy comes true. The pace of this scene was nice and deliberate. Aidra looked fantastic and performed well in every position.
---
Beloved Blossom by WankzVR (3.5) – B/G, Blake Blossom. Your special Valentine's Day surprise is waiting just for you. Blake is in the mood for hardcore romance as she gleefully reveals her skimpy red lingerie. Blake's passion is in full bloom as you finally get the Valentine's treat you've been dreaming about. Blake will be left totally sticky from your love.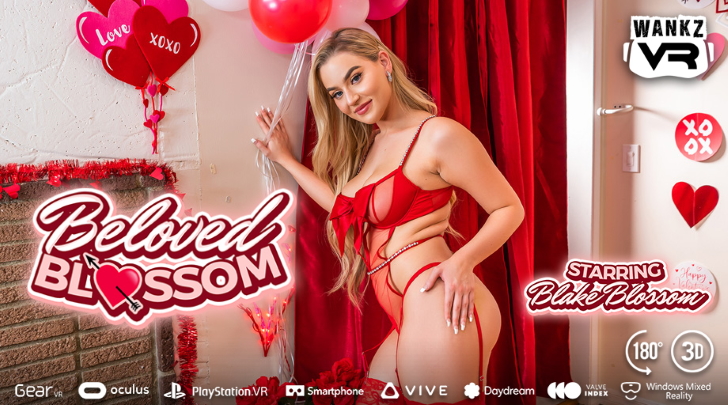 Blake looks amazing in red lingerie and her smile is rather intoxicating. The scene flows much better once the action starts and her skills are on full display.
---
Valentine's Day by Virtual Real Porn (3.5) – B/G, Yiming Curiosity. Celebrate this Valentine's Day with the beautiful Asian babe. Dive into a world of passion as Yiming rewards you for your efforts in getting a little surprise for her this Valentine's Day. Yiming teases and pleases you in so many different ways before letting you finish deep inside of her.

This scene felt the most natural out of all the Valentine's Day 2021 VR porn videos. I just wish the camerawork was better during the first part of the action. Yiming is a real sweetheart and I loved her British accent.
---
I Hope He Loves His Valentines Day Surprise by VRHush (3.5) – B/G, Vanessa Vega. After a relaxing bath with the rose petals that you purchased, Vanessa wakes you up with some gifts of her own. She bought you a surprise that you are going to love. Follow her sexy ass into the next room and get ready to enjoy the best Valentine's Day Treat you have ever had.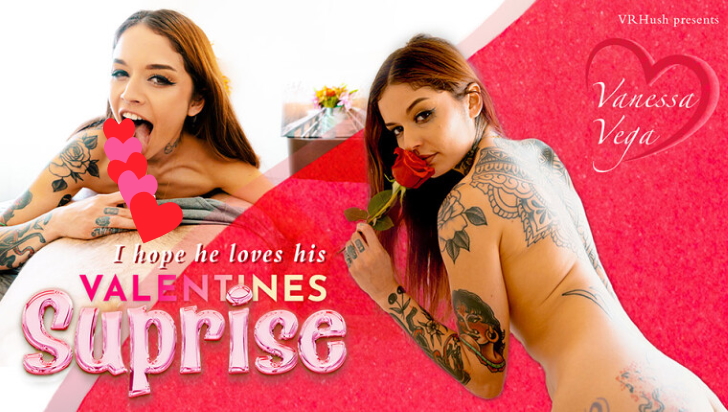 A nice opening sequence in the bathtub. Vanessa looks incredible. The added spanking and BDSM element worked well. Camera positioning could have been better.
---
Love Your Work by MilfVR (3.5) – B/G, Christy Love. Christy runs a tight ship and all the Valentine's Day fun around the office is reducing productivity. Her attitude changes when you give this sexy boss lady some sweet treats of her own. Christy is so thankful, she gladly sends some love your way and turns the office into a romantic hideaway for two.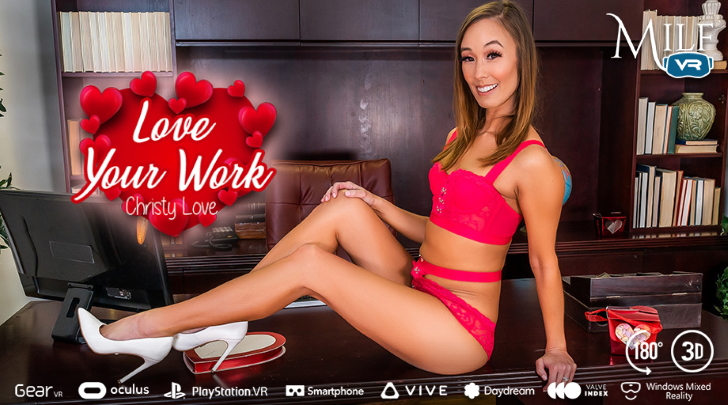 Oh how I wish Christy was my boss. She definitely does a great job showing her appreciation for the Valentine's Day gift. I enjoyed the playful usage of the candy hearts.
---
Party Girls Valentine's Day Edition by Naughty America (3.0) – B/G/G/G, Angel Youngs, Leah Lee & Tiffany Watson. It's a perfect year to celebrate Valentine's Day with all your sexy babes. Angel, Leah, & Tiffany join you for an adventurous ride on the party bus followed by a wild night at the hotel. Must be nice having three sexually free gorgeous babes to enjoy. This Valentine's Day 2021 VR porn video is triple the fun.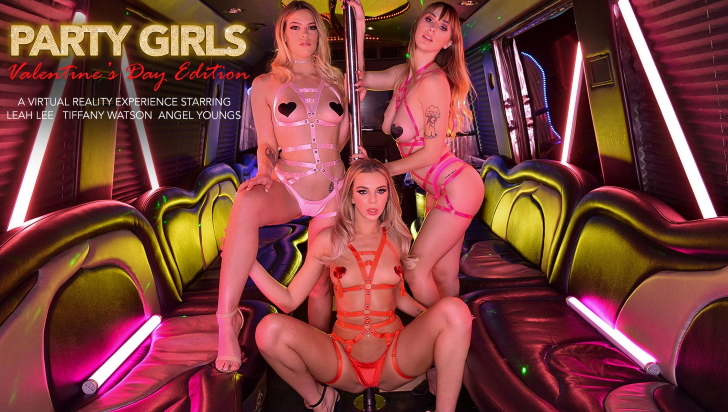 A foursome with 3 incredibly hot pornstars can never be bad, but this one could have been much better. Video quality and poor camerawork take away from the action. The dirty talk is also a bit too porny as well.
---
Be My Valentine, Serena by VR Bangers (3.0) – B/G, Serena Santos. Spend some quality time with Serena, a curvy Latina goddess. She is on fire in her sexy red lingerie and ready for your passionate lovemaking. Serena knows that you are the boss and is eager to give you the kind of Valentine's Day sex that you want.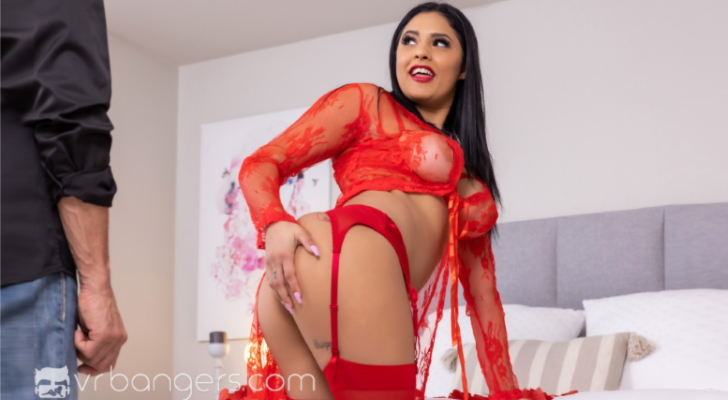 The smoking hot Serena looks delicious in her red lingerie. She does a nice job teasing and performs well overall, but poor camerawork is a distraction in some parts.
---
Romantic Day by Virtual Real Gay (2.0) – B/B, Lior Hod & Oliver Kett. Your VR boyfriend Lior has prepared a special surprise for you this Valentine's Day. The handsome brunette fills the bed with fragrant rose petals. Lior wants to give you something you'll never forget during this romantic occasion. His hands wander around your body as he teases you with his words. Lie down on the bed of roses and let Lior take control.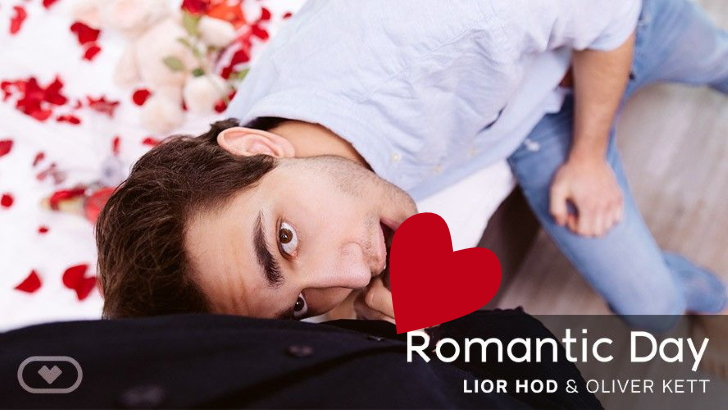 Unfortunately, this scene is plagued by poor camerawork and a lack of verbal seduction.