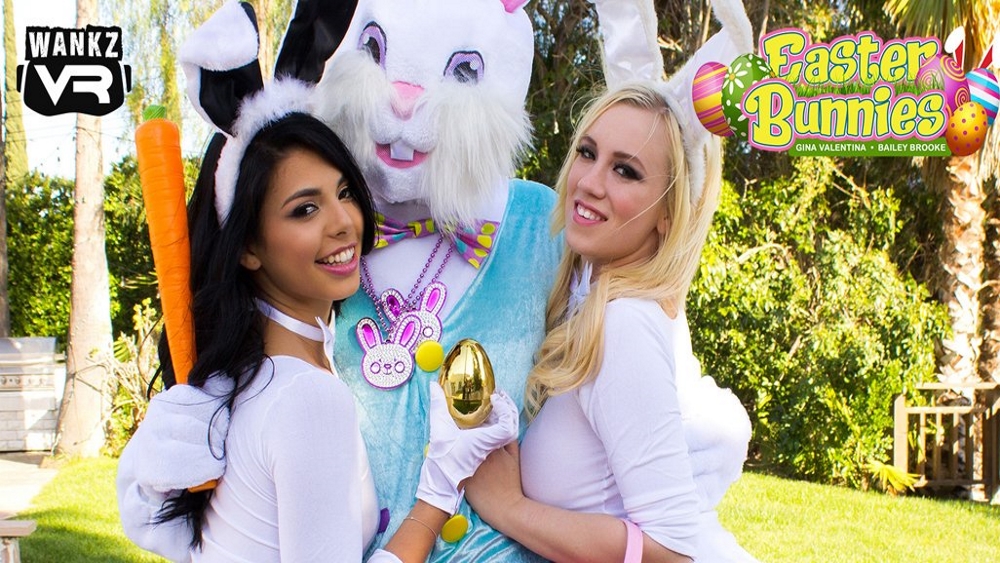 VR Porn Reviews April 2017 Recap – Shown below is a monthly summary and ranking for the top 10 VR porn sites that I currently follow. The rankings are based on my 5 star reviews of the VR porn videos each site released during April 2017. I also use these monthly recaps to adjust the overall scores and rankings for each VR porn site that I review.
WankzVR has now finished on top for the fifth straight month. They released 8 (6 B/G & 2 B/G/G) videos with all of them placing above what I consider an average score of 3.0 stars. Naughty America again followed closely behind with 8 of their 9 (7 B/G & 2 B/G/G) videos scoring above average while third place Czech VR had 9 of their 17 (4 B/G, 2 B/G/G, 1 B/G/G/G, 2 G/G & 8 solo) videos do so as well.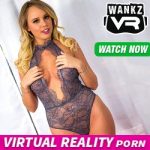 #1. WankzVR (Review)
I believe this is the first time that any VR porn site has had all of their videos score above average for the month. With all 8 of their B/G scenes (avg. score 4.0 stars) doing so in April, WankzVR continues to lead the way with quality titles that are filled with hot young porn stars. I especially enjoyed their Summer Camp Reunion video which featured a double cumshot from the male model.
---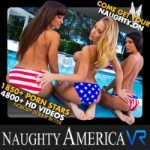 #2. Naughty America (Review)
Another month of very good porn for Naughty America. All 9 of their B/G videos (3.7 stars) featured multiple positions and superb performances. Their threesome video, Three's Company, was my favorite title. Naughty America continued to shed their MILF label as they went with younger talent again this month.
---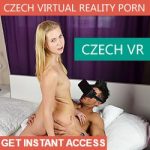 #3. Czech VR (Review)
Once again the leader with 17 total videos, Czech VR continues to excel with their VR quality and release rate. Their 8 solo (3.2 stars) and 9 B/G (3.6 stars) videos included some great porn performances as well. I enjoyed their pirate threesome scene Where Is The Map? so much that I named it my Best VR Porn Video April 2017.
---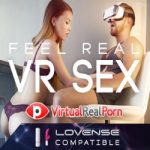 #4. Virtual Real Porn (Review)
With 2 solo (3.0 stars) and 7 B/G (5 B/G & 2 B/G/G) (3.3 stars) videos, Virtual Real Porn continues to stay near the top with their steady release of quality titles. They had 3 scenes score above average with my favorite being Sunday Breakfast featuring the incredibly beautiful Nancy A.
---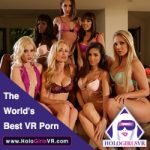 #5. HoloGirlsVR (Review)
An encouraging finish for HoloGirlsVR this month. Of the 1 solo (2.5 stars) and 5 B/G (3 B/G, 1 B/G/G & 1 G/G) (3.3 stars) videos they released, 3 of them scored above average. The higher scores are due to some great porn that more than made up for issues with VR quality. I am hoping that this is the beginning of a turnaround for HoloGirlsVR.
---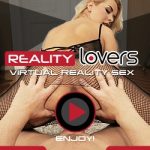 #6. Reality Lovers (Review)
It was a rather average month for Reality Lovers with 4 solo (3.0 stars) and 5 B/G (4 B/G & 1 B/G/G) (3.0 stars) videos. None of their titles impressed me as good or bad as all 9 scenes from Reality Lovers received the same average score of 3.0 stars. The good news is that they did release 3 of their scenes as dual perspective POV voyeur videos.
---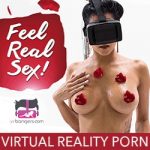 #7. VR Bangers (Review)
For VR Bangers it was a typical month of average content with their 3 solo (3.0 stars) and 5 B/G (3.0 stars) videos. All 8 of their titles received an average score. I did like their Moroccan Dream scene with Alexa Tomas, but issues with VR quality offset the great action that Alexa always delivers.
---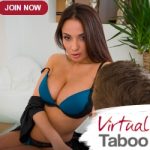 #8. Virtual Taboo (Review)
With 2 solo (2.5 stars) and 6 (3 B/G, 2 B/G/G & 1 G/G) (2.9 stars) videos, Virtual Taboo had a below average month. Their VR quality continues to be a major issue and it is the main reason that 3 of their titles scored below average this month. The porn quality is definitely there for Virtual Taboo, but they really need to improve the VR component.
---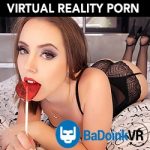 #9. BaDoinkVR (Review)
A disappointing month for BaDoinkVR with the inclusion of a 2D scene among their 4 B/G (2.8 stars) videos. Technical issues forced the release of the 2D title and that led to a lower overall score. And with only 1 new scene per week, it is quite difficult for BaDoinkVR to make up for just 1 below average video.
---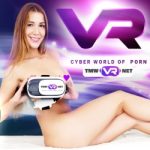 #10. TmwVRnet (Review)
It was a bad month for TmwVRnet and it is likely that they will drop off of my top 10 list next month. Of their 3 solo (2.5 stars) and 6 B/G (3 B/G, 2 B/G/G & 1 G/G) (2.9 stars) videos, only 1 scored above average while 7 received below average scores. TmwVRnet needs to improve their VR image quality asap.
---