VR Porn Reviews June 2017 Recap – Shown below is a monthly summary and ranking for the top 11 VR porn sites that I currently follow. The rankings are based on my 5 star reviews of the VR porn videos each site released during June 2017. I also use these monthly recaps to adjust the overall scores and rankings for each VR porn site that I review.
This makes it 7 months in a row that WankzVR has finished on top followed by Naughty America and Czech VR. WankzVR released 9 (5 B/G & 4 B/G/G) videos with all of them placing above what I consider an average score of 3.0 stars. Naughty America was in second with 7 of their 9 (7 B/G, 1 B/G/G & 1 B/B/G) videos scoring above average while third place Czech VR had 9 of their 17 (4 B/G, 1 B/G/G, 1 G/G/G & 11 solo) videos do so as well.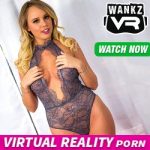 #1. WankzVR (Review)
This makes it 3 consecutive months that they have had all of their videos score above average. With all 9 of their B/G scenes (avg. score 4.1 stars) doing so in June, WankzVR continues to dominate with quality titles that are filled with hot young porn stars. I really loved their GFE scene with Elena Koshka and I named it my Best VR Porn Video June 2017.
---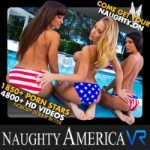 #2. Naughty America (Review)
Another month of very good porn for Naughty America even though 1 of their 9 of their B/G videos (3.5 stars) scored below average. Their crazy girlfriend scene, Pleasure In Punishment, was my favorite title. Naughty America continues to provide a nice mix of younger and more mature talent.
---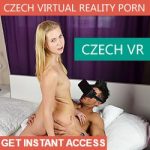 #3. Czech VR (Review)
Once again the leader with 17 total videos, Czech VR continues to excel with their VR quality and release rate. Their 11 solo (3.1 stars) scenes were better than last months as were their 6 B/G (3.6 stars) videos. I really enjoyed their title Sex Is a Sport Too which featured an extra creampie scene at the end.
---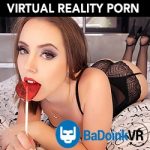 #4. BaDoinkVR (Review)
A very nice month for BaDoinkVR with 4 of their 6 B/G (3.5 stars) videos scoring above average. They added another chapter to their popular Virtual Sexology series with a female POV scene, but their Private Eye and TrespASSing titles were my favorites. I would love to see BaDoinkVR pump out this type of content more frequently.
---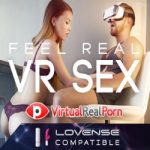 #5. Virtual Real Porn (Review)
With 1 solo (3.0 stars) and 8 B/G (6 B/G & 2 B/G/G) (3.3 stars) videos, Virtual Real Porn continues to stay near the top with their steady release of quality titles. They did well to have 4 scenes score above average, but they still have issues with filming in positions other than their usual cowgirl setup.
---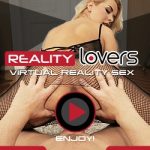 #6. Reality Lovers (Review)
It was a good month for Reality Lovers with 8 B/G (6 B/G, 1 B/G/G & 1 G/G) (3.1 stars) videos. Their Latex Babes scene was the only title I scored above average. Extra content continues to be a major selling point for Reality Lovers as they released all 8 of their scenes as dual perspective POV voyeur videos.
---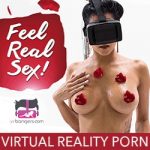 #7. VR Bangers (Review)
For VR Bangers it was a month highlighted by a lack of content. Their 5 B/G (3 B/G, 1 B/G/G & 1 G/G) (3.0 stars) videos included a nice scene with the always wonderful Megan Rain, but there were also 2 below average titles. I am hoping the 1 video per week release rate will not last long.
---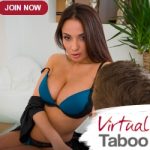 #8. Virtual Taboo (Review)
With 3 solo (2.7 stars) and 5 (4 B/G/G & 1 G/G) (3.1 stars) videos, Virtual Taboo had another average month. Their VR image quality continues to be a major issue along with improper camera positioning. The porn quality is definitely there for Virtual Taboo, but they really need to improve the VR component.
---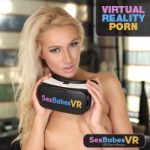 #9. SexBabesVR (Review)
For the second consecutive month SexBabesVR received an average score of 3.0 stars for all 6 of their B/G videos. They also released 1 solo (2.5 stars) scene that simulated sex without the presence of a male actor. Camera positioning is still a major issue for SexBabesVR when filming in positions other than cowgirl.
---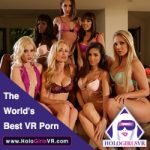 #10. HoloGirlsVR (Review)
Another discouraging finish for HoloGirlsVR this month. Of the 1 solo (3.0 stars) and 8 B/G (6 B/G, 1 B/G/G & 1 G/G) (2.9 stars) videos they released, 3 of them scored below average. The lower scores are mostly due to issues with VR quality, but the porn was not great this month either. I am really hoping that HoloGirlsVR can turn things around soon.
---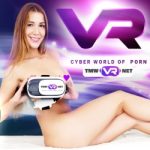 #11. TmwVRnet (Review)
It was a typical month for TmwVRnet with 3 solo (2.5 stars) and 6 B/G (4 B/G, 1 B/G/G & 1 G/G) (2.9 stars) videos. Only 1 scene scored above average while 5 received below average scores. TmwVRnet has plenty of good looking talent, but they need to make more improvements to their VR quality.
---